21st Century Wire says…
We've been told that Tunisian intelligence services had been 'monitoring' one of the main suspects in the Bardo Museum shooting – one of many indicators that this latest 'terror event' in Tunis could have been staged.
According to reports, authorities have arrested nine people in connection with Wednesday's attack at the Bardo Museum in Tunisia. In an official statement by Mohamed Beji Caid Essebsi, four of the nine in custody are believed to be directly linked to the museum shooting.

On Thursday, the overall death toll was said to have risen to 23 people according to Tunisian Health Minister Said Aidi, along with another fifty persons injured.

IMAGE: 'Twitter Terror' – Social media has become an indispensable tool to present all kinds of information. Here we have an image of the alleged hostages held during the Bardo Museum attack. (Photo link telegraph.co.uk)
Planting the Seed 
Predictably, this latest event in Tunisia is not without some 'questionable', albeit, all too familiar activity taking place prior to the museum shooting.
Firstly, the shooting took place at a museum right next door to the Tunisian Parliament who just happened to be in session and were proposing "new terror measures" during the incident.
Then we learn that Tunisian security services 'knew' at least one terrorist suspect and claim he was under some level of surveillance prior to the attack (like Paris), as mentioned by global media outlets, including this excerpt from a recent CNN report:
"Earlier Thursday, Tunisian Prime Minister Habib Essid identified two suspects, Yassine Labidi and Saber Khachnaou, in an interview with French radio station RTL. It's not clear if those two men were the pair killed at the museum by Tunisian security forces, or if it's possible they're the same people as those identified — using new names — in ISIS' audio statement.
Labidi was "known to the security services, he was flagged and monitored," Essid said. But he added the man wasn't known or being followed for anything special."
Time and time again, we've seen this same choreographed terror propaganda being pushed by mass media and authorities – only to be exposed at a later date.

As 21 WIRE has noted a number of times, many so-called 'terror events' involve individuals being monitored by security services prior to an alleged act taking place. In fact, very often those being watched by authorities, depict all the tell-tale signs of a patsy or an informant, working either for a law enforcement or intelligence agency. Historically, government operators have often made use of low-life criminals, and mentally disturbed individuals.

In this case, alleged terrorists and security agencies have a dicey relationship, making the recent shooting at the Bardo Museum in Tunisia highly suspect in nature. In less than a year, the public has been inundated with a number of theatrical shootings, such as the Paris Shootings at Charlie Hebdo, the aftermath that followed, along with Ottawa's Parliament Hill shooting and the 'Sydney Siege' which took place in December of 2014.
As we learn that ISIS has now "claimed responsibility" for the attack in Tunisia – it's worth observing the set of patterns often seen in during these events:
– Suspect or suspects have alleged connections to terror or terror networks.
– Suspect or suspects is seen to have 'radicalized' views on religion, feeding a prepackaged media narrative.
– Sensational media projections to bring in additional story lines for dramatic effect.
– There is an unknown motive for the crime committed – followed quickly by a 'presumed' motive without evidence.
– Politicians, law enforcement and media call the incident a 'terror attack' before all evidence is reviewed.
– A 'claim of responsibility' or a manifesto is conjured within 48 hrs of the attack.
Other researchers believe that Tunisia has long fallen to prey to other intelligence operations, including with the 2002 attack in Djerba, Tunisia.
The Tunisian attack also comes on the heels of the Corinthia hotel attack that took place in January. The two events are similar and feature some of the same players. The attacks were said to be carried out by the 'Tripoli branch of ISIS', according to the SITE Intelligence Group. The hotel was reportedly nearly empty as the ISIS linked group apparently could take their time during the choreographed attack.
CBS News gives a sketch of the familiar gaggle of terrorist 'franchises' active in Tunisia and Libya – many of whom have some connection to western intelligence agencies:
" Militants from Ansar al-Sharia in neighboring Libya were behind the 2012 attacks on U.S. diplomatic outposts in Benghazi that left U.S. Ambassador Christopher Stevens and three other Americans dead. Reports in Tunisian media Thursday suggested the two museum gunmen could have had links to the Uqbah Ibn Nafe'a brigade, believed to be the military branch of Ansar al-Sharia in Tunisia. The Tunisian Interior Ministry said Uqbah Ibn Nafe'a is linked to al Qaeda's North African franchise, al Qaeda in the Islamic Maghreb (AQIM)."
As 21WIRE reported earlier, Ansar al-Sharia who is active in both Tunisia and Libya, also has direct links to the NATO-backed insurgency that helped to topple Gaddafi in 2011:
"The other key Gitmo graduate previously reported by 21WIRE in Jan. 2014, is named Abu Sufian bin Qumu, a former detainee from Libya, who 'played a role' in the Benghazi attack, according to witness accounts confirmed by U.S. officials. At the same time, the United States State Department claimed it was to 'designate' the three branches of Ansar al-Sharia, as foreign terrorist organizations, who were positioned at locations including  Darnah, Benghazi in Libya, and Tunisia. Ansar al-Sharia is stated to have been led by Qumu. Intelligence sources had implicated Qumu in the Benghazi attack, within two weeks of the incident, naming him as one of their prime suspects. Qumu was also involved with [Abdel Hakim] Belhaj's Libyan Islamic Fighting Group (LIFG), the group largely responsible for toppling Gaddafi in 2011 alongside NATO. Like US asset Belhaj, fellow Gitmo alumni Qumu still commands the same forces today which he led in 2011."
In a later report we add, "This was about weapons going into Libya, and Stevens is coordinating with Abdel Hakim Belhadj [a likely US intelligence asset commanding al Qaeda fighters for NATO in 2011, and now leading ISIS fighters in Libya], the leader of the Libyan Islamic Fighting Group, other al-Qaida-affiliated militia leaders and leaders of the Libyan Muslim Brotherhood that directed the rebellion against Qadhafi as an offshoot of the Egyptian Muslim Brotherhood," Lopez said. "Many of the individual members of the al-Qaida-related militias, including the LIFG, and the groups that would later become Ansar Al-Sharia, were Muslim Brotherhood members first."

IMAGE: 'Hashtag Protests' – Just as we saw during the Paris shootings: Tunisia is overrun by timely viral propaganda. (Photo link telegraph.co.uk)
Between the Arab Spring, the Fall of Libya and AFRICOM, North Africa is awash US military and US, UK, French and Israeli intelligence operatives. In October of 2013, 21WIRE made note of some of the the puzzle pieces that include Tunisia:

"Former Army General Carter F. Ham had met with Tunisian leaders prior to his retirement in March of 2013. Carter was second in command under AFRICOM, and took the lead on the 2011 Libya invasion.
It has been reported that the infusion of terror in Mali was a direct result of terror spilling out of Libya in the aftermath of  the NATO campaign."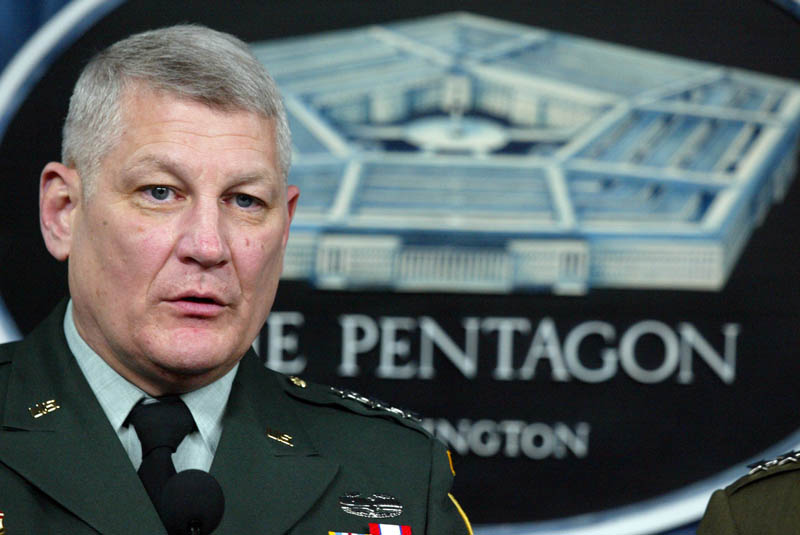 IMAGE: Former Army General Carter F. Ham (AFRICOM Commander)
"The United States guided the "Jasmine Revolution" in 2011, when Ben Ali was forced from power. The United States has been known to support uprisings through NGO's, as they seek to gain control in the aftermath of a regime change.
In an article by David Kenner from Foreignpolicy.com from 2011, we get a clearer picture of  how the United States has changed Tunisia from the inside:
"Scott Carpenter, a former deputy assistant secretary of state in the Bush administration who oversaw the creation of MEPI, said that the Ben Ali regime was "constantly paranoid" about the organization's presence in the country, and never allowed it to undertake significant democracy promotion programs. As a result, "we were doing a lot of stuff very, very quietly – not to say covert, but very quietly."
The Washington Institute for Near East Policy (WINEP), is linked to the American Israel Public Affairs Committee, and is a known pro-Israel think-tank. J Scott Carpenter is an adjunct scholar at the Washington Institute for Near East Policy.

RT News below…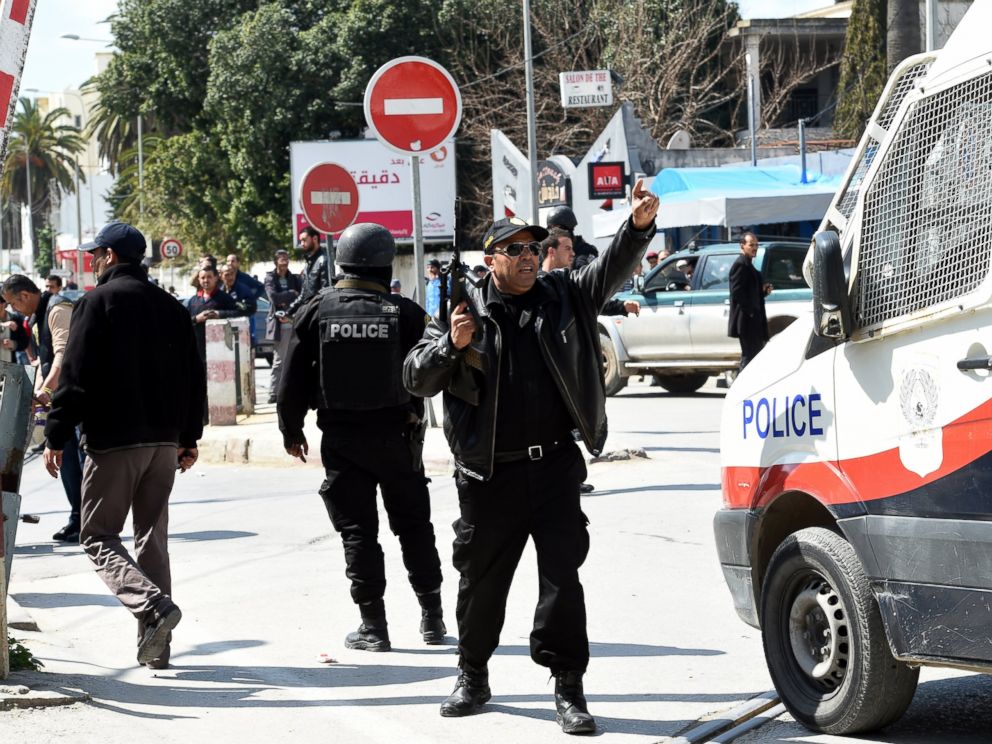 IMAGE: 'Directing the Scene' – Authorities following the apparent ISIS related shooting at Bardo Museum in Tunisia. (Photo link abcnews.com)
ISIS claims responsibility for museum attack in Tunisia – reports
Islamic State militants have claimed responsibility for the deadly museum attack on Wednesday in Tunisia that claimed over 20 lives, according to an online audio recording cited by Reuters.
The three-hour attack took place at the Bardo Museum in Tunisia's capital on Wednesday. As a result 23 people died, including 18 foreign tourists, five Tunisians and two gunmen, Health Minister Said Aidi said on Thursday. Fifty more were injured. Among the foreigners killed were one British national, three Japanese, two Colombians, two Spaniards, an Australian, a Pole and a French citizen, according to the Tunisian PM Habib Essid's statement.
Bloomberg reported on Thursday that four Italians and a Russian national were among the victims of the attack. The agency cited information provided by the Costa Cruises company.
The recording distributed online praised the two gunmen calling them, "Knights of the Islamic State."
Security forces arrested nine people connected to the attack, according to a statement issued by the president's office on Thursday. Five of the arrested were directly connected, while four others were from a supporting terrorist cell, it added.
The PM said one of the terrorists was already known to Tunisia's intelligence services. Essid identified two attackers as Yassine Labidi and Saber Khachnaou in an interview with French radio station RTL. Labidi was "known to the security services, he was flagged and monitored," Essid said…
More from RT here

READ MORE ISIS INSIDE INFO AT: 21st Century Wire ISIS Files
READ MORE AFRICOM NEWS AT: 21st Century Wire AFRICOM Files
SUPPORT 21WIRE – SUBSCRIBE & BECOME A MEMBER @21WIRE.TV