SEE ALSO: The Horns of Africa: Neo Colonialism, Oil Wars and Terror Games
21st Century Wire says…
About the recently attempted 'Twin Terror Attack'  in Tunisia…
We recently discussed AFRICOM and its current stranglehold on the Horn of Africa, along with the many bizarre anomalies surrounding the purported Westgate mall attack. Yesterday, we learned that Tunisia has also fallen prey to two attempted terror attacks, raising the suspicion of those who have followed the events developing in Africa.
Remember in late July, it was reported nearly two thousand al Qaeda linked operatives had broken free from various prison compounds almost simultaneously in three separate jail breaks.
More than half of those who escaped were from the Kuayfia detention center in Benghazi, Libya.
NATO's efforts have been well documented, particularly their involvement in the destruction of Libya, as the nation was flooded with terror outfits along with a "no fly zone" leading to a total collapse of structure.
Land Destroyer's Tony Cartalucci, examined this idea in a 2012 article titled 'Al Qaeda and NATO's Pan-Arab Terrorist Blitzkrieg':
"Western policy makers admit that NATO's operations in Libya have played the primary role in emboldening Al Qaeda's AQIM faction (Al Qaeda in the Islamic Maghreb). The Fortune 500-funded Brookings Institution's Bruce Riedel in his article, "The New Al Qaeda Menace," admits that AQIM is now heavily armed thanks to NATO's intervention in Libya, and that AQIM's base in Mali, North Africa, serves as a staging ground for terrorist activities across the region."

IMAGE: A map depicting terror outfits in Africa and the Middle East.
Tunisian authorities reported on Wednesday, October 30th, that a man blew himself up just outside the Riadh Palm Hotel in Sousse.
The terror motive remains unclear and no group has claimed responsibility as of yet.
Additionally, we're told that police put a stop to another "would-be suicide bomber" at the tomb of former President Habib Bourguiba in Monastir.
Tunisian Interior Ministry spokesman Mohammed Ali Aroui's press briefing seemed to fit the mold of Western foreign policy advisors:
"The two suicide bombers are radical Islamist jihadists. They are Tunisians, but they had been in a neighboring country."
Conveniently, we're told that both attackers are Tunisian but were from a nearby country. Several people have been detained for questioning.
According to the AFP news agency:
"Witnesses said the bomber was spotted and chased away from the hotel."
If it was a suicide bomber, why would he be chased away?
Former Army General Carter F. Ham had met with Tunisian leaders prior to his retirement in March of 2013. Carter was second in command under AFRICOM, and took the lead on the 2011 Libya invasion.
It has been reported that the infusion of terror in Mali was a direct result of terror spilling out of Libya in the aftermath of  the NATO campaign.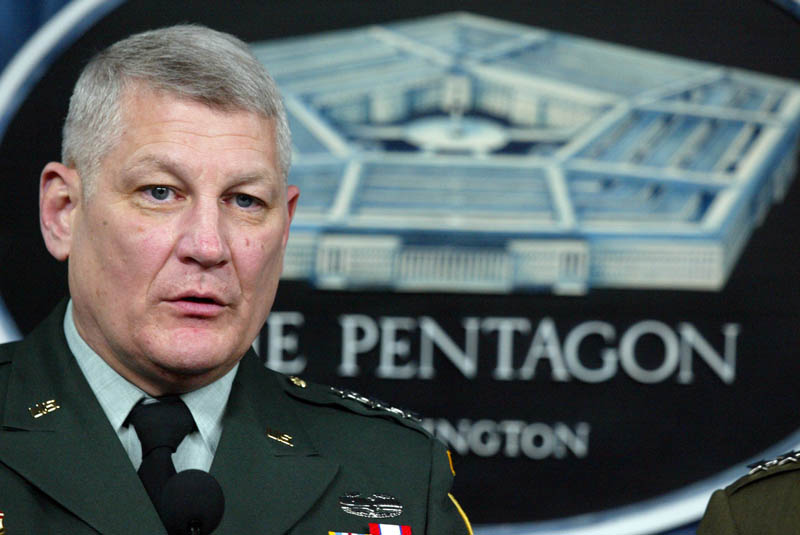 IMAGE: Former Army General Carter F. Ham (AFRICOM Commander)
The United States guided the "Jasmine revolution" in 2011, when Ben Ali was forced from power. The United States has been known to support uprisings through NGO's, as they seek to gain control in the aftermath of a regime change.
In an article by David Kenner from Foreignpolicy.com from 2011, we get a clearer picture of  how the United States has changed Tunisia from the inside:
"Scott Carpenter, a former deputy assistant secretary of state in the Bush administration who oversaw the creation of MEPI, said that the Ben Ali regime was "constantly paranoid" about the organization's presence in the country, and never allowed it to undertake significant democracy promotion programs. As a result, "we were doing a lot of stuff very, very quietly – not to say covert, but very quietly."
The Washington Institute for Near East Policy (WINEP), is linked to the American Israel Public Affairs Committee, and is known as a pro-Israel think tank. J Scott Carpenter is an adjunct scholar at the Washington Institute for Near East Policy.
Carpenter's think-tank policies regarding Tunisia opened the door for the type of 'change' we are seeing there today.
This is a world of think tanks, bloated military projects seizing control and manufactured terror…
Suicide bomber attacks Tunisian resort town
Tarek Amara
Reuters
A suicide bomber blew himself up in the Tunisian tourist resort of Sousse on Wednesday, the first such assault in more than a decade in a country now battling Islamist militants boosted by chaos in neighboring Libya.
Police foiled another attack when they arrested a would-be suicide bomber at former President Habib Bourguiba's tomb in the seaside town of Monastir, and detained five other people in Sousse thought to be plotting assaults, security sources said.
No group has claimed responsibility for the attacks, but the Islamist-led government said all the arrested men had admitted to being members of the militant Ansar al-Sharia movement, which it says is linked to al Qaeda's North Africa affiliate.
"The two suicide bombers are radical Islamist jihadists. They are Tunisians, but they had been in a neighboring country," said Interior Ministry spokesman Mohammed Ali Aroui, without specifying the country.
The first bomber had tried to enter the Riadh Palms Hotel with a suitcase. Turned away, he ran onto the beach and blew himself up, a security source said. No one else was hurt.
The bombing is bad news for the vital tourism industry in Tunisia, which attracted 5.8 million mostly European visitors to its Mediterranean beaches and desert tours in 2012. Tourism is still recovering from the 2011 uprising that toppled the North African country's autocratic leader Zine al-Abidine Ben Ali.
Tunisia's stock market dropped 0.95 percent after the bombing.
"We don't know the consequences right now … Whatever happens it will be negative because this is the first time they attack a hotel," said Mohamed Ali Toumi, head of Tunisia's federation of travel agencies.
Al Qaeda carried out Tunisia's only previous suicide bombing in 2002 when 21 people were killed at a synagogue on the island of Djerba.
Police tightened security in the capital Tunis and sealed off the nearby village of Sidi Bou Said, which is popular with tourists. Hundreds of police deployed in other resorts such as Hammamet and Djerba.
Rached Ghannouchi, leader of Ennahda Party, which governs in coalition with two secular parties, condemned attacks on tourists, which he said targeted Tunisia's political transition.
"Whoever tried to assault the tourists and the tomb of President Bourguiba are criminals who want to destroy the economy and democratic transition in Tunisia," he said.
"They will not succeed, thanks to the vigilance of our security and our army and our unity against terrorism."
Read more at Reuters

READ MORE AFRICOM NEWS AT: 21st Century Wire AFRICOM Files
SUPPORT 21WIRE – SUBSCRIBE & BECOME A MEMBER @21WIRE.TV