21st Century Wire says…
What was war reenactment actor Eric Frein's role during the apparent shooting that took place at Pennsylvania's Blooming Grove police barracks?

The longer this story drags on, the less likely the public are to finding a meaningful resolution. Both the Sandy Hook and Christopher Dorner dramas come to mind…

IMAGE: ' War simulator' – Eric Frein (Photo link mcall.com)

31-year-old Eric Matthew Frein, who is said to be a 'war reenactor', has been charged with shooting a Pennsylvania trooper and wounding a second on Friday, September 12th, at the Blooming Grove police barracks.
Although there is no definitive evidence or clear motive directly linking Frein to the alleged murder, a massive 250 square mile man-hunt has been under way for several days – culminating with Poconos residents being ordered to shelter in place.
Incredibly, he even made the top ten on the FBI's most wanted list, based on circumstantial evidence.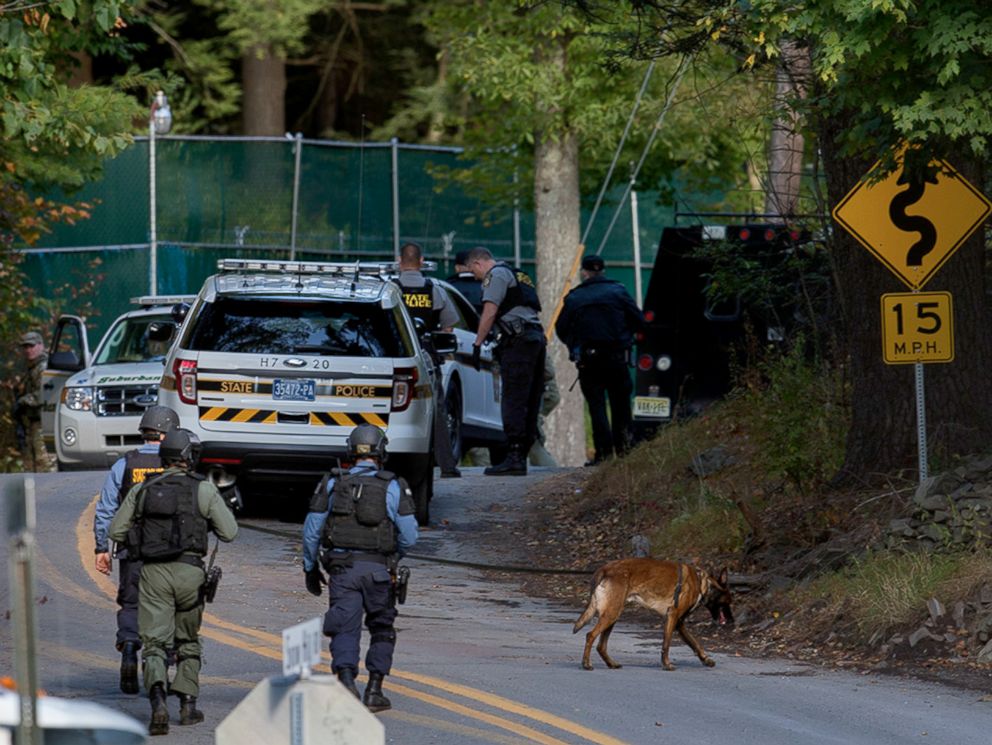 IMAGE: 'Martial Law' – Law enforcement searching for alleged shooter Eric Frein. 'Sheltering in Place' is becoming routine in for America following a crisis (Photo abcnews.com)

Inconsistencies in MSM Narrative
Mainstream media accounts have characterized Frein as a "right wing survivalist", however his Myspace account apparently has him indentifying with images of the leftist revolutionary, Che Guevara and the 13th Guards, a Soviet red army division.
As a war-time reenactor and gun enthusiast, Frein was recently featured in an upcoming war documentary about Vietnam, called "Vietnam Appreciation Day," a film that focused on several people involved in war reenactment. In 2007, according to IMDB, an Eric Frein is listed as playing a part in a postwar film called Lustig.
The strange nature of the Blooming Grove barracks shooting, has echoed some of the most improbable violent incidents over the past few years.
Meanwhile, Washington DC has pulled its military into yet another undeclared war in the Middle East, as domestic incidents are served-up just in time to deflect and polarize the public. Emotive propaganda has reached new levels with the latest alleged 'beheading', this time on American soil, cultivating maximum fear by pushing the public towards calls of more security and support for future conflicts abroad. 
The violence we see depicted throughout the world, appears to be designed for a Western audience.
The amount of improbably lone gunman shootings in the US has spiked in the last few years. One such recent staged incident was Isla Vista shooting/stabbing rampage this past May, an event that had all the hallmarks of a Hollywood psychodrama.
It was reported that a sexually frustrated and misogynistic young man named Elliot Rodger, blazed his way through a number of people at nearby California college campus, while surviving two separate shootouts with police before taking his own life. In an ironic twist of pre-scripting perhaps, it turns out that Rodger, was the son of 'Hunger Games' assistant director Peter Rodger. 
In addition, there were other bizarre mind-bending cases that seemed to defy all logic and forensic evidence as well, such as the Chris Dorner shootout-chase in L.A. and the Paul Ciancia TSA shooting at LAX.
Both of those events seemed to involve a more choreographed feel and appeared to be heavily scripted for media consumption. Such was the case with forensically weak cases like the Boston Bombing , the Aurora theater killings and of course the much discussed Sandy Hook school shooting. 
Media Scripting of the Frein Drama
In pure Hollywood fashion, a meme floating around on the internet has suggested that Frein's alleged escape in the woods is him "reenacting the original Rambo film called First Blood".
Time and time again, all of these events always have a common denominator: the eyewitness accounts of multiple perpetrators. 
Another hallmark of these suspected activities, is the occurrence of any 'active shooter drills' within a year of an alleged shooting event.
According to Poconos record, there was an active shooter drill that took place in October of 2013, involving members of the Blooming Grove Barracks:
"Director of Security John Clader coordinated the drill, with Trooper Carl Ives of the Blooming Grove state police barracks and Sgt. Paul Cavallaro of the Honesdale barracks."
This is an often overlooked detail when any apparent 'shooting' occurs, often revealing the possibility of a staged crime scene.
After the Blooming Grove police barracks incident and just before a state wide man-hunt was announced, police were able to get an eyewitness description supposedly from a man walking his dog late at night. It is believed that from these initial details, police were able to garner a complete identity of Frein. How was it possible for police to gain that much information with near zero visibility at night?
Police interviewed a man they called a "person of interest," but were quick to state that he was not a suspect in the case. 
Was this 'person of interest' the late night dog walking eye-witness?
Considering the shooting took place in a wooded area near a police barracks at 10:50 pm, one wonders what authorities were able to glean from this person, given how dark it was outside.
The evidence tying Frein to the murder of Pennsylvania trooper Cpl. Bryon Dickson, appears to lack forensic credibility, as there is no established motive and the items found to be linked to Frein, were left in plain sight, like bread crumbs going back to a crime scene. Given that Frein is said to be so skilled in surviving, subsequently eluding police for weeks now, its hard to believe he would have been so sloppy with evidence left at or near an alleged crime scene if it was a premeditated act.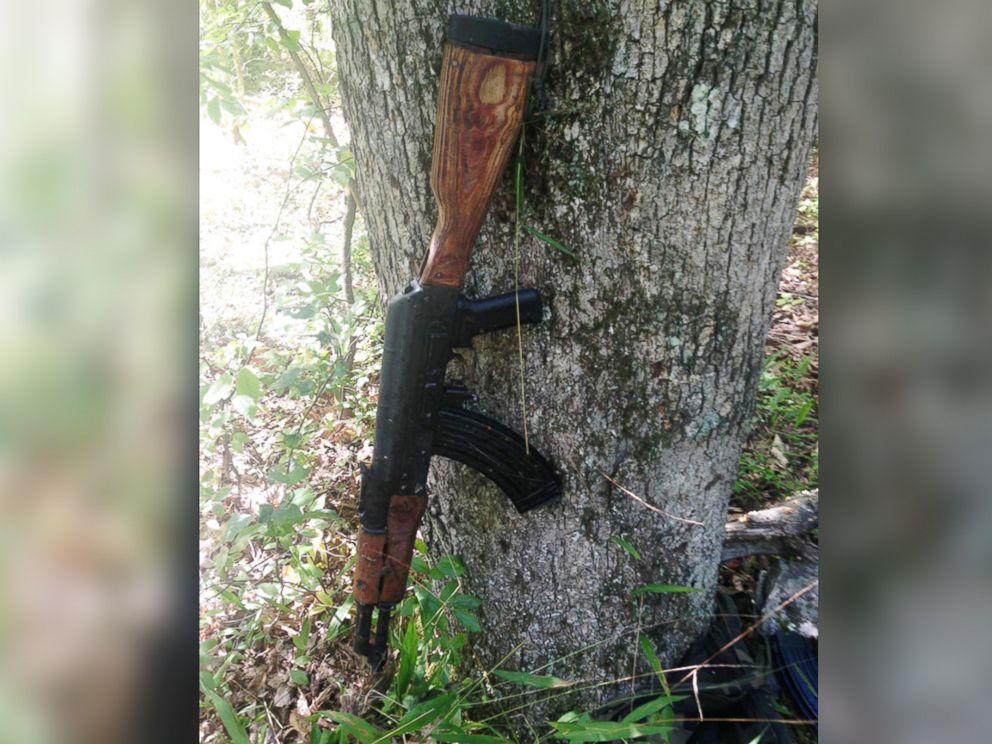 IMAGE: 'First Blood' -The alleged rifle of Eric Frein left propped up on a tree. Why would Frein leave the apparent murder weapon in an easy place for police to find? (Photo link breakingnewstoday.net)
Though Frein apparently does have a police record for stolen property, the Governor of Pennsylvania, Tom Corbett and Lt. Colonel George Bivens, have been quick to condemn him prior to all the evidence being logged. Authorities have also tried to convince the public Frein has been planning to targeted police for "months or years," but it turns out that Frein's social media accounts were absent of any such comments or plots before they were taken down. While this in of itself does not prove his guilt one way or the other, it is telling that media seems to be following along with a bunch of unsubstantiated claims.
The Philly.com stated that: "Bivens said Frein was believed to be traveling on foot in an area 15 to 20 miles from where the Jeep was abandoned in Pike County and near where he lived with his parents in Canadensis, in Monroe County. Frein's parents' house was surrounded by armed troopers guarding against the possibility of his return."
Given that law enforcement has been throwing a lot of advanced terrain equipment into the fold over this incident, it seems odd they wouldn't have been able to triangulate Frein's position early on, since they supposedly saw him in the 'distance' several times.
In a Daily Mail news release, the police had suspected Frein of targeting one of the state troopers, Alex Douglass, for allegedly being involved in an extramarital affair with his sister-in-law. It turns out this theory posited by those close the case determined this was not true:

"Police say they have ruled out the possibility of an affair after 'extensive interviews' with Mrs. Frein, the wife of Michael Frein, which are understood to have included a polygraph test.
'We have investigated the rumor of the affair thoroughly after we learned about it', Pennsylvania Sate police spokesman Trooper Tom Kelly told MailOnline. 'There is no truth to the affair."
Amazingly, the media is still suggesting that the motive for the shooting was over Frein's possible perception of an affair. How's that for egregious supposition?
It turns out, authorities have decided that the police shooting had been planned a couple of years back. This determination was apparently made after combing over Frein's computer for clues. 
It's important to note, the long-term motive doesn't entirely fit well with other suspected activities surrounding this case. On one hand investigators want you to think of Frein as an unstable and dangerous man capable of a crime of passion and at the same time, they want you to believe his actions have been carefully planned with precision for years.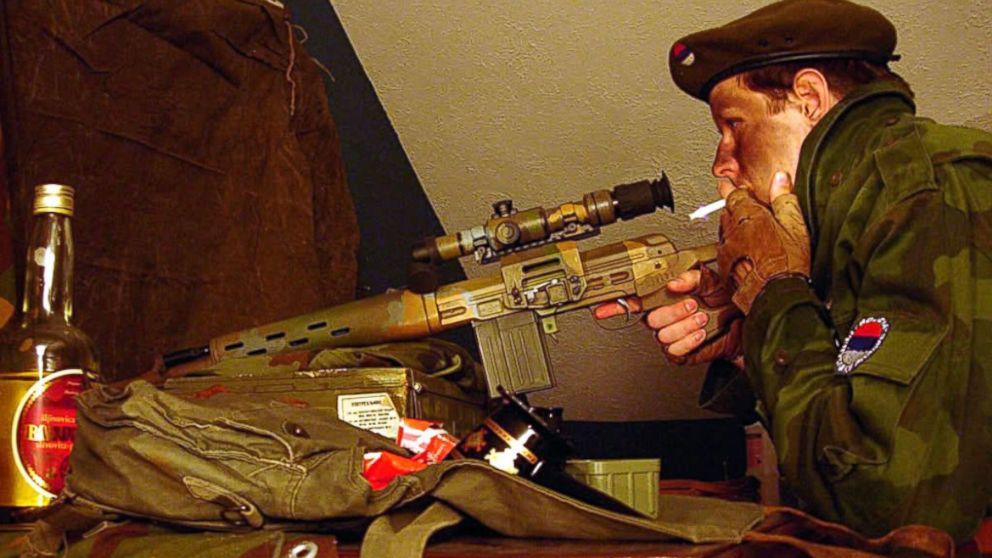 IMAGE: 'Red alliance' – War-time reenactor Eric Frein  (Photo abcnews.com)
There are some in the security field that have doubts about Frein's guilt. DC based investigative journalist Susan Katz Keating, a former Times reporter with a counterintelligence background, specializes in national security and has expressed her doubts about this case as well. Here are a few excerpts from her blog:
"The hunt for suspected cop-killer Eric Frein has taken on increasingly surreal qualities. Yesterday I noted a number of red flags surrounding the case. Today the flags wave bigger and brighter."
"According to police and news reports, Frein was trapped last night inside a relatively small area in Canadensis, PA., near the house where he lived with his parents. This makes no sense to me. Why would the most hunted fugitive in America return to the one place where he could expect to be surrounded and captured? As it turns out, he wasn't captured. Why not? Perhaps he wasn't there."
"Again: the case against him is circumstantial. He might in fact be the perpetrator. Or he might have been set up to take a fall. If so, he may be incapacitated or dead, and the true perps still on the loose."
Here's a YouTube video below by 'Ghost of Fawkes' showing us other apparent anomalies surrounding the Blooming Grove police barracks shooting…
NOTE: Once again, we were led to believe alleged acts of violence have been carried out by that of a "deranged lone gunman". Like so many other alleged shootings, the lone person narrative is a constant motif, despite evidence to the contrary. In the case of Sandy Hook, immediately following the incident, reports stated there was  a second shooter on several CBS and ABC affiliates.
One thing's for sure, we're not being told the whole story about Frein, Blooming Grove or the real motive for law enforcement to quickly order residents to 'shelter in place' following an apparent crisis…
"I believe we are close to him," said Lt. Col. George Bivens of the PA State Police.
The mystery continues…
READ MORE PA SHOOTER NEWS AT: 21st Century Wire PA Shooter Files
–