RELATED: Graphic Photo: Exclusive Coroner Image of Boston Bombings Suspect Tamerlan Tsarnaev
UPDATED: 22/4/13
Police officials say that Dzhokhar Tsarnaev, aged 19, was found hiding overnight in a boat in the backyard of a house in the Boston suburb of Watertown, where he was wounded and exhausted from a "gun battle with police" in which his accomplice brother was killed.
Boston Police Commissioner Ed Davis announced after Dzhokhar's arrest: "the citizens of the city of Boston and this area can be confident that the threat has been removed".
The suspect is said to be in serious condition held at a heavily guarded Beth Israel Deaconess Medical Center in Boston, and interestingly, unable to talk as a result of "injuries to the throat", as Federal prosecutors await their chance to interview him. It is not clear as yet, whether or not, or when the suspect will be allowed a lawyer present during questioning.
Every step of the Boston Bombing saga this week has relied almost exclusively on official statement by police as to what happened and when. We have already raised a number of serious questions about inconsistencies in suspect status here, and here.
In addition, the FBI has been shown concealing from public view the fact that their agency has a relationship with older suspect Tamerlan Tsarnaev.
Should the public trust the FBI and Boston Police to deliver a full and accurate account of these events?
Was Dzhokhar shot before, or after police found him?
Helicopter footage appears to show the suspect climbing out from under a tarp in good form, even though police insist he was bleeding all day from gun shot wounds sustained during his escape.

PHOTO: Helicopter footage show suspect climbing out.
http://youtu.be/bjocGidSLJw
.
After the apparent apprehension, the suspect can be seen with a damage face and neck, which do not appear to be consistent with his physical state after he was set upon by police. This begs the question: what did police do to the suspect when the apprehended him?
See for yourself…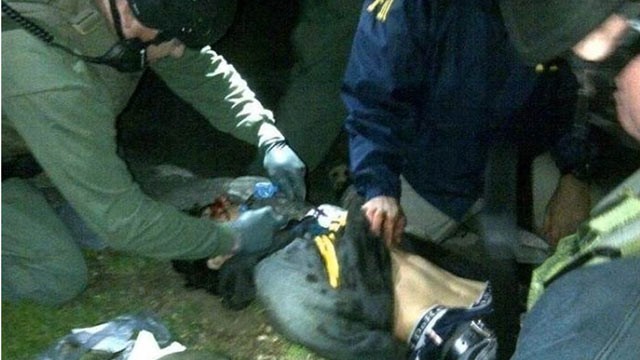 Why did Police open fire with so many rounds into the boat where Dzhokhar was hiding?

Were they hoping to kill the suspect?
Watch residents' video of police and a hail of rounds: 
http://www.youtube.com/watch?feature=player_embedded&v=796UFHldHM4
.
Boston Police finally deploy robot to lift a tarp
The media are also celebrating some of the high tech gadgetry and technologies used by police in the nation's largest-ever urban manhunt.
Before the teen was taken into custody, a 1000 strong Boston Police and tactical group felt there was no other option but to send in a robot to finally pull the tarp off a boat where the boy had been hiding.
"We used a robot to pull the tarp off the boat," said David Procopio of the Mass. State Police. "We were also watching him with a thermal imaging camera in our helicopter. He was weakened by blood loss – injured last night, most likely."
Biggest Dragnet in US history
What's really extraordinary is that the single biggest and most expensive dragnet in US history could not manage to find the suspect who was only 3 blocks away from the original confrontation with police, who was eventually found by a resident out for an evening cigarette.
Nonetheless, the whole operation has been deemed a resounding victory by federal and local law enforcement, the media – and the residents of Boston.
UPDATE: Medical examiners rule out that older brother Tamerlan could have been run-over by SUV
Despite claims in the media which originated from law enforcement, Dr. Richard Wolfe, head of the hospital's Emergency Department, could not see any evidence of this claim. The Boston Herald reported:
"When asked about reports that Tsarnaev was run over by a vehicle driven by his fleeing brother, Dzhokhar Tsarnaev, Wolfe said he did not see any obvious injuries that would back up that theory.
"I certainly did not see any tire marks or the usual things we see with someone run over by a car," he said.
Just one more reason why we might question some of the official reports of events in this case.
SEE ALSO: VIDEO: Bomber suspect Tamerlan Tsarnaev appears alive, naked and handcuffed
READ MORE BOSTON BOMBING NEWS AT: 21st Century Wire Boston Bombing Files