LATEST: Boston Theater: The full ensemble cast of soldiers, spooks and 'cleaners'
BREAKING: Serious Condition of Boston Suspect Raises Questions About What Police Did and When

–
REPORT BELOW LAST UPDATED: 22/4/13
21st Century Wire
This is a real video. Was this the suspect Tamerlan in the video, or not?
If it's not, then what is the name of this person in the video?
PREFACE: There appear to be a number of omissions and changes in the official story this week, some of which we've already exhibited here , here and here, and this is why we are asking this question about this video.
The following video below is a clip was just released via YouTube. It may have been shot on a hand-held camera or phone. It aired on CNN. We are told it also aired on a Brazilian television news channel covering the Boston Bomber suspect chase.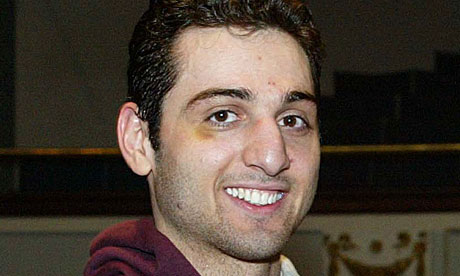 PHOTO: Suspect number one, older brother Tamerlan Tsarnaev – is this the man in the video?

This video, which we are told appeared on Brazilian TV earlier today appears to have been shot at the scene of the Boston Police Dept's arrest of suspect bomber Tamerlan Tsarnaev – the video clearly shows the 26 year old being escorted to BPD vehicle whilst handcuffed and not wounded, which in total contradiction to official reports which claim the suspect was shot by police and then run-over by his younger brother in a stolen SUV in Sommerville, MA.
Please bookmark and share this video, and do continue to ask questions about what happened on the evening April 18th and the morning of April 19th, 2013, so the public can better determine the truth of all that really happened.
Could it be the same Tamerlan Tsarnaev that Federal authorities and Boston police say was shot and died at the scene of a shootout?
If it is Tamerlan, then this means he was executed, or brutally murdered after this new footage was shot.
Make up your own mind…
We found this video originally at YouTube Channel "Hebert D."
CNN news also briefly aired this very clip yesterday, and also presented here in a different edit, but gave little information as to who was actually apprehended here.
UPDATE: Medical examiners rule out that older brother Tamerlan could have been run-over by SUV
Despite claims in the media which originated from law enforcement, Dr. Richard Wolfe, head of the hospital's Emergency Department, could not see any evidence of this claim. The Boston Herald reported:
"When asked about reports that Tsarnaev was run over by a vehicle driven by his fleeing brother, Dzhokhar Tsarnaev, Wolfe said he did not see any obvious injuries that would back up that theory.
"I certainly did not see any tire marks or the usual things we see with someone run over by a car," he said.
UPDATE 22/4/13: VIDEO: Tamerlan Tsarnaev's Aunt confirms it's her nephew being walked naked and handcuffed…
Viewers who watched the live broadcast of this footage of naked man have contacted 21st Century Wire and confirmed that it was reported live as being Tamerlan the older brother.
We believe this aspect of the Boston case should not be ignored and must be addressed by authorities.
Please leave your comments or any information on this subject in our comments section below the article.
If you can help to verify the first video's authenticity, please contact us.
READ MORE BOSTON BOMBING NEWS AT: 21st Century Wire Boston Bombing Files
–