SEE ALSO: Turkish President Says the Unsayable: 'West is Behind Charlie Hebdo False Flag Attacks'
21st Century Wire says….
In predictable fashion, new anti-terror measures are said to be ushered in following the highly theatrical 'three days of terror' seen in Paris more than a week ago. 
It's become quite clear after reviewing the available evidence, the Paris attacks involved deliberate staging for a much larger agenda, as was the case with  9/11 and London's 7/7 bombings. Another case of problem, reaction, solution…

All across Europe 'terror' threat levels are being raised for maximum impact, with fear induced talking points lead by US and UK leadership promising to put an end to this "the poisonous ideology."
Western political leaders and their media will publicly discuss the idea of so-called terror 'sleeper cells' ad nauseam, hiding in a nation near you, but none of them will acknowledge the historical fact that they themselves help to harbor, grow, foment and radicalize individuals through counter-terrorism operations. Allied nations of course, will bring up the fact that Western intelligence regularly uses double agents and informants, under the banner of security to obfuscate the true intentions of such programs – always careful as to how they paint Western foreign policy aims.
As we've noted before here at 21WIRE, US, Britain and France are culpable in the the rise of 'Islamic' terrorist groups and incidents, as they are in fact engineers of it. One of the main architects is former NSA head, Zbigniew Brzezinski (photo, left), who developed Osama bin Laden as a US intelligence asset and built the al Qaeda network which many believe is still controlled by the CIA to this day.
Western corporate media messaging has worked long and hard to polarize the public through distortions of cultural identity, using it as a way to psychologically redirect the populace. Events like the Paris attacks, become a jagged catalyst for the security apparatus, and cloud the public with highly deceptive and divisive propaganda.
Following this latest synthetic terror event to scourge the West, major announcements have been rolled out regarding new anti-terror measures between the US and UK. The new security protocols will no doubt capitalize off of the GLADIO-style stage play witnessed in Paris recently.
This week police in Belgium, Germany, France, Ireland and Greece conducted 'successful raids' on local terror cells.
Some of the details in Belgium raid have added to the mystery of the Paris attacks, as WSJ reports:
"Belgian federal prosecutor's office said that a man presented himself to the police in Charleroi, a city in southern Belgium, saying he bought a car from Mr. Coulibaly's wife, Hayat Boumeddiene."
Continuing the report stated:
"The police then searched the man's home and discovered evidence that he was involved in weapons trafficking, the official said. A judge ordered the arrest of the man, who wasn't identified. But officials say it is unclear whether Mr. Coulibaly bought any weapons from the man."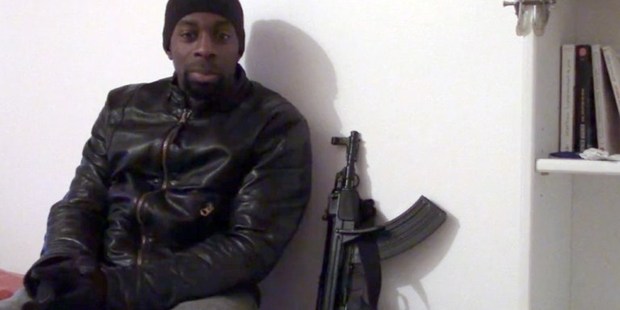 IMAGE: 'Terror Patsy?'  –  Amedy Coulibaly one of the named gunmen in the Paris attacks.  Coulibaly is said to have supported ISIS, while the Kouachi brothers were said to followed orders from al Qaeda in Yemen. (Photo link nzherald.co.nz)
Paris attack plot exposes the West
In a recent New Zealand Herald report, French raids have produced a perceived 'fourth man' involved in the Paris attacks:
"Paris Criminal Brigade and a special police anti-terrorism unit seized a scooter there that allowed them to identity "a fourth man" who acted as Coulibaly's accomplice."
Will this latest alleged accomplice story hit the back-burner, just as Coulibaly's femme fatale, Hayat Boumeddiene did?
According to the same report:
"The newspaper did not identify the man by name, but said he may have shot and seriously wounded a jogger in nearby Fontenay-aux-Roses on January 7, the same day two friends of Coulibaly, brothers Cherif and Said Kouachi, killed 12 people at the offices of Charlie Hebdo."
The story goes on to add that the newly suspected accomplice may have already left the country for Syria – even though the unnamed fourth suspect has a lengthy criminal record.
If this story true, why wouldn't authorities pursue a massive manhunt, just as they did for the other suspects said to be involved in the Paris Attacks?
Additionally, why did the hunt for Boumeddiene seem to fade from coverage, except for casual updates as to her whereabouts?
According to reports the man seen in airport security footage with Boumeddiene has been named:
"Hayat Boumeddiene, on CCTV footage after landing at Istanbul's airport on Jan. 2. Her traveling companion has been identified as French-born Mehdi Belhoucine, 23, whose older brother was convicted and sentenced to a year in prison in 2014 for his part in a network to recruit fighters for Afghanistan and Pakistan."

IMAGE: 'Ensnared Terror' – Many have stated that both Abu Hamza, Haroon Rashid Aswat  were working with British intelligence. ( Photo link telegraph.co.uk)

Terror tied to security agencies
Some researchers have pointed out that the cloaked exit of Boumeddiene, points to that of Haroon Rashid Aswat, who was described as the mastermind of London's 7/7 bombings. As noted many times over the years since the attack in London, former US prosecutor John Loftus, stated that Aswat was working for MI6 as a 'double agent' and under their protection, he evaded extradition to the US for his role in providing military training at a militant facility in Dog Cry Ranch Oregon in 1999.
Strangely, after much back and forth about his health and how he might be treated in US custody, in October of 2014, he was finally extradited back to the US to face terror related charges for his role in the 1999 Oregon facility. This seemed to coincide with Aswat's mentor and long presumed intelligence asset, Abu Hamza  (Mostafa Kamel Mostafa) – being sentenced to life in prison, just two days following the Paris attacks.

Hamza's role appears to have been that of a covert handler and mentor for jihadists, a role which suited Hamza's Hollywood villain look, giving much to his mythological media status as a face of terror.
Recently here at 21WIRE, in  the aftermath of the 'Sydney Siege', we marked the similarities between Haron Monis and old terror baron Hamza. Here is a section of that report below:
"As an unofficial media 'terror mascot', Monis had crafted a media profile not unlike another high-profile British intelligence informant – the one-eyed, hook-handed, radical Egyptian born 'cleric',Abu Hamza, who became News Corp's face of terror for over a decade in the UK. Like Man Haron Monis, Abu Hamaz (real name Mostafa Kamel Mostafa) awarded himself the quasi-religious 'honor', or title of 'Sheikh'."

"With Monis, a media personality was also cultivated, although he is only 'Hamza lite' by lacking the perceived jihadist pedigree of a Hamza or Qatada, but in theory, his private and public roles would be the same."
"Hamza's role as a state instigator and secret custodian of the Finsbury Park's radical 'honey pot', now appears obvious. In a typical honey pot operation, security chiefs will place an outrageously radical character into position in order to attract "the worst of the worst" and then inform on them to authorities. For years Hamza openly preached his overtly radical, over-the-top sermons at Finsbury Park, often praising Osama Bin Laden and glorifying the attacks of 9/11, all the while mocking the police."

The contemptible preacher Anjem Choudary, has also been in the news again recently, stoking the fire of radicalism in the wake of the Paris attacks. Over the summer we reported that there are accounts alleging that Choudary enabled Abdel-Majed Abdel Bary to join ISIS militants within Syria, Bary has been named by MI5 and MI6 and thought to be the infamous "Jihadi John."
It has been well documented that Choudary and Omar Bakri the founders of Al-Muhajiroun, a terror labeled organization, are linked to British intelligence. Prosecutor Loftus, has also stated that, Al-Muhajiroun did in fact have ties to British intelligence, as was reported by the Guardian back in 2005:
"The former US federal prosecutor John Loftus reported that British intelligence had used the al-Muhajiroun group in London to recruit Islamist militants with British passports for the war against the Serbs in Kosovo."
Hamza and others have been linked to the now banned Al-Muhajiroun.
This CNN report provides links  between decades of key terror actors, such as  Djamel Beghal. In March of 2005, Beghal is listed as serving a 10 year sentence for plotting to blow up the US Embassy in Paris. You have to wonder why he would receive such a short sentence. Both Coulibaly and the Cherif Kouachi are said to have become 'students' of Beghal while in prison in 2005.
Here is a short excerpt from the same CNN report, tying in London's Finsbury Mosque, which has been said to have suspicious ties to the intelligence community:
"Terror experts describe Beghal as a key figure linking generations of European terrorists. They include shoe bomber Richard Reid, 9/11's Zacarias Moussaoui and cleric Abu Hamza al Masri, all of whom Beghal knew from his association with the radical Finsbury Mosque in London."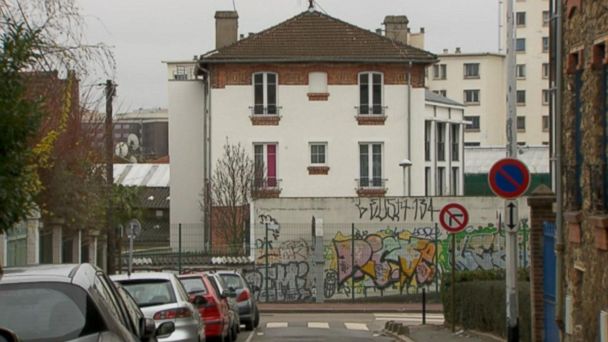 IMAGE: 'Coulibaly's hideout' –  Amedy Coulibaly's apartment in a Paris suburb.   ( Photo link abc.com)
It turns out that neighbors of the Gentilly house said to be used by Coulibaly, said they didn't notice anything out of the ordinary during his stay at the residence, according to an unnamed Associate Press reporter.
French police union spokesman Christophe Crepin, stated that the "killers didn't have the resources to bankroll the terrorist operation on their own."
He went on to also report:
 "we're dealing with a well-organised mafia-like structure."
Below is a YouTube video that surfaced in recent days that may shed light on Cherif Kouachi's informant status.
I cannot speak to the validity of the footage or whether the person speaking is Kouachi, but it does appear to be real…
https://www.youtube.com/watch?v=7KA9-Kyrj1A
Fallout after a crisis
In the wake of the attacks in Paris, there are now open calls by US and UK leadership to gain access to encrypted data. Both President Obama and PM Cameron have agreed to stage cyber 'war games' and establish a joint cyber cell, to repel future hack attacks.
Strangely, the Sony hack and hack of the Pentagon's social media, appears to be proof that the intelligence community has already been involved in staging cyber propaganda to justify its political agenda.
Additionally, the members of the EU have backed a scheme to allow access to all airline passenger information.
Are these choreographed raids meant to tie up loos ends in the aftermath of the Paris attacks, while simultaneously 'green-lighting' new clandestine counter-terror activities in the name of security and division?
When it comes to alleged plots and schemes to attack, one should always consider who stands to benefit the most.
More from RT below…
IMAGE: 'Terror hysteria' – Theatrical raids mark the aftermath of the Paris Attacks. (Photo link rt.com)
Over 20 terror suspects arrested in massive ops across Belgium, France and Germany

RT News
Police have arrested more than two dozen people across Europe in anti-terror raids conducted in the wake of a three-day terror siege in Paris and a raid on a terror cell in Belgium.
Some 15 were in custody Friday in connection with an impending attack on police in Belgium – 13 of whom were in Belgium and two of whom were in France. However, it was not clear whether the pair in France had been detained at the request of Belgian authorities.
Eric Van Der Sypt, a spokesman for state prosecutors, told a press conference that "this group was on the point of carrying out terrorist attacks aiming to kill police officers in the streets and in police stations."
During one of the dozen raids on Thursday night, Belgian police also killed two suspects in Verviers. The suspects, originally from Syria, had allegedly planning a serious and "imminent" attack.
While Belgian arrests have come in close succession to the three-day wave of terror that struck Paris and its surrounding areas, the people arrested were not related to the French attacks, Van Der Sypt said. He would not comment on the two French arrests.
Around a dozen people arrested in Germany were thought to have had links to Islamic State (also known as ISIS, or ISIL) and were apparently unrelated to the Belgian operation.
Anti-terror operation NOW in #Verviers, #Belgium 3 dead via @r0eland @rConflictNews pic.twitter.com/QNndQ03jMI

— Kay Burley (@KayBurley) January 15, 2015
IMAGE: Belgian special forces police participate in a raid central Verviers. ( Photo link rt.com)
In Pforzheim, a town of nearly 120,000 inhabitants in southwest Germany, State Criminal Police officials reportedly searched several homes of Islamists on Thursday morning.
According to reports, the suspects could be part of a wider network of Islamic State sympathizers allegedly planning attacks in Germany. One of the seven was a member of a 50-member group that traveled to Syria and Iraq to fight with the Islamic State, Bild reported.
At least 12 ongoing investigations into an alleged Islamist group in Baden-Wuerttemberg state have been launched, the President of the Office of Criminal Investigation (LKA), Uwe Kolmey, said.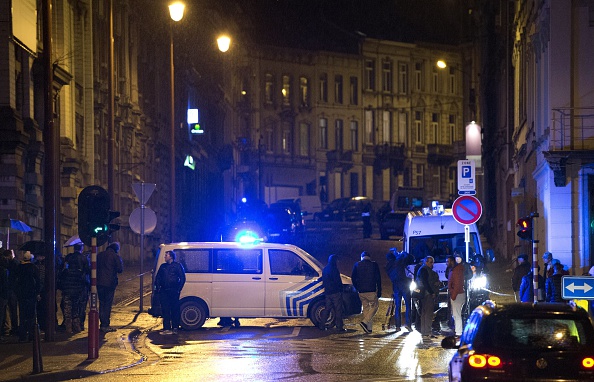 IMAGE: raid central Verviers. ( Photo link rt.com)
The anti-terror operation is ongoing as Europe is on high alert following the attacks in France.
The increasing sophistication of the alleged terror networks, combined with a lack of organized structure, makes it extremely difficult for police and officials to track every possible terror attack, said Rob Wainwright, head of European Union police agency Europol on Friday.
"The scale of the problem, the diffuse nature of the network, the scale of the people involved makes this extremely difficult for even very well-functioning counterterrorist agencies such as we have in France to stop every attack," AP reported him as saying.
Wainwright added that more than 2,500 and maybe even as many as 5,000 suspects have succeeded in entering Europe from war-torn countries such as Iraq and Syria.
Despite this, some 20 "sleeper cells" are operating across Europe, an unnamed intelligence official claimed to media Friday. The cells are comprised of some 120-180 people and have been posing a threat to people across France, Germany, Belgium and the Netherlands, the official said.
READ MORE PARIS SHOOTING NEWS AT: 21st Century Wire Paris Shooting Files