SEE ALSO: PARIS 'Magazine Murders' at Charlie Hebdo Reveals Evidence of Staging
21st Century Wire says…
French Police are now on the move now, hoping to get today's shooting suspects in their sights.
After today's fatal attack in Paris – at the offices of French political magazine, Charlie Hebdo, the French police have released the  identities of 3 suspects, including photos of two.
Hamyd Mourad (informant?), 18 years old, is said to already be in custody after turning himself in to police, while the other two suspects, brothers Said Kouachi and Cherif Kouachi, are said to be at large.

DEAD MEN WALKING: French Police released photos of the brothers Cherif Kouachi, 32, and Said Kouachi, 34.

According to French news agency AFP, police have issued arrest warrants for brothers Cherif, 32, and Said, 34. They have appealed to the public for information but warned that the men were "likely armed and dangerous".
According to AFP, "after seeing his name circulating on social media", 18-year-old Hamyd Mourad has since surrendered to local police at 23:00 local time and taken into custody late Wednesday evening.
Other reports reveal however, that Mourad was in fact in class while the shooting was taking place in downtown Paris. It is more likely then that student Mourad has in fact turned himself in to police in order to avoid harm. If you follow the trending French hashtag, #MouradHamydInnocent,  it is said to have been started by Mourad's classmates who say he was with them at the time of the attack. It's worth pointing out straight away, that if police have mixed-up their first 'suspect' (which it appears they have), then this lowers the likelihood that their other two 'suspects' are genuine.
Multiple US and European media agencies, including CNN, are now announcing that at least one of the suspects was already "under surveillance" by French anti-terror authorities, and that his file was "shared with US security officials" as well. If this is indeed the case, then it's highly improbable that the suspect would have staged his attack so easily. Once again, official admissions practically cancel out the official narrative.
Back in late September, French security officials suffered a huge embarrassment after three male 'terror suspects' who were on their way back from Turkey and Syria were allowed to walk free after landing at Marseille International Airport. All three were said to be "well known to French counter-terrorism officials" and were long been "under surveillance". Some suspect that these were working with the security services, but that their cover may have been blown.
This latest revelation with the Paris Shooter suspect also matches the modus operandi of the likely informant, Sheikh Monis from Sydney's Siege before Christmas, and also that of FBI informant, Tamerlan Tsarnaev, of Boston Bombing fame.

POLICE RAID IN PROGRESS IN REIMS, FRANCE (Source: BBC)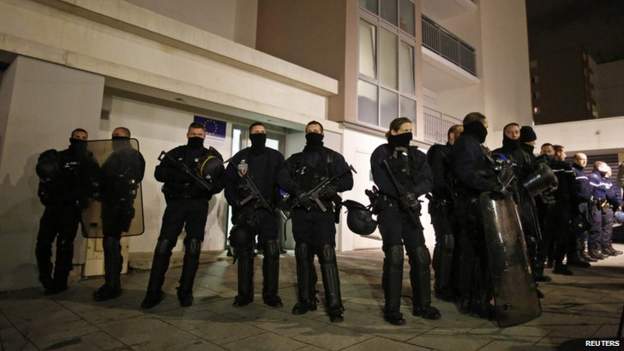 ON GUARD: French tac teams in a show of force, at the home of the alleged suspects in Reims (Image Source: Reuters/BBC)
If this story plays out like previous high-profile 'terror' scenarios, then expect that both brothers Cherif and Said will go the way of the Tsarnaev Brothers, from the 2013 Boston Bombing. The fate of older brother Tamerlan Tsarnaev, who was recruited by US security services as a federal informant before the alleged bombing took place, was tragic. It turns out that Tamerlan was alive and well while initially in police custody – a fact blacked-out by the US media, but reported here at 21WIRE. Later on it appears that he was in fact killed in police custody before his mutilated body was dumped off at the local morgue.
As 21WIRE reported at the time, younger brother Dzhokhar Tsarnaev narrowly escaped with his life during arrest, and was most likely severely injured while in custody.
Like with the Tsarnaevs, when authorities release the photos in public, it almost guarantees that the suspects will never make it out alive, and hence, will never tell their story in public.
Cherif and Said could very well be 'dead men walking' now, as police almost certainly be shooting to kill.
EDITOR'S NOTE: Based on the timing of the photos released by police and the professional contract/mercenary attributes of the attack, it is HIGHLY UNLIKELY that the two suspects in the photo are the same men who carried out today's sophisticated attack. Note also the height and build of the shooters, and do not be surprised if the two suspects are short and look nothing like the tall, muscular-frame shooters.
READ MORE PARIS SHOOTING NEWS AT: 21st Century Wire Paris Shooting Files