SEE ALSO: Trucker Protest Causes Traffic Delays into Nation's Capital
21st Century Wire says…

It's Friday morning and the Truckers are rolling already we're told, and the national media are giving mixed reviews about Ride for the Constitution so far, as it heads towards Washington DC. 
We will relay any more news throughout the weekend, and also check updates via FB:
Update from BIG RED: 
"I ask that everyone pray for our patriots running this event, thank you everyone for your support and loyalty to the cause
Zeeda and General Lee, god bless both of you for your hard work…"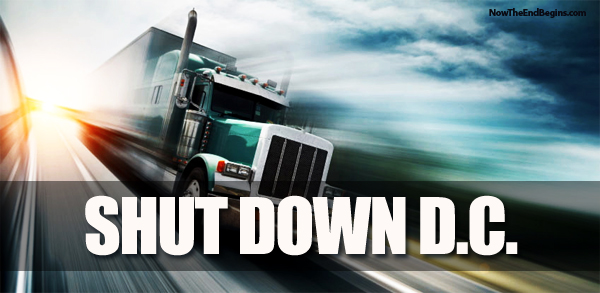 .
American truckers are putting Washington DC on notice
.
Patrick Henningsen
RT OpEdge
There seems to be no end to the political theater in Washington DC. But what began as a simple game of chicken between the White House and the Republican opposition has quickly morphed into a game of political Russian roulette.
A nation polarized, stuck in the ultimate political gridlock imaginable over federal spending. As America waits for a resolution to the federal government shutdown, an unlikely community has decided to put their money where their mouth is. By all accounts, they are the most under-appreciated industry in today's America. Truck drivers are the backbone of the American economy. Everything Americans own, buy and need is delivered to them by trucks daily, yet few take any notice of the people behind the wheels. That could all change after this weekend, as America gets a taste of its first-ever diesel-driven flash mob…