UPDATE: 'Obama Bodyguards', DC Cops Gun Down Unarmed Black Woman – Where is Al Sharpton?

21st Century Wire says…
This just in from 21WIRE's own boots on the ground in DC…
TODAY: A female with a baby in tow allegedly rammed a barricade just outside the White House, escalating into a high-speed pursuit, ending with shots fired at the US Capitol. The unarmed mother, identified as Miriam Carey, 34, of Stamford, Conn – was shot and killed by police following a brief car chase, with her child unharmed. So we're told.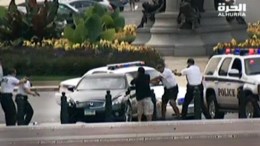 As the US government is a couple of days deep into a theatrical 'shutdown' over discretionary spending for the end of year budget, featuring the bloated healthcare provision known as Obamacare, another highly public 'shock & awe' shooting has occurred.
100 police vehicles were scramble to respond the unarmed mother in question.
As with the Boston Bombing back in April, "shelter in place" orders were instituted as a result of this incident, where DC workers and residents were subject to police daytime curfew.
This coming only a few weeks after a highly suspicious shooting at DC's Navy Yard.
This latest incident also has many conflicting reports, some suggesting the female was not armed, and other reports suggest several injured.
In addition to the "Hollywood" car chase and shooting, US Representative Sean Duffy of Wisconsin was apparently assaulted outside the Capitol building.
Duffy has been very vocal in his opposition to Obamacare.
Was this incident simply a case of a hair-trigger police over reacting to the initial incident, then chasing and opening fire prematurely? An excited US media first speculated whether 'terrorism was involved', followed by praising 'brave law enforcement and Secret Service', claiming that Carey tried to "ram through a White House barricade", but that is debatable after seeing the footage of the incident:
http://www.youtube.com/watch?v=JgLgGf0NxFw
.
Only months earlier, trigger happy LA police on the hunt for fugitive Chris Dorner, opened fire on two female newspaper deliver women  We'll see.
Something doesn't pass the smell test on this one…
Shots outside Capitol, police say 1 injury

By BRADLEY KLAPPER and LAURIE KELLMAN
.
Associated Press
A police officer was reported injured after gunshots at the U.S. Capitol, police said Thursday. They locked down the entire complex, at least temporarily derailing debate over how to end a government shutdown.
The shooting unfolded after police chased a black car up Constitution Avenue toward the Capitol, said tourist Edmund Ofori-Attah, who walked toward the scene as the car stopped.
"Then I heard the gunfire" and hit the ground, he said.
Sen. Bob Casey, D-Pa., told reporters he was walking from the Capitol to the Senate Russell Office Building across the street when he noticed several police officers driving fast up Constitution Avenue on motorcycles.
"Within seconds of that," Casey said, "we heard three, four, five pops," which he assumed were gunshots. He said police ordered Casey and nearby tourists to crouch behind a car for protection.
In about two minutes, he said, the officers moved everyone into the Capitol.
FBI agents rushed to the scene and Senate Sergeant at Arms Terrance Gainer said: "There are reports of injuries."
After nearly an hour, police ended the lockdown.
The shooting comes two weeks after a mentally disturbed employee terrorized the Navy Yard with a shotgun, leaving 13 people dead including the gunman.
As a warning was sounded, the House abruptly went into recess and lawmakers left the chamber floor. The Senate also suspended business.
Before the disruption, lawmakers had been trying to find common ground to end a government shutdown. The House had just finished approving legislation aimed at partly lifting the government shutdown by paying National Guard and Reserve members.
READ MORE DAILY SHOOTER NEWS AT: 21st Century Wire Daily Shooter Files