21st Century Wire says…
This debate has polarised camps into, is he a hero, or is he a traitor? Now the UN has finally weighed in on the matter…
At a press event held in Iceland this week, UN Secretary General Ban Ki-moon surprised onlookers by choosing to take the side of the White House over the embattled NSA whistleblower Edward Snowden, accusing him of "misuse" of his privileges as an NSA operative.
One one hand, his remarks are surprising considering the current international political climate on this issue which is overwhelmingly on the side of the whistleblower. On the other hand, Moon's comments are not all that surprising. When was the last time the UN ever stood up to Washington's power plays?
The dominant social theme here is clearly: there is no refuge, and no place to run on this earth for "whistleblowers". Moreover, the term 'whistleblower' has been replaced with "Espionage".
We'll let our readers decide…
.
Edward Snowden's digital 'misuse' has created problems, says Ban Ki-moon
.
Ban makes remarks in Reykjavik but MP Birgitta Jónsdóttir says it was 'wrong for Ban to condemn Snowden personally'
Ed Pilkington
Guardian
The former NSA contractor Edward Snowden misused his right to digital access and has created problems that outweigh the benefits of public disclosure, the UN secretary general Ban Ki-moon has said.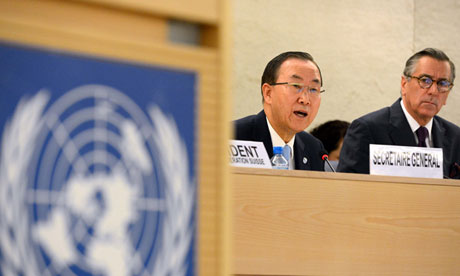 Speaking to a gathering of the foreign affairs committee of the Icelandic parliament in Reykjavik on Tuesday, Ban said that in his personal opinion "the Snowden case is something I consider to be misuse." The UN chief added that the opening up of digital communications should not be "misused in such a way as Snowden did".
Ban's remarks, recorded in notes taken by two people present at the meeting and confirmed by a third, provoked expressions of surprise from committee members. His depiction of Snowden as someone who had misused access to information came just hours after the NSA whistleblower made a formal request for asylum to the Icelandic government.
In interviews with the Guardian, Snowden identified Iceland as one of his top choices as a possible safe haven.
Birgitta Jónsdóttir, a member of the committee who was present at the meeting, asked Ban to clarify his comments on whistleblowers. He replied: "Access can be for the greater good, but sometimes it creates bigger problems through misuse by individuals."
Jónsdóttir, who participated with WikiLeaks in 2010 at the time it published US state secrets leaked by the intelligence analyst Bradley Manning, said she was alarmed by Ban's intervention in the Snowden controversy. "I see it as wrong for the secretary general of the United Nations to condemn Snowden personally in front of our foreign affairs committee. He seemed entirely unconcerned about the invasion of privacy by governments around the world, and only concerned about how whistleblowers are misusing the system."