SEE ALSO: Boston celebrates Martial Law with chants of 'USA, USA'?
BREAKING: Graphic Photo: Exclusive Coroner Image of Boston Bombings Suspect 
THIS REPORT LAST UPDATED: 6:30AM PST APRIL 20, 2013

21st Century Wire
21st Century Wire reporters been online live contributing to a special overnight LIVE broadcast of the The Pete Santilli Show tracking the story of the Boston Bomber shootout. 
The FBI released photos of these two suspects in the afternoon on April 18th, 2013:

Suspect in white hat was originally meant to be that of student Sunil Tripathi (photo below), but this was soon changed. But according to Sunil's family as confirmed by the Pete Santilli Show live on air, the FBI picture above is NOT that of Sunil Tipathi.
Below is a Facebook picture of Sunil: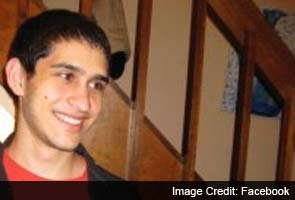 Also, here is the suspect still image that was said to matched Sunil's likeness:

However, the Boston Police shootout today in Watertown, MA, shows a major contradiction between what was announced on Boston Police scanners late on April 18th, and what is being released to the national media via AP and other from the FBI press office…

SEE ALSO: Boston Bombing investigation will mirror the Oklahoma City Bombing cover-up
What we know so far…
Two names were announced as suspects who police were in pursuit of, and their names were Mike Mulugeta – who was reported as shot dead, and missing student Sunil Tripathi and were reported to be at large. From the Twitter live feed confirming this did indeed happen today:
Kevin Michael TV [email protected] 4h
"BPD scanner has identified the names : Suspect 1: Mike Mulugeta Suspect 2: Sunil Tripathi. #Boston #MIT "
This was also confirmed by CBS local:
"Boston police on Friday revealed the names of two suspects in the Boston Marathon bombing, one of whom is an Indian origin person, Sunil Tripathi, reported CBS-affiliated television station WFSB."
Santilli confronts the FBI live on air
When confronted with this evidence, the FBI person who answered the phone said live on air to radio host Pete Santilli that these were 'unfounded fact', and appeared to get very upset at caller Pete Santilli.
Suspect number 1, Mike Mulugeta, alleged by some to be a 'dark-skinned' male, was reported to have been shot dead by Boston Police.
Photo released of Sunil was initially verified by Sunil's girlfriend. Interestingly, original suspect number 2, Sunil Tripathi was reported missing and appeared on an official FBI list from March 16th, which coincidentally followed a series of bomb explosions between Providence, RI and Boston – taking place on March 12th. Any relation between Sunil's disappearance and the explosions are purely speculative thus far.
At 11pm on April 18th, an SUV was carjacked by alleged suspects after an MIT campus policeman was shot, at which time Sunil Tripathi's Facebook page was immediately taken down.
The US military have intercepted, or taken over communications over the Boston police scanners early today – in what they are heard to have referred to as "Operation Tango 911".
We do know this:
During the FBI  "manhunt", officials asked the public to help them locate the two suspects believed to be behind the Boston Marathon bombings. Richard Des Lauriers, special agent in charge of the FBI's Boston division, said that the public must in no way whatsoever 'question the official account' of this, and that the public must not look for any other explanation other than the one that was presented by the FBI:
"…these images should be the only ones, I emphasize, the only ones that the public should view to assist us. Other photos should not be deemed credible, and they unnecessarily divert the public's attention in the wrong direction, and create undo work for vital law-enforcement resources."
We later learn that…
Via Huff Post: "Bloomberg reported on Friday that Jeff Bauman – the man who tragically lost both his legs in the Boston Marathon attack and is the subject of a striking photograph from the scene — may have helped to identify one of the suspects in the bombing.
According to the report, Bauman was in intensive care when he described to investigators a man he saw drop a bag near him prior to the explosions."
Click over to Bloomberg for the full story.
Based on this lead, all major US networks claim that it lead authorities to this next stage…
FBI announced the new names to the Tsarnaev Brothers:
The FBI are denying these original suspect names existed, and instead are putting out the names of suspects are being of "Chechen origin" named as a surviving Boston Bombing suspect identified as Dzhokhar A. Tsarnaev, 19, a former student from Cambridge Rindge and Latin High School in Cambridge, Mass – and his 26 year old "brother" Tamerlan Tsarnaev – both were at large, and one has been reported as shot dead first this afternoon, with the younger brother fleeing. Media reports have since revised reports to claim that  older brother Tamerlan was actually run over by the younger brother in an SUV carjacking incident, and has since died as a result of injuries sustained.
See original post from AP:
At 7am EST, Boston Police and Federal forces were involved in a massive stand-off as 500-1000 law enforcement persons surrounded the said building in Watertown, MA, where they claimed they had the 2nd younger suspect cornered, and surrounded based on live footage visible on CNN and Boston NBC local. At that very dramatic point, the Boston Police scanners were taken over by military it was reported (called 'Operation Tango 911') – and suddenly, police announce that the suspect was not there in that building – as had been reported over the previous 3 two hours. This fact should be looked at closely, as he was almost in view during the dramatic standoff.
The question should be asked: was the suspect, or person actually apprehended when police scanners were taken over?
As we speak, Boston police are chasing down the live suspect(s), based on the shell game we've outlined above.
VIDEO: Who set off the bombs in Boston?


.
Because of the inconsistencies surrounding the events of the last 72 hours, skeptics will rightly point out that the Tsarnaev brothers have most likely been set-up to take the blame for what is clearly a professional and highly sophisticated bombing operation that took place on Monday in Boston.
Sadly, we do not expect they will be taken alive….
SEE ALSO: Boston Bombing: Michael Savage rips Obama, Federal cover-up and release of 'Saudi national'
READ MORE BOSTON BOMBING NEWS AT: 21st Century Wire Boston Bombing Files