Shawn Helton
21st Century Wire 
The New Year's Eve Reina Nightclub Shooting may not have been the work of a lone wolf  terrorist according to Cevet Ones, a former deputy head for intelligence at Turkey's National Intelligence Organization (MIT). 
The new shocking revelations concerning Reina nightclub come days after a car bomb explosion rocked the city of Izmir in western Turkey this past week. According to Turkey's justice minister Bekir Bozdag, the Izmir attack displayed the hallmarks of the Kurdistan Workers' Party (PKK) who supposedly "gave the orders" for the attack, as authorities detained 18 following the incident.
Turkey has increasingly become politically fractured and mired in deep cultural divide while trying to maintain a fragile relationship between Moscow, Washington, secularists and pro-Islamist factions, as a backdrop of terror-related activity continues to polarize the country.
Let's take a look at some of the latest developments following the Reina nightclub terror attack…

GLADIO NEW YEAR? – Will Turkey's geopolitical struggle lead to potential false flag attacks committed by known wolves? (Photo illustration 21WIRE's Shawn Helton)
A Prime Suspect & Other Red Herrings
When we last wrote about the Reina nightclub attack which took the lives of 39 people, reports revealed that the nightclub's security had been taken over ten days prior to the apparent terror tragedy after a US intelligence warning and if that wasn't enough – there was also a suspicious case of 'mistaken identity' initially implicating two different individuals who were wrongly accused in the attack, Iakhe Mashrapov and Naim Sadakat.
QUESTION: Did Turkish security really make a mistake twice or was this merely a double red herring meant to delay the identity of a 'known wolf' shooter already well-known to security services?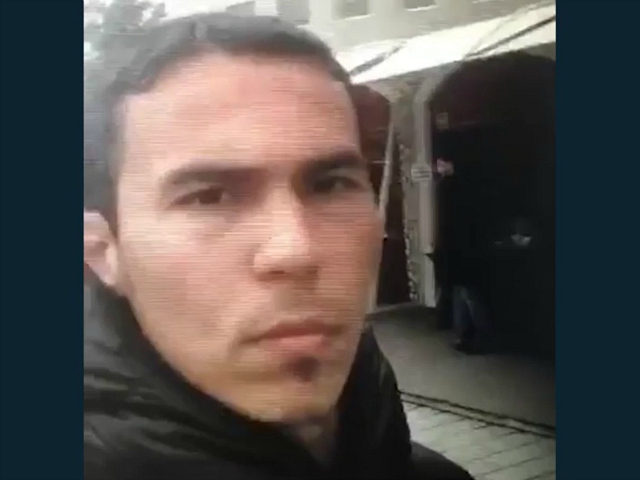 'PRIME SUSPECT' – It is still unclear as to how Turkish authorities and media obtained the cell phone selfie footage from Abdulkadir Masharipov – was it grabbed after the arrest of his wife? (Image Source: breitbart.com)
Over the past week Turkish authorities quietly named their new prime suspect, the New Year's night shooter has been identified as a 34-year-old Uzbek national named Abdulkadir Masharipov, who according to Turkey's Hurriyet daily and others, has ties to a "Central Asian IS cell," and allegedly has a code name, Ebu Muhammad Horasani.
QUESTION: Given the degree of confusion over the true identity of the Reina shooter, in addition to the alleged attacker having a codename  – is it possible Masharipov is also a terror linked intelligence asset?
In our previous report regarding the Reina nightclub terror tragedy we made note that Turkish authorities had already reportedly visually identified their prime suspect, in addition to already obtaining the suspects fingerprints at the crime scene.
Furthermore, since authorities had both a visual and forensic profile of a criminal via fingerprints left at the scene and arrested members of the suspects family – how would it be possible that Turkey's MIT erroneously identified two other individuals in the attack?
Masharipov who is still remains at-large, arrived in Turkey in 2011 were he lived in Konya before supposedly moving to Istanbul. Over the past year Turkish authorities have conducted ISIS raids in the city of Konya.
The Times of Israel reported the following details:
"Haber Turk newspaper on Tuesday said the man was thought to be a member of China's Muslim Uighur minority. Without citing a source, the newspaper said he had arrived in the Turkish city of Konya with his wife and two children in order not to raise suspicions. His family members were detained, the newspaper said."
"The Dogan news agency also said the arrested included a woman suspected of being the gunman's wife but gave no further details."
Interestingly, here at 21WIRE, geopolitical analyst and writer Steven Sahiounie, examined the historical context of the Uygurs (aka Uighurs or Uyghurs) residing within Turkey at the behest of President Recep Tayyip Erdoğan:
"Pres. Erdogan used his own mercenary Army of Chinese citizens: the Uygurs.   He had allowed them Turkish passports, which they used to pass legally through Central Asia to arrive in Turkey.  The immigration officials at the airport in Turkey recognized these special passports, and would confiscate them, but allow the Chinese to pass through legally and enter Turkey.
Pres. Erdogan had arranged for them to be transported from the airport in Turkey into Syria through the large and porous border area North of Idlib, which was once a mid-size town in North West Syria.   In the Zeytinburnu distict of Istanbul, Nurali T., a Uyghur Turk working to transport terrorists into Syria, with implicit allowance of the Turkish government, and especially the Turkish Intelligence Services, provides militants with passports worldwide."
Is the Reina nightclub also connected to Turkey's group of Uygur mercenaries?
In the age of digital media, informational illusion and overlapping narratives, the potential for GLADIO-style manipulation of events such as the Reina nightclub shooting have never been greater.

'MIT-MAN' – A deputy head of Turkey's National Intelligence Organization (MIT), Cevet One. (Image Source: rudaw.net)
Lone Wolfs, Known Wolves & Intel
Below is a passage from Turkey's Hürriyet daily that includes an interview with former deputy head of MIT, Cevet Ones, (also Cevdet Öneş), who shares his observations regarding the Reina New Year's Eve attack:
"The Islamic State of Iraq and the Levant (ISIL) militant who attacked Istanbul's Reina nightclub "definitely" got help from inside the nightclub, a former deputy head of the National Intelligence Agency (MİT) has claimed. 
"When you examine the militant's arrival from Krygzstan to Istanbul, his departure to [the Central Anatolian province of] Konya, and his connections to some families in Konya and Istanbul, it's clear that this person was not just a lone wolf," [Cevet Ones], the MİT's former deputy head responsible for intelligence, told daily Hürriyet. 
Öneş also said such attacks showed serious deficiencies in Turkey's intelligence and police agencies.
"Look at the Reina attack in the Krygzstan-Istanbul-Konya axis. He walks around the streets with a bag that draws attention and was able to arrive in Reina by passing through various check points. The work of the police and intelligence are significant, but there are gaps and shortcomings. This militant was able to see that gap and carry out the attack," he added regarding the attack that claimed the lives of 39 people and injured 65 others in the early hours of Jan. 1.
"The attack is not the work of a 'sleeper cell,' but we can say the families and people he is connected to are sleeper cells. As he has still not been caught, we can say the attack was a result of cooperation and people helping each other. This was a successful planned attack with a wide cooperation network despite intense security precautions and intelligence works in Istanbul. We are facing a professional structure," Öneş said. 
The former MİT official said the attacker's connections should be "thoroughly investigated," amid claims that he was linked to foreign intelligence agencies. 
"There are strong doubts that the attacker was an ISIL militant. ISIL has claimed the attack and given messages. But many political figures have suspicions about whether the attacker was a member of a foreign service. It's highly probable that it was an ISIL attack, but when you examine ISIL's emergence in the Middle East it is an open question whether there are possible foreign service connections. But it would be wrong to say 'this country did it' before concretely determining it," Öneş added.
He also stated that the previous movements of the Reina attacker show that there are "a large number of ISIL sleeper cells across Turkey."
In a recent report at RT News, the Deputy Prime Numan Kurtulmus stated that an external intelligence body could have also been involved in helping to carry out the Reina nightclub shooting:
"After Turkish authorities established the identity of the New Year's eve attacker, Deputy Prime Minister Numan Kurtulmus, in an interview with the Hurriyet Daily News, has suggested that external intelligence services could be involved in the terrorist act. Thirty nine people were killed and 69 wounded in the attack.
"I am of the opinion that it's not possible for the perpetrator to have carried out such an attack without any support. It seems like a secret service thing. All these things are being assessed," Kurtulmus told the publication, without speculating which state actor might be involved.
Kurtulmus expressed concern that with support from external intelligence other potential attackers could evade Turkish security radars. "As they are supported by some organizations with intelligence capacity, they can conduct terror acts in the way your security system may not even be able to think of," Kurtulmus said.
The night of Reina's New Year's Eve attack, the NY Times reported that a US travel warning had been reported just nine days earlier:
"On Dec. 22, the United States government issued a statement that extremist groups were "continuing aggressive efforts to conduct attacks throughout Turkey" in areas where American citizens and expatriates lived or visited. The statement urged caution about being in crowded places and public gatherings during the holidays."
Something to consider on a global scale, NATO's paramilitary-style stay-behind-armies have been implicated in a number of terror attacks across Europe for the past several decades.
Allied nations regularly bring up the fact that Western intelligence use double agents and informants under the banner of security to obfuscate the deceitful reality of such programs.
Here's another look at a compelling documentary discussing the details of NATO's secret army that was used to redirect political interests internationally…
On another note, CNN's Sara Sidner reports from inside Reina nightclub examining the apparent carnage – watch as she mentions the lack of bullets at the crime scene – a crime which we've been told had some 180 bullets fired – shockingly, parts of the club appear almost undisturbed…
https://www.youtube.com/watch?v=3sauwtN25Yc
At the moment, a manhunt continues for the Reina nightclub shooter – stay tuned for more…
READ MORE ISTANBUL ATTACK NEWS AT: 21st Century Wire Istanbul Files
SUPPORT 21WIRE – SUBSCRIBE & BECOME A MEMBER@ 21WIRE.TV