Shawn Helton
21st Century Wire 
Over two decades have passed since the loss of the Nirvana frontman Kurt Cobain and yet, key circumstances leading up to his untimely death still continue to be uncovered.
In order to provide context for this most recent revelation in the Cobain case, let's revisit a 911 police call to the singer's Lake Washington property in the early evening of March 18th, 1994.



'Dark Day' – The body of Kurt Cobain was discovered on April 8th, 1994, in the green house seen above. (Photo seattlepi)
On April 9th, the day after Cobain's body was discovered in the greenhouse above his garage, both the Seattle Post-Intelligencer newspaper and Associated Press published articles stating that police had been previously summoned on March 18th to the Cobain residence by his wife Courtney Love, allegedly because Cobain had "locked himself in a room with several weapons and was suicidal."
The March 18th incident was heavily publicized and widely echoed across media outlets throughout the world, with many adding that, "Cobain was coaxed from the room and said he didn't want to hurt himself." This aspect of the story was central in validating the idea that the rock icon was already on a 'downward spiral' making the public acceptance of his suicide a fait accompli.
Astonishingly, as you'll learn below, there's another set of previously unreported details – revealed by the primary officer and first responder to the infamous March 18th 911 call…

'Voice of Generation' – A contemplative Cobain in concert. (Photo soundofsummer)
Uncovering the Truth
Recently, investigative journalist Matthew Richer unearthed a more complete version of the March 18th disturbance call when he contacted Seattle Police Department Detective Everett Edwards for an interview.
A veteran of the force 21 years, Detective Edwards is recognized throughout the Seattle community. His current position is the detective in charge of the Seattle Police Department's Property Recovery Unit.
He was the first patrol officer on the scene at Lake Washington that fateful evening on March 18th, 1994.
In an article first published at Cobaincase.com entitled, "Kurt Cobain Did Not Attempt Suicide on March 18, 1994", Richer pieces together the chronology of the disturbance call, as seen through the eyes of Edwards (SPD Detective Edwards left side photo westseattleblog).
Much to the surprise of Richer, there was no record of the Seattle Homicide Unit ever investigating the March 18th incident in the aftermath of Cobain's death. And even more amazingly, not a single reporter had ever contacted Edwards about his March 18th police visit to Cobain's Lake Washington residence.
Below are passages from Richer's exclusive findings during his interview with the detective.
What Really Happened on March 18th?
Edwards arrived on the scene at the rock couple's house to discover Love screaming outside on the front porch:
"He locked himself in a room! He's gotta gun! He's gonna f***ing kill himself!" Edwards then informed Love that he would have to wait for backup to arrive before he could enter the house. "Well, if you're not gonna do anything, then just get the f*** out of here!" Love shouted."
In another, even more revealing segment of the correspondence, Richer uncovered the sequence of events during the March 18th incident, as relayed by Edwards:
"We were always led to believe that the police encountered an armed Kurt Cobain locked inside a room in his house that night."
"According to Detective Everett Edwards, the reality is that Kurt Cobain was not inside the house at all when the police arrived that day."
"Instead, when Edwards and his partner attempted to enter the house through the backdoor, they discovered an unarmed Kurt Cobain sheepishly standing in the backyard with his hands in his pockets."
"Moreover, Cobain did not appear suicidal; rather, he seemed deeply embarrassed by the situation. "He just really wanted to get out of there," said Edwards (who had then, incidentally, never heard of Kurt Cobain)."
Additionally, Edwards disclosed that Cobain 'calmly' walked with the officer to sit in the backseat of his squad car to discuss the circumstances of the disturbance call. Recounting the events of that evening, Edwards recollected, "He [Cobain] was just a very, very nice guy," and did not appear to be under the influence of any drugs.
Also, according to Richer's interview with Edwards, Cobain acknowledged to authorities that he had "simply locked himself in a room after an argument, " and had no intention of harming himself.
Although much was made of the March 18th police visit after Cobain's death, the matter had been handled according to police protocol in domestic situations, as officers confiscated Cobain's firearms and medication at the house that evening.
Here is an excerpt from the original police report, providing further confirmation that Cobain's actions were misrepresented during the March 18th incident:

"After further interviewing Ms. Love, she stated that she did not see him with a gun, and he did not say he was going to kill himself."

'Lasting Memory' – The Lake Washington greenhouse was reportedly demolished by 1998. (Photo seattlepi)
Painting a Picture
There were many misleading media accounts in the wake of Cobain's tragic death, and the March 18th 'disturbance call' looks to have been a significant factor in painting a specific point of view prior to singer's unexpected end.

The details regarding the so-called March 18th incident would greatly influence public perception about Cobain's apparent mental state, as it marked the first of two official reports that Love would make to the Seattle Police Department in under a month – falsely claiming Cobain was 'suicidal' with a gun.

Perhaps the most eye-opening aspect of the two police reports, was that Love had filed a missing person's report using her mother-in-law's name, Wendy O'Connor, on April 4th. This falsely filed report claimed that Cobain had recently 'fled' from drug rehab in Marina Del Ray on April 1st, flew back to Seattle, quickly purchased a shotgun, and "may be suicidal."
It's been long-established that Cobain legally obtained the shotgun for personal protection before going to the non-lockdown rehab facility.
Love would later admit she filed the report impersonating Cobain's mother Wendy O' Connor, which has led some critics of the case to believe that her assertions about her husband's state of mind may not be accurate, and could also be a convenient red herring for the authorities and media alike.
Although some are familiar with the alarming forensic side of the Cobain case, it's important to reiterate that the singer was found with three times the lethal dose of heroin in his bloodstream along with diazepam, prior to the shotgun being used near the time of his death. This has prompted many to believe the Cobain would have been unable to perform the task of using the shotgun, as the immediate impact of the heroin would have left him incapacitated.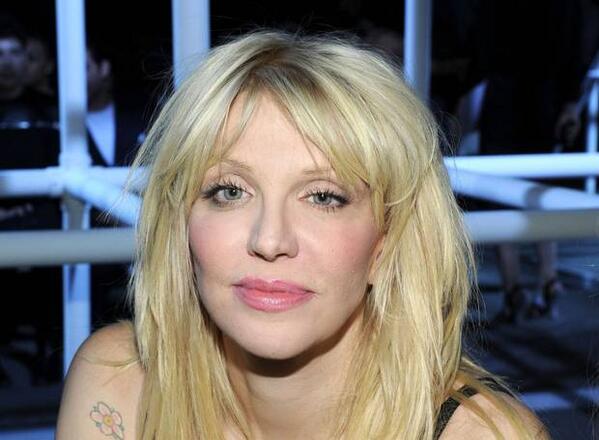 'Behind the Scenes' – Hollywood actress and singer Courtney Love. (Photo twitter)

In the aftermath of Cobain's death, the March 18th incident had become mythologized by many throughout entertainment media. One such case as mentioned by Richer, was a SPIN Magazine interview with Love that was published in February of 1995. According to that article, the well-known widow recounted an entirely different chain of events on the evening of March 18th, during her featured exchange with Craig Marks:
"See those marks on the door. On the wall. That's from when he [Kurt Cobain] was in here with guns, and I kicked it in. Or tried to."
"It was too secure." "He finally just unlocked it. And there were the guns, out. And I grabbed one. This was March 18."
"I [Courtney Love] grabbed the revolver, and I put it to my head, and I said, 'I'm going to pull this right now."
"I cannot see you die. I cannot see you die again.' He [Kurt Cobain] grabbed my hand. He was screaming." "There's no safety. You don't understand, there's no safety on that. It's going to go off.' So he got it from me."
And I [Courtney Love] was seriously going to blow my head off right in front of him, because I could not deal with it."
It's worth noting Richer's thoughts regarding Love's SPIN Magazine revision of the March 18th incident. He explains:
"This story, of course, completely contradicts the account given to us by Detective Everett Edwards, a decorated police officer with an exemplary record. In fact, Courtney Love never told this dramatic version of the March 18th incident to anyone prior to its appearance in SPIN."

More Mythology in Rome?
In another article, published by Rolling Stone Magazine in June of 1994 by the well-known author Neil Strauss, there also appears to be some glaring misconceptions with regard to not only the evening of March 18th – but of Cobain's accidental overdose in Rome on March 4th, just two weeks before the March 18th police call.
The article characterized that Cobain's overdose in Rome, was a "failed suicide attempt, however, this media analysis differed quite a bit from Dr. Osvaldo Galleta, the attending doctor who treated Cobain:
"We can usually tell a suicide attempt, "He did not seem like a young man who wanted to end it all." 
Adding that Cobain, "will fully recover with no lingering problems."
The Rome incident, has often been cited as additional evidence of Cobain's alleged 'mental state' and in many ways, it has also been grafted onto the events of March 18th and his eventual death, but without any serious qualification. This becomes even more clear, when you consider the Rolling Stone article written by Strauss, confidently proclaiming that the "domestic dispute escalated into a near disaster," on the evening of March 18th.
Both the incident in Rome and the March 18th disturbance call, set the stage for an intervention held for Cobain on March 25th.
How much of a factor did both events play in Cobain being urged to go to rehab?
More recently, with the release of the HBO co-produced documentary Kurt Cobain: Montage of Heck (MOH) this past May, viewers were given a glimpse into the private life of Cobain via archival footage and other previously unreleased material.
Although the 'authorized' documentary-drama had been billed by its creators as a celebration of Cobain's life, the film was laced with what seemed to be heavy speculative commentary and well-edited emotionally charged interviews – all focusing on Cobain's perceived 'suicidal' tendencies – without ever challenging, much less mentioning, the forensic details of the singer's death. 



'Take Another Look' – Former Chief of Police for the SPD Norm Stamper. (Photo shockya) 
Big Questions Remain
This past June, another Cobain-based docudrama Soaked In Bleach, thrust the Nirvana star's life and death back into the spotlight once again. The new film presents compelling analysis from a host of forensic experts, including the notable pathologist, Dr. Cyril Wecht (former president of the American Academy of Forensic Science).
Wecht along with others throughout the motion picture, question the official ruling in the Cobain case due to several forensic anomalies. In addition, the former Chief of Police for the Seattle Police Department, Norm Stamper, shared his thoughts during the controversial feature:
"I would tell you right now that if I were the Chief today, I would re-open this investigation."
Many have questioned the official suicide ruling in the Cobain case and the emergence of these new details regarding the March 18th disturbance call will continue to cast doubt over what really happened to the fallen icon.
Until these questions are answered, curiosity in the case will only increase, and serious doubt upon the official ruling is certain to grow.

READ MORE HOLLYWOOD NEWS AT: 21st Century Wire Hollywood Files