Shawn Helton
21st Century Wire 
Terror experts have ruled that ISIS video footage appearing to show the executions of 21 Egyptian Coptic Christians as being fake…
According to Florida-based Terrorism Research and Analysis Consortium, the 21 Egyptian Coptic Christians purported to have been decapitated in the video entitled "Signed With Blood: To The Nation Of The Cross," was ruled to have been 'staged' due to the excessive anomalies seen in the dramatic 5 minute film.

IMAGE: 'Larger than Life' –  Notice the extreme height difference between the apparent ISIS members, as they dwarf the alleged Egyptian victims. ( Photo link nationalpost.com)
Fake terror & propaganda
In a report this week at 21WIRE, prior to experts releasing their conclusion about the recent ISIS video production, we were able to outline many of the film's irregularities and inconsistencies – proving that the film was indeed heavily orchestrated for maximum effect.

The overly produced video by ISIS media arm Al Hayat Media Center, was in fact an expensive looking affair, producing a professionally done film with heavy post-production, subliminally arresting the viewer with deceptive propaganda.



IMAGE: 'Jihadi Joesph?' –  The new 'terror host' in the alleged Egyptian executions is seen out of balance with the sea imaging behind him. (Photo linktwitter.com)
In an article appearing today in the Daily Mail, terror experts and horror film professionals, weighed in on the recently staged ISIS video. Some of the video was also believed to have been shot on a 'green screen' with the water background added in post-production.
Veryan Khan, editorial director of the Florida-based Terrorism Research and Analysis Consortium told Fox News:
"The Islamic State's manipulation of their high-production videos has become commonplace."
Khan added that:
"The background image shown was likely from another location, the Bay in Sirte, a part of the Mediterranean Sea on the northern coast of Libya. There are several technical mistakes in the video that show it was manipulated."
According to Hollywood director Mary Lambert, who created the well-known horror film Pet Cemetery :
"The shot that seems really tampered with is the one with the really tall Jihadists and the dwarf Christians. The close-ups of Jihadists on the beach are most likely green screen."
Oddly, the analysis organization TRAC, has suggested that they believe that the victims may have been killed on location at a 'studio' where some of the footage was filmed.
How would the analysis group know this, if everything else about the video appears to be fake?

Since last September, 21WIRE has outlined that the ISIS 'beheading' videos were likely fakes, while filmed against a green screen, staged with props, wardrobe, voice overs and multi-cam videography. It turns out that at least two of the US major networks – CNN and FOX News finally admitted this over the past month, after backlash over a video allegedly depicting a torched Jordanian pilot Moaz al-Kasasbeh.
There have been major questions concerning the validity of the ISIS propaganda videos and now there are reports that anti-government activists in Syria are mimicking the "imagery of ISIS" in order to continue the psychological warfare on Western audiences. No doubt many uneducated viewers will consider this purposefully faked imagery as an actual ISIS event.
This begs the question: Is the as of yet unnamed Syrian activist group behind other ISIS propaganda as well, considering Al Hayat Media Center could be a front for a deeper operation?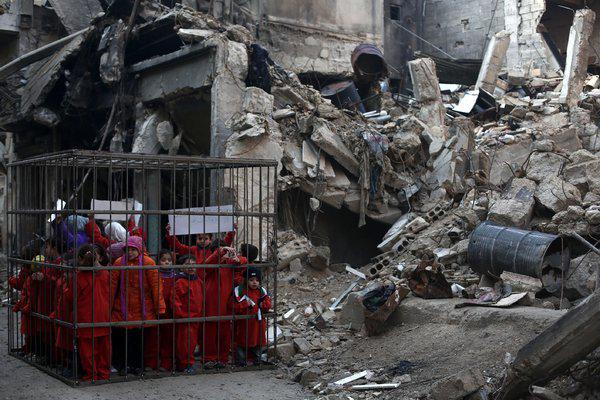 IMAGE: 'Staged Abuse' – an activist group in Syria produces 'strikingly' similar ISIS propaganda, distorting public opinion about what's really happening in the war-torn nation. (Photo link twitter.com)

IMAGE: 'False Imagery for Effect' – A purposefully unnamed Syrian activist group exploits and 'terrorizes' young kids in an ISIS-like scene. (Photo link nyt.com)
Incredibly, New York Times reporter Anne Barnard considers the images above to be 'non-violent' in nature, in her report out today entitled,"Children, Caged for Effect, to Mimic Imagery of ISIS":
"A few human rights advocates and antigovernment activists in Syria are creating shocking if nonviolent images and videos — even herding children in orange jumpsuits into a cage — to call attention to the wider scope of violence. So far, though, their voices have hardly been heard."
After the ISIS media implosion over the past month, with two heavily staged videos, a poor training video and now disturbing Syrian activist imagery, the threat monitoring group SITE is already publicizing the next terror incident – foregoing the ISIS brand for al-Qaeda-linked militant group Al Shabab.

IMAGE: 'Producing Terror' – Terror distributor SITE and their Director Rita Katz, seen here setting the stage for a future reprisal located at Minnesota's "Mall of America." (Photo linktwitter.com)

Behind the 'ISIS' curtain
In an article entitled "Libya, Egypt and ISIS: Could World War III Start With a Video?," 21WIRE founder Patrick Henningsen, gave a stirring analysis of the ISIS brand and the historical implications surrounding their Western media-driven rise:
"Is ISIS really in Libya? Well, yes and no. ISIS has become a kind of open-source brand, complete with an entire seasonal fashion line, a logo and a full range of merchandise. In fact, absolutely anyone who fancies it can simply fly the ISIS flag, or print out an A4 page and blue-tac it to the wall while filming a martyrdom video – like Amedy Coulibaly did in Paris."
"In Libya, they splurged a little, and printed large decals to stick on the hoods of their Toyota pick-up trucks, and showed off their new ISIS flags with a gold fringe. It seems that ISIS/ISIL has no hierarchical structure or organization and exists in Syria and Iraq as a confederation of radical paramilitary and al Qaeda groups many of whom receive various degrees of funding and weapons from NATO allies and from the GCC oil monarchies."
"There's also a number of seasoned mercenaries and western special forces who are training rebel and ISIS fighters heading into Syria. Otherwise, terrorist brigades function much more like a gang syndicate or Sand Pirate privateers than they do a bona fide terrorist organization. So in theory, anyone can be ISIS, and ISIS can be anywhere. It looks like the pretext for the ultimate open-ended and unregulated international war."
Below is an image from a newly released training video by ISIS. Following the dramatic Libyan beach production, as reported by the Daily Mail:
"The video bears all the hallmarks of the slickly edited propaganda material regularly pumped out by the terror group's media arm to dramatic effect. From this evidence, however, their next generation of 'special forces' are far from being a well-oiled machine."

IMAGE: 'Comical Drills' – laughable training footage released by apparent ISIS members this past week. (Photo link dailymail.co.uk)
Growing links between ISIS, Israel & 'Syrian rebels'
Sensational ISIS escapades aside, there is a deeper relationship developing with the masked Sunni militants and Israel. This is something that we have regularly reported on since the summer, as ISIS appeared to make many geographical advancements in the wake of Israeli airstrikes.
Media coverage regarding ISIS & Israel is no longer being kept in the dark, as Israel is now observed playing a larger role in the 'uncivil' war-theater in Syria.
According to a UN Security Council report, rebel forces have been stated as having regular contact with IDF forces at the Golan Heights border.
What will be next in this fraudulent War On Terror?
SEE ALSO: Staged Egyptian Executions in Libya 'Expose' ISIS Fraud Again
SEE ALSO: Libya, Egypt and ISIS: Could World War III Start With a Video?

READ MORE LIBYA NEWS AT: 21st Century Wire Libya Files
READ MORE ISIS NEWS AT: 21st Century Wire ISIS Files