21st Century Wire says…
In terms of its geopolitical repercussions, this latest #ICantBreathe moment at the hands of an Israeli soldier resulting in the death of Palestinian minister Ziad Abu Ein – could be a potential tipping point for a Third Infifada.

The IDF murder of the Palestinian minister was witnessed by both a Reuters and AFP journalists.

Abu Ein, 55, died shortly after being choked, and then suffering sustained body blows administered by IDF soldiers during a confrontation at a 100 person protest in the West Bank earlier this week. Protesters were staging an act of 'civil disobedience' against illegal Jewish settlement expansion near the village of Turmusiya by planting olive trees. Israeli soldiers and border patrol then moved in and fired tear gas and stun grenades at protesters, before beating Abu Ein and others.
US and European media were careful not to mention that he died from an IDF choking, instead reporting that he died from "tear gas". The autopsy reveals that he was in fact murdered by the IDF. Watch…
https://www.youtube.com/watch?v=3vYujHrrJKk
Just as with the death of Eric Garner, this police killing by Israeli forces threatened to trigger another escalation by residents of occupied Palestine.
Tensions are already boiling following Israel's killing of 1,250 Palestinians in the IDF's summer cull in Gaza. Already, Defence Minister Moshe Yaalon has is trying to head off another Infifada (uprising) by publicly stating that he "regrets the death" of Abu Ein, and has also called for Israel reinforcement troops to the West Bank.
EDITOR'S NOTE: Both American and European liberal youth are free to join in at this point, if indeed #BrownLivesMatter too, or rather, #ArabLivesMatter – if you will.
More from the Middle East….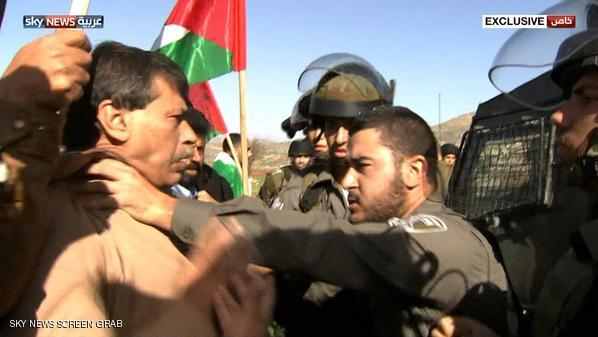 CHOKED TO DEATH: Palestinian Minister is killed in public by sadistic, bullying IDF soldiers.
Abu Ein, a minister in his early 50s without portfolio, died en route to a hospital after collapsing in the village of Turmusiya.
Photographs prior to his death showed Abu Ein being choked by an Israeli border police officer.
Initial reports indicate that Abu Ein was either beaten to death, suffocated on tear gas, or was hit by a tear gas canister in the chest. Israeli authorities announced after the death that they would immediately investigate the cause of the death.
Both a Reuters and an AFP journalist said they witnessed the Minister being struck by Israeli soldiers.
Abu Ein and dozens of foreign and Palestinian activists had held a protest against land confiscations by the Israeli government. The protesters planned to plant olive tree saplings on land they believed had been marked for annexation.
However, Palestinian government sources said that while protesting, 15 Israeli soldiers confronted them, beating some protesters and firing tear gas.
Following the death, Palestinian President Mahmoud Abbas announced three days of national mourning and called the death an assassination and "a barbaric act which we cannot be silent about or accept."…
Continue this story at Egyptian Streets
READ MORE ISRAEL NEWS AT: 21st Century Wire Israel Files
–