21st Century Wire says…
At least two people have been killed after an explosive device was tossed from a car into a crowd of people gathering for a peace rally in Kharkov, Ukraine.
The peace rally in Kharkov prior to the blast.
The event is identical to those which took place under Operation Gladio in Italy during the Cold War. Operation Gladio was a NATO stay-behind group that was seeking to prevent the spread of communism by supporting radical right-wing groups. During the event of a mass protest in the name of communism, Gladio would foment some form of terrorist attrocity, such as a bombing, to break up the protest and discourage any further attempts at similar actions.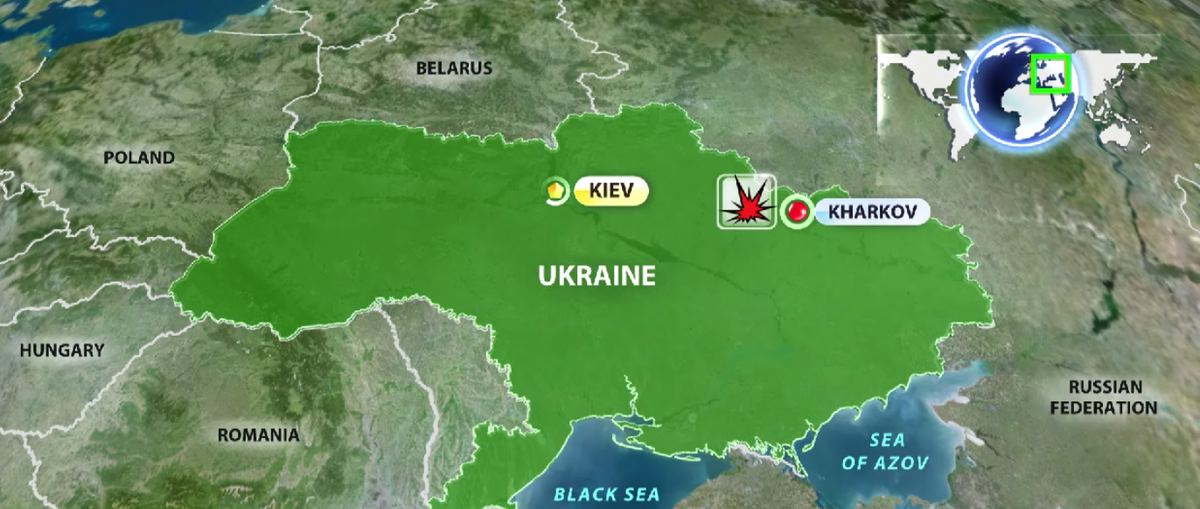 Kharkov's position on a map of Ukraine.
This is not a conspiracy theory, as Swiss historian Dr. Daniele Ganser has proven through extensive research in his book NATO's Secret Armies.
With Ukraine's military now failing on all fronts, along with a total lack of any meaningful support from the West, it is understandable why Kiev would be looking to break up any form of dissent that could further damage the credibility and legitimacy of its coup-government. Therefore, this bombing being a Gladio-style false flag is not beyond the realms of possibility.
With Kiev practically begging for Western arms, will this attack be used as evidence of arms being an absolute necessity at this point? This is something that Russia has strongly warned against doing.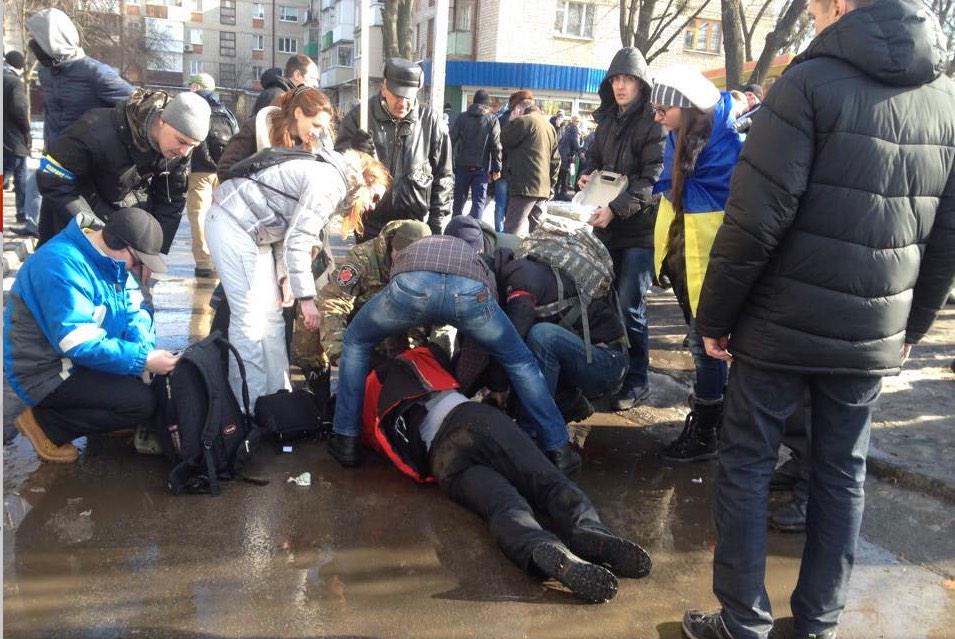 The aftermath of the attack.
Whether this attack was orchestrated or not, we now wait for this attack to inevitably be blamed upon Russia, continuing a campaign of demonization against the state that has been in full-force for months now. Hours after Russia's government ratified the $100Billion Brics Development Bank, we witnessed a geopolitical retaliation take place through the weaponization of ratings agency Moody's. Such a move in regards to this terrorist atrocity would be unwise and more than likely push the world even closer to the edge of world war than it already is.
What would Russia gain from pulling off such an attack, except further international condemnation? Unfortunate as it is, we must not allow this event to cause World War Three.
Follow us here: http://twitter.com/21WIRE

At least 2 killed in blast at 500-strong rally in Kharkov, Ukraine
RT

At least two people have been killed in an explosion in the center of Kharkov, Ukraine, during a peace march, local media report. Around 500 people had gathered in the center of the Kiev-controlled city for a rally.
Those marching in the front were hurt, with Tass reporting from the scene that at least 10 people sustained injuries and three others were killed. Other outlets speak of four and eight casualties.
"The blast went off when the march participants started moving from the Sports Palace to Svobody (Liberty) Square," a witness told Gromadske TV. "An explosive device was planted around 100 meters from the palace. Two people have died."
Witnesses interviewed by TASS said the explosive device was thrown from a passing car.
At the moment, Ukraine Interior Ministry confirms two fatalities and 10 casualties.
Continue reading the developing story on RT
FIND OUT MORE ABOUT GLADIO IN: 21st Century Wire Gladio Files