UPDATED 13/6/18: Basketball Diplomacy: Rodman Laid Groundwork for Trump-Kim Accord

Patrick Henningsen
21st Century Wire
This will most certainly go down as one the most extraordinary diplomatic odysseys in modern history.
When this former NBA superstar turned pop counter-culture icon embarked on his latest and boldest North Korean mission last week, the world watched, listened and then… scratched their heads. So how did this one come about?

In what he described as an international exercise in 'basketball diplomacy', Dennis Rodman led his rag-tag crew of geriatric basketball semi-legends behind the lines of the world's most reviled pariah state, ruled by a hereditary dictatorial dynasty.
Things were not going well from the onset. Rodman's chief corporate sponsor, Paddy Power, an Irish online gambling site, pulled away from underwriting his trip at the last minute. But his steadfast determination to pave his road map to peace was impressive, as it would have been way too easy for The Worm (as he's affectionately known by NBA fans) to wiggle away from his new friend, DPRK leader Kim Jong-un amid all the bad press and political pressure brewing in the US. The London Guardian adds here:
"Rodman could certainly have succumbed to the mounting pressure from New York Democratic Representative Eliot Engel, who referred to the events as "bizarre and grotesque," not to mention "ill conceived," while pleading for the Wednesday game to be cancelled. Instead, Rodman is keeping it real, steadfast in his defense of Jong-Un, to whom he professed his love, while ratcheting up his efforts his true goals of long-term peace."
Only weeks earlier, we were told in an 'unconfirmed report' that North Korea's new grand marshall, Kim Jong-un, had withheld food to a pack of 120 dogs and then fed his uncle, Jang Song Thaek, to them. So Jang, the former No. 2 official in Kim's regime, got tossed into a cage along with his five closest aides – all of whom had apparently fell foul of The Dear Leader (or so the story goes).It could just be negative US counter-propaganda designed to derail Rodman's trip, but it certainly added to the drama.
But this confluence of events cast an even brighter spotlight on him. No sooner did Rodman land in Pyongyang, did Mr Excitement himself, US Secretary of State, John Kerry, begin to rev-up his anti-North Korea rhetoric, saying, "We we will not accept North Korea as a nuclear state, nor a nuclear armed state." Instead, the US would supply South Korea with the "full range of U.S. military capabilities" and will "modernize to be prepared to face any threat."
Nothing unusual there. Kerry's comments reflect US policy on the Korean peninsula for the last half century.
The Fish
How he convinced his crew of NBA alumni to go to Pyongyang for a match against North Korea's national squad is anyone's guess. It was a motley crew and a far cry from your typical USA Dream Team – like the one Rodman played one at the 1992 Summer Olympics in Barcelona featuring Magic Johnson, Michael Jordan, Larry Bird and others. Instead, this Asian sporting odyssey feels more like a reality knock-off of the 1979 American cult movie classic, The Fish That Saved Pittsburgh, the story of a rag-tag band of freaks, has-beens, and misfits who mounted a last-ditch effort to save a basketball club and a city's terminal decline.
For basketball aficionados, The Fish is still the gold standard for wacky sports fiction, but Rodman has trumped this bit of cult-fiction with his own exploits. See the film's trailer here:

.
The Worm's Dream Team: At guard: Kenny Anderson, 43, and Eric 'Sleepy' Floyd, 53, and Craig Hodges, 53. At forward: Doug Christie 43, Cliff Robinson, 47, and Charles Smith 48. Finally, at center, the youngest of the group, seven footer Vin Baker, 42. Everyone needs some extra cash and it's hard to imagine all these guys following D-Rod behind the lines without some booty-loot waiting for them at the end; maybe a commemorative duffel bag stuffed with green paper, an embroidered pouch with some precious stones, or a shiny gold bar at the end of the mission (or just goodwill)?
While the exhibition match came and went however, the real show was happening off the basketball court between Kim and Dennis, where an unlikely friendship was being developed.
Roots of the Rodman Revolution
If you've just arrived on Planet D-Rod, you will have a hard time understanding exactly what you are looking at. To say that Dennis Rodman is a classic overachiever is an understatement.
Underneath all the colour and circus though, Dennis Rodman has always been a revolutionary. In an NBA sense, this is a man who literally came out of nowhere. He wasn't recruited by any big colleges out of high school, and no one really knew who he was when he graduated. In the world of basketball, he defied logic, with a game often described as, "ugly, but highly effective."
His rise to stardom came from humble beginnings. He was raised with his two sisters by single mom Shirley, in one of the roughest sections of Dallas, Texas. He was only 5'6″ as a freshman in high school and was cut from early try-outs, and left high school at 5'11", a rather average athlete. After high school he experienced an unheard of growth spurt, up to 6'7″. After a strong career at a small college, Southeastern Oklahoma State University, he caught the attention of an NBA scout, and the rest is history. He would go on to cement his bad-boy reputation as a member of the Detroit Pistons terrible trio alongside Rick Mahorn, Bill Laimbeer, who reinvented the term "winning ugly" during their late 1980's and early 1990's domination of the NBA. To his opponents he was always strange, annoying, and difficult to contain. The numbers don't lie – Rodman put up rebounding figures that were unheard of for a player his size. He effectively reinvented his position in his sport.
He beat the odds at every turn, and now he sits among some of the greatest athletes ever in the Basketball Hall of Fame in Springfield, Massachusetts.
The King of Crossover
Later, however, during the twilight years of his professional basketball career, you could see the frustrated artist begin to emerge as Rodman searched for other outlets of expression. It was clear his contribution to culture and sport would not be confined to the basketball court.
More than any other celebrity icon, Rodman typifies that 90's era now fondly recall as the naughties. He's definitely influential. Some even credit him for single-handedly helping tattoos crossover from a body art subculture previously reserved for merchant marines, goths, punk rockers and Hell's Angels, and into the western mainstream during the early 1990's. Later came the multiple body piercings, the unmistakable fluorescent Afro, and his dalliances and fetish escapades with pop icons like Madonna (who referred to him affectionately as "Daddy Long Legs"). Rodman continued to push the envelope and naturally, things got rather weirder still, including DIY female cosmetics modeling and tranny cosplay. At this point, most people wrote off him as celebrity freak, and let's face it – as celebrity freaks go, they couldn't be anymore impressive than Dennis.

There was a brief attempt to invade Britain in 2006 when Rodman landed a spot on Channel 4's hit reality show Celebrity Big Brother 4. With its 24/7 voyeur format, the gig was a tailor-made gig for The Worm who ended up as the most popular house member, the 6'8″ teddy bear with tattoos won the hearts and minds of a British crowd who were not only sympathetic to his eccentricities, but who loved his laid bad approach to life. It was an epic line-up stacked with perennial outcasts including British MP George Galloway, the 80's band Dead or Alive's transvestite frontman(ish), Pete Burns, ex-Baywatch babe Traci Bingham, and Welsh rapper and chav icon Maggot. There was even a cameo appearance by now notorious Sir Jimmy Saville OBE (this was six years before Saville achieved full gutter status). After the TV production had finished, Dennis embarked on a one week stint with the Brighton Bears in the British Basketball League. Unfortunately for Dennis, celebrities are a fairly disposable commodity in the UK, some with an average shelf life of 6 months or less. Still, D-Rod had managed to win over the British public.
Little did Dennis know, his presence on the international stage had only just begun.
VIDEO: CNN's Chris Cuomo maligns Rodman and his colleagues over their exhibition game in Pyongyang.
Basketball Diplomacy
Most people cannot get their head around Rodman's North Korea connection, much less what it means. You have this bizarre "friend for life" relationship with a crypto-dictator in charge of the planet's last remaining full-blown pariah state in Pyongyang (officially dubbed by CNN as 'The Hermit Kingdom"), and you might think, sure, this is one very extremely eccentric American ex-athlete, but that's as far as it goes. But here is where Rodman separates himself from other celebrities who have tried their hand at Hollywood diplomacy over the years. Sean Penn's trip to Baghdad to meet with Saddam Hussein in Iraq weeks before the bombs fell, comes to mind here. Unlike the typical liberal actor-cum-diplomat, Rodman is a living and breathing piece of postmodern art who has no more taboos left to break inside the bubble of American sport and culture, and now he's taken his act to a global stage. Immediately following his first trip the Pyongyang back in February 2013, his sponsor Paddy Power underwrote another trip to Vatican City where Rodman was present during voting in the papal conclave selection of a new pope. According to Rodman, it was strictly business as millions had been wagered by European punters as to who would be the next pope. "I'm just promoting this website. It's a gambling website, and it's about people who are going to bet on the new pope." Rodman then unleashed the closer, "If he's black, you get your money back."
It's fairly certain that no one, not Rodman, nor Michael Jackson, or Beyonce — could make a trip, especially one at the pleasure of North Korea's The Dear Leader, without being both briefed and debriefed by someone in the US State Department or a federal agency. That's a given. But The Worm's reputation as an international man of mystery took a peculiar turn last winter when he let slip to the press that he may have just become the world's first ever undercover 6'8″ basketball dribbling occasional cross-dressing spy. After a successful stay in the Communist enclave last February, when he was filming a documentary for HBO, Rodman told the Miami Herald he'd been approached by the FBI to work as an "informant", or spy, on North Korean activity. When you consider similar White House-sponsored pop PR junkets, like Jay Z and his entourage, who had recently been sent on a bizarre quasi-diplomatic trip to Castro's Cuba, a very weird picture begins to emerge, that of an MTV State Department being run out of the Obama Administration.
"I have been contacted by the FBI and I met with them. They wanted to know what went on and who's really in charge in North Korea," Rodman said. Yes, he did actually say that. That would mean a second duffel bag at the end of the trip, and why not? Even Elvis moonlighted for the Feds.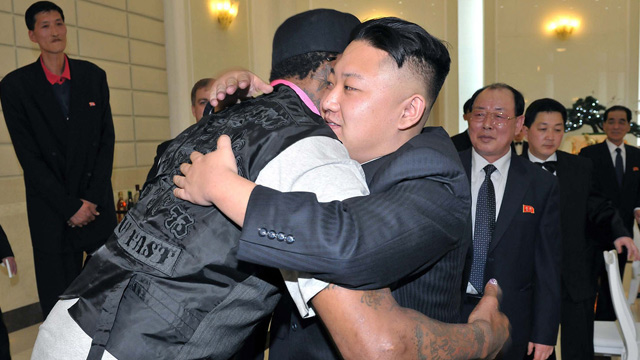 Birds of a Feather
Fundamentally, D-Rod and The Dear Leader are kindred spirits. Kim Jung-un spent most of his young and formative years away from his father, either in Swiss boarding schools and European colleges, or being raised by minders. While Kim instantly inherited his role as Dr. No, Rodman carved out his, but they are both regarded as pariahs of sorts. Magnetic attraction of this kind is not unusual in the human experience.
The Dear Leader caught wind of Rodman's Asian conquest after Dennis fronted two NBA legends tours in the Philippines in 2006 and 2012. Most sports fans in the west are probably unaware of how important basketball is in the Philippines. In a continent totally swept away by soccer fanaticism, basketball somehow carved out its niche as the national sport in the small, but densely populated island nation. Rodman's father, Philander Rodman Jr, was a former air force pilot who served in Vietnam, but who left the family when Dennis was young. The 2012 Philippines tour brought Dennis and his father together for the first time in 42 years.
Ostracised in his homeland, burned out in Britain, and with Europeans not quite sure what to make of him, one could sense Rodman's spiritual calling move eastward towards Asia. His attraction to Kim Jung-un makes perfect sense if you understand what kind of person Rodman is. He would just as soon adopt a three-legged puppy from the pound, as he would reach out to that one person who is shunned by everyone else.  There are a lot of stories about Rodman's big heart, and even at a young age he wasn't afraid to do just that, as evidenced here:
"During this time, Rodman worked at a summer youth basketball camp, where he befriended camper Bryne Rich, who was shy and withdrawn, following a hunting accident in which he mistakenly shot and killed his best friend. The two became almost inseparable and formed a close bond. Rich invited Rodman to his rural Oklahoma home; at first, Rodman was not well-received by the Riches due to being an African-American. But, the Riches were so grateful to him for bringing their son out of his shell that they were able to set aside their prejudices. Although Rodman had severe family and personal issues himself, he "adopted" the Riches as his own in 1982 and went from the city life to "driving a tractor and messing with cows." Rodman credits the Riches as his "surrogate family" that helped him through college." (Sources: Wiki via Sports Illustrated, Sports On Earth)

It seemed like a long shot, but could Rodman's gravitas and determination be enough to bring North Korea back into the international fold? Can this strange fish save Pyongyang, and pull the world back from the brink of thermal nuclear war? As far as Washington is concerned, since the DMZ was established at the end of the Korean War, their battle with Pyongyang has always been one of propaganda, and vice versa. In reality, North Korea is no more of a military threat to the US than Cuba, but that doesn't stop the White House and the US media from periodically hyping up a crisis, especially when US military budgets are under review. More likely, US authorities could have egged him on to create the ultimate spectacle of the bizarre — something which could portray North Korea in a negative light. However, for Rodman it's almost a win-win – upping his international portfolio and cementing his cult status with curious voyeurs and Vice Mag followers.
He has a number of endearing qualities: he's blunt and honest, he doesn't pretend to be a genius or an expert on anything, and in the end, that is probably Rodman's number one saving grace. There's no pretense with Big Dennis. When first asked about Korean-American Kenneth Bae who was detained by North Korean authorities for spying, Rodman went off on an inaudible, jumbled diatribe. Then he apologised stating, "I'm sorry, I was a bit drunk." Contrast this to unapologetic, rude outbursts by US politicians like Hillary Clinton. If only she could be like Dennis and concede, 'Sorry, I had a vodka Martini just as my Xanex was just kicking in.'

People have been betting against Dennis Rodman his whole life, so don't think that any public ridicule, or geopolitical slurring will deter him. In that respect, he probably has more to offer to world peace than the current US Secretary of State and heir to the ketchup throne. He already upstaged John Kerry, so don't underestimate him next time.
Whether or not he's a bona fide ambassador, a side-show, or a spy, matters little at this point. The fact of the matter is that no one can pull off what he has, again and again.
In a world of predictable presidents and dingy old diplomats, he's simply a tour de force. 
***
Author Patrick Henningsen is a global affairs analyst and founder of independent news and analysis site 21st Century Wire and host of the SUNDAY WIRE weekly radio show broadcast globally over the Alternate Current Radio Network (ACR).
READ MORE NORTH KOREA NEWS: 21st Century Wire North Korea Files
SUPPORT OUR WORK BY SUBSCRIBING & BECOMING A MEMBER @21WIRE.TV