Freddie Ponton
21st Century Wire
The final week of September 2022 was as eventful as any, with all eyes on the Baltic region, as the world tries to make sense of the events that have unfolded since the gas leaks first appeared emanating from the Nord Stream 1 and 2 natural gas pipelines in the Danish straits.
Never in living memory has the world been this close to a WWIII escalation.
While most governments and experts agree this was an act of sabotage, how to identify those who did it is still an open question.
Few questions come to mind:
Could the Nordstream pipelines attacks have been carried out by the US or with its allies, including Israel? 
Is it possible that the culprits used a fully Autonomous Underwater Drone from French Naval Group with remote mines laying capacities (see video at end of this article)?
Is this event comparable to 9/11, concealed by a US-led military drill, as another major event endangering the world peace, security and stability?
Why is Russia is using the term "terrorism" when referring to the Nord Stream sabotage? 
Was Balltop 22 the "Event 201" for this unprecedented attack on EU and Russian key strategic energy infrastructures?
Once more we found ourselves contemplating how the mainstream media, in a well rehearsed dance, does its very best to strangle the free flow of information that could be vital to identifying the true culprits, as well as the potential beneficiaries.
Of course, Hurricane Ian arrived just in time to engulf the entirety of media coverage and attention late last week, effectively killing off the Nordstream pipeline incident in the US, leaving ample room for a Russian self-inflicted wound narrative which only make sense to the neoliberals and those who do not grasp the concept that there is no need to blow-up you own pipelines when you can simply to turn off the tap, not to mention the billions of dollars revenue Russia would lose by engaging in an act of self-sabotage.
Seismic stations of Sweden, Norway and Finland all reported the equivalent of two explosions on Monday near the site of the leaks and stated:
"We know very well what an underwater blast looks like. And so in this case, there's no doubt this is not an earthquake," Bjorn Lund, a Swedish seismologist with Uppsala University said.
Qui bono? We certainly didn't have to wait long before witnessing the first decoy media story with the announcement of the launch of the new Norway-Poland Baltic Pipeline which coincidentally opened the day after the underwater explosions, and which overnight makes Poland the new energy hub for Northern Europe.
Inauguration of the Baltic Pipeline that connects Poland to Norway via Denmark:
.
But there's more…
Despite all this, we're told to relax, as Biden and allies are sending their investigative teams who shouldn't have much trouble finding the origin of the blasts. It's doubtful any of them will talk about the fact that NATO partners, including the US Navy SEALs, participated in the joint military exercise BALTOPS 22 in June 2022, in the exact area of the Nordstream attacks.
As for the Russians, they seemed to have already made up their minds about who could be behind this sabotage, especially after former Polish Defense Minister (2005-2007) and MEP Radek Sikorski tweeted "Thank you, USA".
Sikorski eventually removed his tweet, realizing that perhaps it wasn't the smartest move, likely after getting non-stop phone call from the White House and Brussels.
In the fog of war, the wrong interpretation of such events could easily escalate the conflict to a new level hence the reason for not jumping to conclusion too quickly or without exploring all other possible avenues.
Like any crimes or investigation, one must look at who had the motive, opportunity and the means to carry out the attack, as well as which one of those who were in a position to benefit from the sabotage – rather than only focus on who is being blamed in the media, a competency which Reuters fact-checkers may find elusive, judging by what they wrote in their recent article on the topic (no surprise here).

Pictured: Russian ambassador to the UN shows the offending tweet. 
"Russia Did It!"
The EU and NATO's eagerness to promote ridiculous conspiracy theories was to be expected, as entertaining even the possibility that Russia would have blown its own pipelines in a 'Red October' moment, as explained by the likes of the BBC.
As these events unfolded, this author was actually in the middle of an investigation looking into the worsening situation of BASF chemical and fertilizer plant in Ludwigshafen Germany near the Rhine river. As we were looking into BASF's nitrogen-based fertilisers using gas and air which are so vital to many industrial sectors across Europe, the sabotage of Nordstream 1  and 2 pipelines occurred, forcing us to revaluate the timeline for Germany and Europe to start feeling the anticipated repercussions associated with voluntarily restricting its own gas supply in Europe.
However, nothing is ever as it seems, especially when you know that Germany, the Netherlands, Italy and France all have access to emergency gas reserves in case of a shortage, but are intentionally refusing to open the gas tap available to them. This has to be one of the best kept secret in Europe at the moment.
Are we meant to believe that the Germans were waiting for Trump to chastise them about energy security and dependency on Russian gas? This is laughable at best, and it's surprising just how many still don't understand how governments and international agencies working 24/7 on energy security measures ensuring the uninterrupted availability of energy sources at an affordable price all time. Have they all conspired to participate in this staged crisis, or is there more to this story?
My last article covered the origin of the present international energy crisis and the CFR's "Project 1980s" and the controlled disintegration of the world economy – a veritable blueprint for the World Economic Forum's Great Reset agenda and the planned deindustrialization of Europe and the western economy – accelerated by famines and pandemics, and punctuated by a depopulation event, and more importantly to bring about their new financial regime under their new 'rules based' order. Sound familiar?
Chaos By Design: The Roots of the EU Energy Crisis and France's 'Green' Deception
Rather ironic that Joe Biden would be holding the first U.S. hunger summit in over 50 years.
Qui Bono (who benefits)?
Now let us explore another route that may expose the people behind the propaganda machine which relentlessly describes Russia as a perennial rogue state, whilst tutting 24/7 with their vassal corrupt MSM about "European dependence on Russian gas." These same preachers have been using the Ukraine-Russia conflict as a platform to establish the urgency for the EU to find alternatives to cheap and reliable Russian gas.
Would another competing pipeline project into Europe be motivation enough to participate in the destruction of Russia's Nordstream 1 and 2? If so, who are the competitors, do they possess the means and opportunity to carry out such an act of international subterfuge?
In a recent article from the Jewish Journal entitled, "Instead of Relying on Rogue States like Russia for Energy, the West Should Look to Israel and its Democratic Partners," authored by Ambassador Dore Gold, the President of the Jerusalem Center for Public Affairs who served as the Director-General of Israel's Ministry of Foreign Affairs and as Israel's Ambassador to the United Nations, he states, "Whether it's reducing Western dependence on Russian gas or Iranian oil, the West is way overdue for a course correction".
Indeed, a precious few countries, chief among them Israel, have been quietly pushing, if not lobbying the United States and the EU – to destabilise the two centers of gravity for energy production, which are Russia and Iran. He adds:
"In the case of Russia, the European dependence on Russian gas has undermined the West's ability to isolate Vladimir Putin for his savage invasion of Ukraine. In the case of Iran, under the guise of a flawed nuclear deal, the West is preparing to remove sanctions on the world's #1 sponsor of terror and a major oil producer."
Such a statement demonstrates unequivocally that Israel and its Mediterranean partners have a preferred option they would like the EU to entertain, albeit with the blessing of the United States. Such option began to emerge in 2009, with the discovery of immense reserves of natural gas off Israel's coast, with a potential of some 381 trillion cubic feet of gas or roughly 5 percent of the world's gas reserves.
"After the discovery of the immense Leviathan gas field with 18 trillion cubic feet of gas, a team of MIT geologists concluded that there were six more Leviathans within Israel's territorial waters."
Thus, a new plan for the Mediterranean gas route was born, and it included an extension known as the EastMed pipeline from Greece to Cyprus, and connected to the Southern Italy via the Poseidon Pipeline.
This way was Israel's original plan to bring gas on to the European shores:

Greece, Cyprus and Israel EastMed gas pipeline deal (source)
In 2020, Israel, Cyprus and Greece signed an agreement in Tel Aviv to undertake this game changing EastMed Pipeline with a completion date in 2025, to begin the export of Eastern Mediterranean gas to European markets (Reuters).
.
Although American energy giant, Chevron (formerly Standard Oil of California) stepped up and completed its acquisition of Noble Energy in October 2020, and the fact the project attracted €34.5 million in EU funding to support front end engineering design studies – the Biden administration still withdrew its support for the pipeline in January 2022.
To better understand the Energy and Geopolitics in the Eastern Mediterranean surrounding the EASTMED Gas Pipeline Project in February 2022, I invite you to review the following document from the Atlantic Council:
AC_EastMediterranean

.
When U.S. Secretary of State Mike Pompeo made the significant decision to travel to Israel to meet with the three countries and express support from the Trump White House for the Jewish state's energy cooperation with Greece and Cyprus, the U.S. became involved (the + 1 in the negotiations between the three Mediterranean countries) in March 2019. So if USA Inc was on board, then why did the Biden Administration withdraw its support for the project?
Well, it's no secret that Turkish President Erdogan recognised at the time a self-interest for Turkey in taking advantage of the significant energy resources, particularly gas, in the Eastern Mediterranean, as reported in this The National News article titled, "From on to off: Why Biden went cold on the Mediterranean gas pipeline from Israel."
However, Erdogan soon found himself excluded from the EASTMED Pipeline deal, and quickly responded by signing an agreement with western Libya's Tripoli-based government, which emphasised Turkish claims over a large bulk of Eastern Mediterranean waters, "in part to push back against the proposed pipeline."
Soon after the tension in the Eastern Mediterranean boiled over during the Trump administration, with Turkish war vessels accompanying its drill ships near Cyprus.

Pictured: Turkish war vessels accompanying its drill ships near Cyprus (source)
At the same time, the World Bank-funded gas pipeline from Egypt through Jordan and Syria and into Lebanon, a deal backed by the Biden administration despite the fact that technically Lebanon and Israel remain at war states a Bryan Harris February article published in The National News website adding that, "Israelis had also expressed interest in exporting natural gas to Lebanon via Jordan and then into Syria", an effort apparently mediated by US diplomat and coordinator for International Energy Affairs Amos Hochstein.
The Arab Gas Pipeline
Here is a video of Hochstein explaining how the Biden Administration can support the gas pipeline project without violating the U.S. sanctions, especially those authorized by the Caesar Syria Civilian Protection Act of 2019.
LBCI Interview with Senior Advisor for Global Energy Security Amos Hochstein (Source: US Embassy in Lebanon):
"The gas that will be pumped to Lebanon through the Arab pipeline, which stretches from Egypt, Jordan and Syria, is mostly Israeli" said this article on Ashrak Al-Awsat/
Furthermore, on January 2022 Time of Israel wrote that "Israel is also said to secretly ink unprecedented deal to supply gas to Lebanon, via Jordan", the claim was of course immediately refuted by Lebanese Minister of Energy, HE Walid Fayad. In The Jerusalem Post July 2022 article titled "Lebanon gas deal creates strangest of connections' one can read "it appears that some or all of the pipelined gas that will be reaching the Deir Ammar power plant via the pipeline will be Israeli – extracted from Israel's Leviathan gas field in the Eastern Mediterranean".
The subject is of course extremely sensitive, and we have no evidence of any secret deal, nor we are interested in supporting any side of the argument.
Nonetheless, Republicans on Capitol Hill had opposed the initiative on the grounds that it would conflict with a 2019 legislation imposing full sanctions on Syria, despite claims to the contrary from the Biden administration. (source)
Did the Biden abandon this Israeli-led pipeline deal in favor of Russian gas via Ukraine? We are not the only one to think there is a strong possibility – see article from AmericanEnergyAlliance.org 
In January 2022 the US Reps questioned withdrawal of US support for EastMed pipeline from Israel. So from this point of view, this EastMed has essentially stalled, for now.
This change in policy was perceived as "hypocritical and offensive," because of "the Biden administration's continued approval of Russia's Nordstream 2 pipeline, and the US announcement on 20 May 2021 to waive sanctions on Nordstream 2 which would take gas from the Russia under the Baltic Sea to Germany and was already more than 95% complete.
On May 19, 2021, despite a U.S. government sanctions report to Congress, describing how 'NS2AG and Mr. Matthias Warnig knowingly facilitated transactions to provide the pipe-laying vessel Fortuna for the construction of NS2,' Joe Biden still determined it was in the national interests of the United States to waive sanctions on NS2AG, Mr. Warnig, and NS2AG corporate officers.
Just two months later, in July 2021, U.S. joined with Germany to issue the Joint Statement of the United States and Germany on Support for Ukraine, followed by the immediate cancelation of the waiver, and the rest is history…
What could have possibly triggered Biden sudden change of mind? Well, if you remember, it was in June 2021 that journalist Jack Maxey brought to the Washington Post a copy of the hard drive from the computer that his son Hunter Biden left with a Delaware repairman in April 2019. Could the contents have been ugly enough to convince Biden to abandon he and his son's dodgy deals in Ukraine and Russia? We are only speculating here, but it's a question worth asking.
The U.S. withdrew financing for the €6 billion EASTMED pipeline, a 1,250-kilometer route that was intended to transport offshore gas from Israel and Egypt to the EU market.
"As a result, the project was effectively dead," concluded the National News article.
and then…
Document: 'U.S. Leadership Needed on EASTMED Gas Project'
A game changer: June 21, 2022, appears to be a pivotal day especially as it coincided with the National Security Briefing known as the Benjamin Gettler Annual International Policy Trip.
The Benjamin Gettler International Policy Trip annually brings high-level delegations of retired senior military officers and civilian national security experts to a country that is important to U.S. national security and/or the U.S.-Israel 'special relationship.' After completing their trip, each group then shares their findings and recommendations with policymakers and opinion leaders in Washington, D.C. and across the U.S.
The meeting focused on EU-Israel-Egypt gas agreement and how the Eastern Mediterranean can help reduce the dependence of America's European allies on Russian energy, as well as 'how several U.S. partners in the Eastern Mediterranean have accelerated their long-standing efforts to boost energy cooperation' and grow their gas exports.
Note that on June 15, the European Union (EU) finalised a deal with Israel and Egypt to increase Israeli natural gas deliveries to Egypt which will be converted to liquefied natural gas (LNG) for transport to European terminals (with the potential for involvement of the U.S. LNG fleet).
The document goes even further compelling the 'U.S. to work assiduously to help create a southern gas corridor for Europe,' America's partners in the Eastern Mediterranean therefore advancing the U.S. national security interest of reducing Europe's heavy dependence on Russian energy.
U.S. Leadership Needed on East Med Energy – NatSec Brief: June 21, 2022
Jewish Institute for National Security in America
JINSA_20220621_EastMed_v2-1

.
On September 29, 2022, the Jerusalem Post wrote:
"Nord Stream sabotage will permanently shift global trade" adding that "Now the pipelines have been damaged in a mysterious incident that unfolded over the weekend, it is widely believed to be sabotage, and it appears that Russia is behind it."
And this is their conclusion:
"Neo-liberal agendas were supposed to wash away protectionism. But this didn't work, and the global war on terrorism and other trends sabotaged the march toward a liberal, rules-based world order."
"Instead, the new world order that George H.W. Bush had promised has turned into an authoritarian one. Democracies are finally understanding that hitching their economies to Moscow or Beijing can have catastrophic consequences."
Why would The Jerusalem Post accuse Russia of sabotaging their own pipelines and declare that there is concern that a new phase of "hybrid war" may be coming? Based on what evidence? Moreover, why claim that Russia could use these kinds of incidents to upset the global 'rules-based order' despite the fact that the sabotage of Nordstream 1 and 2 would likely benefit 3 countries, namely Israel, Egypt and the United States of America?
Israel has been desperate to sell their natural gas to Europe for a very long time, and has presented itself as the trusted, stable energy partner to Europe. Today, Israel energy ambition strangely enjoys the full backing of the U.S. Government (anything in there for The Big Guy?).
In July 2022 President Biden met with Egyptian President Abdel Fattah Al Sisi in Jeddah, Saudi Arabia to reaffirm their shared commitment to the U.S.-Egypt strategic partnership, and discussed on a broad range of global and regional security challenges, Also on the agenda was the "impact of the war in Ukraine", including their joint statement confirming that this meeting was, among other things, about business:
"The United States and Egypt share particular concerns over the severe global consequences that stem from the war in Ukraine, including on global supply chains and energy and commodity prices."
Following a UN Security Council meeting convened at Russia's request to address the Nordstream pipeline damage discovered last Tuesday, the main question surrounding the blasts was whether the United States could gain from the destruction of the pipelines, Russian ambassador to the United Nation Vassily Nebenzia said. "The answer is undoubtedly."
Ambassador to the United Nation Vassily Nebenzia discussing the sabotage of Nord Stream 1&2 Pipelines at UNSC:
.
The Full Statement made by UN Permanent Representative Vassily Nebenzia at UNSC ( United Nations Security Council)  briefing on 'acts of sabotage' confirms that the General Prosecutor's Office of Russia has initiated proceedings under the criminal code article about acts of international terrorism. Preliminary investigation is underway. Nebenzia also broke down five irrefutable facts that point directly to the U.S. and is worth reading.
It is crystal clear that the gas and hydrogen projects in the East Mediterranean are at the core of the rapid energy transformation that is constructing the EU's energy security. It all revolves around a pathway where the East Mediterranean and Europe intersect with the goal of revolutionizing the energy industry and creating the green dream of a 'Net Zero' carbon-free future, on paper anyway.
Today Greece and other nations are looking at ways to transport regional gas to Europe because the proposed East Mediterranean gas pipeline might be costly, and hence less likely to be built. The LNG Terminal at Vasilikos, south of Cyprus, which is now under development and will begin receiving gas in the middle of 2023.
The Russian gas supply to Europe had to go out with a bang, in order to provide enough time for an Israeli-led EASTMED Gas hub to flow the shores of Europe over the next few years, whilst sending a very strong message to the competition. German officials have already started their narrative building exercise where Nordstream pipelines will "potentially" be out of commission "forever".
My guess is that the US-NATO allies and experts that will be sent to investigate the undersea explosions (sabotage) will come up with nothing, but the the specter of another attack will deter Russia from re-investing in future.
The Nord Stream Pipeline Sabotage Candidates
It is of course on everyone's mind, and the actors involved must have been a top secret, as the highly classified compartmentalized mission is kept under the disguise of a military training exercise in the Baltic Sea. Hard to shake off the 9/11 events who too occurred under the cover of various NORAD and US military exercises.
Let's take a look at the French Naval Group (Europe underwater explosion specialist and European leader in naval defence) with their sophisticated  next generation of underwater ocean drone – a tool which might have been involved in this highly precise and targeted stealth underwater operation in the Danish Waters. The use of the Naval Group D19, medium size Unmanned Underwater Vehicle cannot be excluded at this stage, as the steel pipeline itself has a wall thickness of 4.1 centimeters (1.6 inches), and a further 6 to 11 centimeters of steel-reinforced concrete are applied on top. The pipe weights 11 tonnes per section, which increases to 24–25 tonnes when the concrete is added. It is believed that he pipes were destroyed using at least 100 kg of TNT, if not more according to Swedish seismologists from Lund University.

Naval Group oceanic underwater drone.
This underwater ocean drone can easily be weaponised to remotely lay mines and other forms of explosive ordnances underwater with high precision and autonomy infers Cyril Levy Director for drones and war mines at Naval Group. The following video also confirms the underwater drone satellite, remote Wi-Fi communications and Ai enhanced capacities making it an ideal tool to lay underwater explosives. This underwater drone was operational in 2020 giving Naval Group sufficient time to equip this UUV with underwater weaponry. This stealth UUV drone can stay days underwater to accomplish its autonomous mission and can be launch from shores. The drone was fully operational in spring 2022 a source said.
Naval Group unveils its oceanic underwater drone in 2021 (watch full video to see all capabilities):
Of course, it wouldn't be fare to single out the Naval Group as the only UUV expert and capable entity to undertake such operation as we believe that in February 2022, the U.S. Navy Unmanned Underwater Vehicles (UUV)  Snakehead LDUUV was operational too. This large UUV was developed at the Naval Undersea Warfare Center Division in Newport who happened to take part in the BALTOPS22 exercise. A serious candidate indeed.
As for the US Navy's ORCA XLUUV it is currently 64% over budget and 3 years late and definitely not operational for this Baltic operation.

Without making too much assumption, we can assume that if explosives were strategically laid out in predetermined location along the German/Russian Nordstream pipelines, the BALTOPS22 exercise represented a unique cover story and opportunity for what must have been a highly classified mission.
BALTOP22 exercise was led by U.S. Naval Forces Europe-Africa, and executed by Naval Striking and Support Forces NATO (STRIKFORNATO) under the leadership of the U.S. Sixth Fleet Task Force CTF 68 who is permanently assigned to NAVEUR-NAVAF headquartered in Naples, Italy. I confess, these are my leading candidates  for this mission.
Unmanned Underwater Vehicle (UUV) mine hunting and mine laying technology were given the opportunity to demonstrate their underwater vehicle's effectiveness in real-world operational environments just few nautical miles from the coast of Bornholm, Denmark.
A US Navy expeditionary unit was in the Baltic Sea a few days prior the explosions, under the command of the USS Kearsarge, an all-purpose amphibious assault ship. It was 50 kilometres from the threads of the Nord Stream-2 gas pipeline and 30 km from the claimed location of the sabotage on the Nord Stream-1 gas pipeline confirmed @AZmilitary1 on Twitter:
https://twitter.com/AZmilitary1/status/1574758898086694912?s=20&t=aqHFggFpsmqdcx80bhfPig
Also in the underwater drone sweepstakes is the Israeli Navy. Covert Shores reports:
"The Israeli has been an early adopter of large uncrewed underwater vehicles (UUVs). Yet it does not advertise its systems in this space. The existence of the Caesaron autonomous underwater vehicle (AUV) and its capabilities, in broad terms, are known. But the vehicle is very camera shy."

Caesaron autonomous underwater vehicle (AUV) 
More facts related to the sabotage of the Nord Stream Pipelines can be found here.
Last, but certainly not least, is the unpopular possibility of a US-German undercover operation run by the German intelligence, likely with the blessing of the German Greens and Vice Chancellor and Minister for the Economy and Climate Protection — Robert Habeck who, coincidentally, is a fluent Danish speaker with family roots in Denmark, often referring to his four sons as 'more Danish than German.' Habeck is a very ambitious politician who once dream of becoming Germany finance Minister a position currently occupied by FDP leader Christian Lindner. He certainly as a lot to gain for the sabotage of the Nordstream pipelines which will alow him to scale up Germany's renewable energy capacity which is key to delivering on the country's climate targets, with the coalition aiming to phase out coal in 2030 and nuclear power in 2022.
Another favorite candidate in Germany for this very unsettling events has to be Minister of Foreign Affairs — Annalena Baerbock has spent time living in both the U.S. and U.K. and speaks fluent English. She's been a member of the Bundestag since 2013 and co-leader of her party (alongside Habeck) since 2018. The two are very close. Baerbock's challenges will be to leave a Green imprint on foreign policy, where her party has taken a tougher line on China and Russia – even if it means the dismantling of German industry. She is expected to become the government's leading foreign policy voice. Her close relationship with US State Secretary Anthony Blinken is very revealing, and it would not come as a surprise if we were to find out that these two were involved in "NordStreamGate".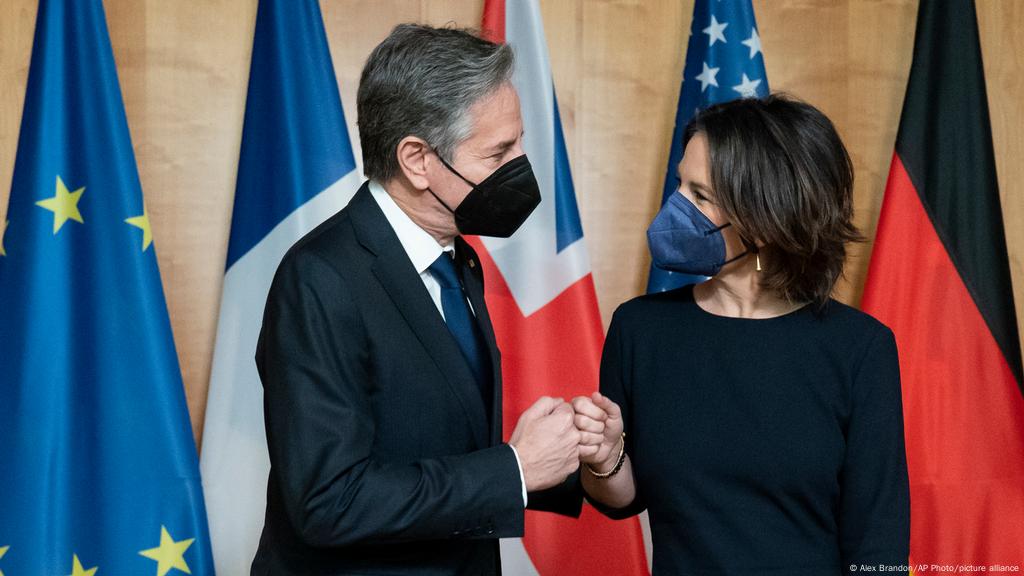 MASKED: US Secretary of State Antony Blinken fist bumps German Foreign Minister Annalena Baerbock (DW)
From a logistical and operational point of view it is known that Germany participated in BALTOPS22 Exercise in the Baltic Sea with its Frigate Sachsen on June 6, 2022. BALTOPS 22 concluded the 51st iteration of Baltic Operations 2022 in Kiel, Germany, on 17 June.
Furthermore, Huntington Ingalls Industries / (Norwegian) Konigsberg Maritime / Hydroid Inc delivered few REMUS 100 Unmanned Underwater Vehicles (UUVs) to the German Navy. The unmanned vehicles were purchased in 2020 to be used to expand the German Navy's current fleet of REMUS 100 UUVs used for mine countermeasure (MCM) operations. It is not clear if the German navy later acquired the latest REMUS 300 and 600 and what kind of payload they could be loaded with.
HYDROID INTRODUCES THE NEW GENERATION REMUS 100 UUV (source):
NEW GENERATION REMUS 600 AUV (full video here from MrMundo3d):
As you can see many of the above candidates had the technical capability to undertake a sabotage mission therefore only an independent, and any NATO 'investigation' will not shed any light on the matter. Time will tell…
The above information does not constitute any proof, nor do any accusations here – only suspicions based on our observation and circumstances, and this until more evidences comes to light.
READ MORE UKRAINE NEWS AT: 21st Century Wire Ukraine Files
ALSO JOIN OUR TELEGRAM CHANNEL
PLEASE HELP SUPPORT OUR INDEPENDENT MEDIA PLATFORM HERE