21st Century Wire says…

More propaganda from supporters of ISIS…

IMAGE: 'Inside Aleppo with ISIS' – John Cantlie gives a tour of Aleppo interviewing alleged ISIS members. SITE's logo is embossed in the image above, along with another ISIS media arm, Al Hayat Media Center. (Photo link thegatewaypundit.com)
How to paint a deceptive picture 
British journalist John Cantlie, who is supposedly being held captive by ISIS, goes into PR overdrive in a highly-produced documentary in an effort to 'humanize' ISIS and its future generation of fighters. The decidedly pro-ISIS video is seen being pushed once again by the intelligence group SITE and another media arm of ISIS, Al Hayat Media Center.
Al Hayat Media Center is described here by VICE:
"Al Hayat Media Center, the new media arm for ISIS that was established in May. It is unclear exactly who is behind Al Hayat, but it is thought to be an initiative of Abu Talha Al Almani, a former German rapper also known as Deso Dogg, who left Europe to fight alongside ISIS in Syria, according to MEMRI."
This new video follows a wild week of ISIS propaganda in an attempt to get a growing consensus among Western audiences to approve of future war theater in Iraq and Syria, while also simultaneously rewriting the narrative of ISIS.
Although Cantile is said to have been captive for two years now, he is seen here interviewing militants in this latest propaganda video, which paints the rise of ISIS as a paramilitary anti-government, anti-Western uprising, similar to what we were first told during the Arab Spring back in 2011, as if their was some sort of grassroots revolution that ISIS are tapping into.
Of course, the irony here is that both the Arab Spring and the growth of ISIS have been brought to fruition through disastrous Western foreign policy objectives and also through synthetic 'color revolutions'.
A very important thing to consider is Cantlie's demeanor in his recent broadcast quality ISIS propaganda video, as he doesn't appear to be even remotely distressed, or held captive in anyway.
Here's an eager tweet by SITE's founder Rita Katz, which promotes her latest Cantlie video entitled, "From Inside Aleppo."

IMAGE: 'SITE Provides PR Support' – SITE Intelligence Group founder Rita Katz appears eager to capitalize on the latest ISIS propaganda video. ( Photo link twitter.com)
Distorting a narrative

Cantile's slick documentary style is another way to polarize the public with its conflicting perspectives. The video is meant to be a daring look inside a war-zone. However, as Cantlie interviews apparent militants, you notice the cleanliness of their uniforms, while holding firearms that very well could be stage props complete with perfectly polished handles.
Nothing in the video itself appears to be authentic, as Cantlie, also fails to disclose the true nature of the West's role in inciting terror in the region, through its various training facilities and arms trafficking to so-called "moderate" rebels.
Like with alleged ISIS hostage Kayla Mueller's previous video, Cantlie deceptively lays blame on Syria's Assad (a policy stance which supports US, UK and Israeli foreign policy directives) and also blaming"Western aggressors" – while subliminally trying to push a sympathetic viewpoint of rebel fighters.
More from RT below…

IMAGE: 'The cheerful captive' – John Cantlie reports from inside Aleppo while being held hostage. ( Photo link news.com)
ISIS release new video of John Cantlie 'Inside Aleppo'
British hostage John Cantlie has appeared in a new Islamic State propaganda video released by the extremist group on Monday. "Inside Aleppo," Cantlie says, will be the last in this series.
In the video, the captive journalist walks through the rubble of heavily bombed Aleppo, titled 'Inside Haleb.' Cantlie appeared in a number of similar videos last year.
He shows how the city, despite having been "smashed to rubble" by US-led coalition bombings, as well as the Syrian army, still functions under the Islamic State (IS, formerly ISIS/ISIL) and enjoys a "thriving economy."

IMAGE: 'Stylish in Aleppo'  – Cantlie walking us through Aleppo as seen through the eyes of ISIS militants. (Photo link rt.com)
Al Hayat Media Center, the IS media wing, released the video. Shot in a high-quality documentary-style, the film shows the inside of a school where the children are being trained to "form the Mujahideen of the next generation."
In the latest video, Cantlie wears civilian clothing. In previous episodes of the "series" he wore an orange jumpsuit, in reference to the clothes Guantanamo Bay detainees have to wear.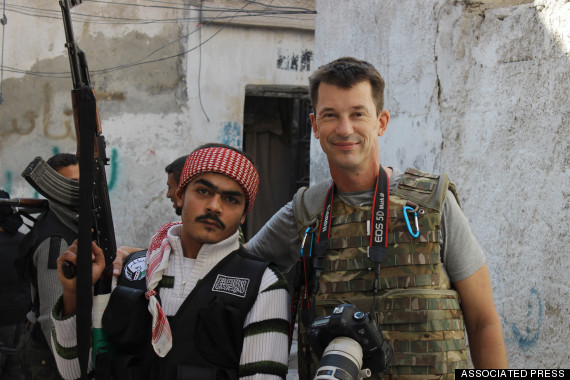 IMAGE: ' Captivating an audience' –  Cantlie seen here mugging with militants. (Photo link huffpost.com)
He also talks about drone surveillance of the area by coalition forces and drone strikes against IS. Cantlie claims the jihadists are not affected by the bombings and often "enjoy a relaxing cup of tea,"continue to build new homes in Aleppo and just "get on with" life.
Cantlie also explains Islamic concepts in the video, such as Sharia Law. He is seen sitting among Muslims inside a Sharia court, explaining that while the punishment for theft – cutting off a hand – seems "harsh," the offender will at least not do it again.
The Islamic State has held Cantlie captive for more than two years.
Previous videos include a series titled "Lend Me Your Ears." Later installments include "Inside Ayn al Islam," also known as the Syrian city of Kobani, and "Inside Mosul," the Iraqi city.
The video's release comes just days after the alleged death of US hostage Kayla Mueller. It is believed Mueller was killed inadvertently during a Jordanian airstrike on the Islamic State in Syria.
Tune in for more updates at 21WIRE as the ISIS saga continues…
SEE ALSO: The Burning of Captured Jordanian Pilot, Staged Propaganda & Coalition Airstrikes

READ MORE ISIS NEWS AT: 21st Century Wire ISIS Files