SEE ALSO: Bleach, Blood & Lies: A look Back On The Death Of Kurt Cobain 20 years Later – Part One
Shawn Helton
21st Century Wire

In part one of our re-investigation into Kurt Cobain's death, we discussed his rise to fame, looked at forensic evidence in the case and examined the events that had taken place in the month leading up to his death.

It certainly appears as though the iconic singer did not die as a result of suicide, as key aspects of his death seem to have many contradictions and unanswered questions – suggesting his sudden and untimely end involved foul play.
Below are other details surrounding this compelling case….

IMAGE: Burning Bright – Nirvana performing during the In Utero tour.
The road to sobriety
Nearly a year before Kurt's brief stint in rehab at Marina Del Ray, he had what some called a "miracle" in the summer of 1993.
It has long been suggested that Kurt suffered from gastrointestinal pain and after seeing many specialists, a pinched nerve was said to be contributing to his stomach ailment.
After this apparent discovery, those around Kurt were said to have noticed this new-found reality, including his close friend Dylan Carlson, who according to the book Who Killed Kurt Cobain? by investigative journalists, Max Wallace and Ian Halperin stated the following:
"Kurt became a new person after that. He stopped retreating into the dark side that everybody came to associate with him and actually seemed cheerful. Part of it was Frances, I think, but the stomach thing was the most important."

IMAGE: 'Happy Days' – an image of a genuinely exuberant Kurt Cobain.
Cobain's death and a new future
Kurt was found to have had three times the lethal dose of heroin in his body when found dead. His blood morphine level of 1.52 mg per liter at post-mortem indicating a 225 -240 mg per liter intravenous injection before his death.
Experts have argued over the amount of heroin in his system but in order for him to have 1.52 mg per liter while deceased for at least three days, he would have had to have had a much higher dose. 
Skeptics of the official version of events suggest that his wife, Courtney Love wanted everyone to believe Kurt was going to die and that he had dependency issues all the way up to his final days, carefully crafting a narrative of drug abuse to warp public perception, while also convincing the Seattle Police Department and the media of Kurt's 'inevitable' fate.
Few would question that Kurt had a heroin addiction for years, but by all accounts in late 1993, it seemed as though he was turning the corner, making some better choices in life.
Here is an excerpt from Melody Maker's August 1993 edition, where Kurt condemns drug use:
"I never went out of my way to say anything about my drug use. I didn't want some 15-year-old kid who likes our band to think it's cool to do heroin. I think people who glamorize drugs are f***ing not very nice people – and if there's a hell, they'll go there."
In another interview with The Face in September of 1993, Kurt had this to say about his own mortality:
"I'm not in any way afraid of death… I'm afraid of dying now, I don't want to leave behind my wife and child, so I don't do things that would jeopardise my life. I try to do as little things as I can to jeopardise it. I don't want to die."
Maybe these are nothing more than a couple quotes from the famed Nirvana singer, but does this sound like a person that would be suicidal in the months leading up to their death?
Here was a quote from rock journalist Everett True on Kurt's condition in the March 1994 edition of Melody Maker:
"Although it's no secret that in the past Kurt Cobain has taken drugs, sometimes to excess, the last time we met (in Seattle, last December-1993), he seemed completely "clean". That is, he was clean, optimistic and happier than he'd been for years… I knew that he'd cut down on his drug taking for a while… He hadn't taken alcohol in any serious quantity for several years, that's for sure."
It's hard to imagine the father depicted in this photograph below would want to leave what his life had become.

IMAGE: 'Proud Father'  – Kurt seen here with his daughter Frances. "I'm not going to say a damn word about it being tough; I'm having the best time of my life!" – Kurt Cobain speaking about his daughter in a Kerrang's December 1993 edition.
The Peninsula Hotel and False Reports
The last known contact Kurt had with Courtney love was a phone call and message he made for her at the Beverly Hills Peninsula Hotel, where she was staying on April 1st at 8:47 pm. Kurt's message was confirmed according to hotel records, as it appeared to reference a person and phone number that would make sense to Courtney:
"Elizabeth's phone number is (213) _______."
Courtney never mentioned this message to investigators at the time.
It's worth noting again that Courtney made a false police report posing as Kurt's mother, Wendy O' Connor, giving her the chance to control the narrative of Kurt's apparent state of mind – which many believe, planted a suicidal seed for media and police:
"Mr. Cobain ran away from California facility and flew back to Seattle. He also bought a shotgun and may be suicidal."
Why would Courtney alter the details about the purchase of Kurt's shotgun, knowing how the report could be perceived by authorities? 
It was a known fact that Kurt had bought the shotgun prior to going to rehab and had it fully loaded for protection at their Lake Washington residence, as he had been recently concerned for his family's safety.
However, during the search for Kurt, Courtney stated that the shotgun could have been in a 'hidden compartment' in her closet at the Lake Washington house. 
On April 6th, Courtney made a call to Veca Electric to upgrade the security systems at their Lake Washington property, adding motion detectors and a new alarm system.
This is why the electrician Gary Smith was doing work on the greenhouse when he discovered Kurt's body on that dark day in early spring.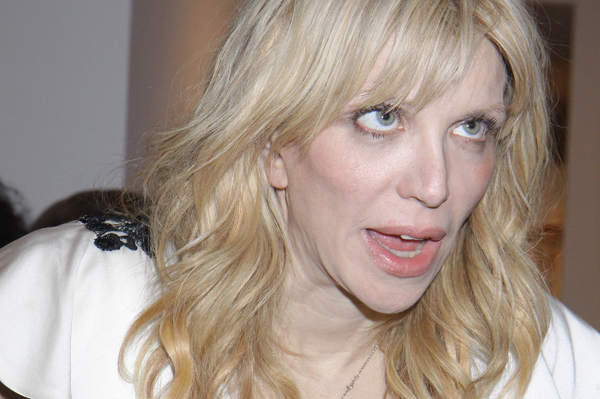 IMAGE:  'Vision of Hell' – Was Courtney Love somehow involved in the death of Kurt Cobain?
Turn of Events 
Courtney was once married to Leaving Trains singer, James Moreland (Falling James) in 1989. His thoughts on the Courtney's behavioural issues are eye-opening, as he stated:
"She definitely has an evil side. She once tried to burn my bed when I was sleeping."
It has been said that the pair had irreconcilable differences, as Courtney allegedly had extramarital affairs and threatened to pay someone to violently assault James during the course of their relationship. 
The strange reality was that even though Kurt's band was a multi-million dollar success, he was still tapped into a mainline of junkies, drug dealers and unsavory characters in the underbelly of Seattle.
Although, it could be said that Kurt's Hollywood overlords were not much better than the seedy culture he knew in Seattle.  
Many critics believe that Courtney Love's legal team has somehow been holding the story surrounding Kurt's death hostage, suggesting there have been efforts to stop radio hosts and journalists who have been looking to expose the truth in this case.

IMAGE: ' Live-in-Nanny' – Michael Dewitt aka (Cali), was the former male nanny for Kurt and Courtney. 
The Hunt For Kurt
It has been stated that Michael Dewitt aka Cali, was involved in a relationship with Courtney prior to her meeting Kurt and becoming the family nanny. 
He left the Lake Washington house the day before Kurt's body was found and Courtney reportedly gave him $30,000 for treatment at a rehab center some time later. 
Private investigator Tom Grant suspected the exchange of money could have been a payoff.
According to case notes, Cali was missing from the property sometime between April 2nd-5th but was at the property on the 6th. 
Cali was never subjected to a polygraph or treated as a suspect by police and only had one phone interview with them.
In retrospect, you have to wonder why Cali and Courtney didn't make themselves available in the search for Kurt?
On April 6th, private investigator Tom Grant, picked up Dylan Carlson to go over some background information about Kurt. The pair discussed several locations where he might stay or go, agreeing to meet the next day to resume their search. 
On April 7th and Tom and Dylan take a trip up to the Lake Washington house, calling Courtney to turn off the alarm system, as the pair gain access through an unlocked kitchen window, Dylan makes a comment that he had never seen the house this 'clean' before.
The search turned up empty and the two decided to head out towards the Cobain's carnation property, where the 'grunge' couple owned  'his and hers' log cabins 30 miles outside of Seattle.
While driving to the carnation property, Dylan said that he had trouble finding the location in the dark. The two then turn back towards the Lake Washington property.
A few days later Tom would eventually go to the carnation property and noted that there was a thin-film of moss on everything in Kurt's cabin and that he couldn't have been there. Tom theorized that Courtney tried to plant a syringe on the scene, trying to make it look as though Kurt had been at the scene in the days before his death.
At 9:45 on the 7th, inside the Cobain family house, Tom found a note in the main stairway from Michael Dewitt, the note pleads with Kurt to reconcile with Courtney, via a heavy-handed message seemingly placing blame on Kurt for his failing marriage.
The note appears in graphic novel style handwriting and seems out-of-place as it indicates that Kurt had come and gone from the property overnight – but there was no evidence to suggest that.
We must remember that Cali had been in and out of the house during that time, as Dylan and Tom noted his bed had been unmade in the room he stayed. Cali was also in constant contact with Courtney, and from the timeline we know – he is listed as the last person to see Kurt alive on April 2nd.

IMAGE: 'Crafting a Story' – The letter written by Cali left on the stairs in the Lake Washington residence. Tom Grant was able to prove this was Cali's handwriting by having him write a very similar note some time later.
Dylan and Tom searched the entire house, but allegedly Dylan neglected to direct Tom to the greenhouse. Later when questioned about this, Dylan claimed that he didn't think to tell Tom because it was just a 'dirty' storage room. However, it has been said that Cali had even roomed there before, as it did not appear to have much storage, nor was it dirty.
Dylan was also in contact with Courtney during that time and had often stopped to check in with Courtney during the search with Tom. Wendy O' Connor, Kurt's mom, allegedly questioned why Dylan hadn't looked in the greenhouse on April 14th when talking to Tom as he had visited to talk with Courtney.
Tom tried to have a conversation with Wendy on April 15th, but unfortunately was interrupted.
In a May 1994 issue of the Seattle Times, Dylan told a reporter that he was completely unaware of the greenhouse:
"For all the times I'd been there, I didn't even realize there was a room above it associated with the house".
Why would Dylan say this just weeks after he had already admitted to Tom that he knew about the greenhouse room?
According to Rosemary Carroll one of the Cobain's attorney's, Courtney asked Dylan to check her closet and to check the greenhouse during the search at Lake Washington on April 7th. This was later denied by both Courtney and Dylan.
Tom Grant has been on record stating that although he believes Dylan was used by Courtney he never believed that Dylan personally had anything to do with Kurt's death.



IMAGE:  'April goes Dark' – Kurt's body is taken by authorities on April 8th, 1994, following his death three days earlier. There was said to be thousands fans gathered to mourn is his death nearby the property. 

The Burden of Proof

Forensic evidence strongly suggests that the initial ruling in the Kurt Cobain case should be reconsidered and many now believe that it should be reopened due to the findings of several field experts including Tom Grant, who has tirelessly worked over the details of this case for the better part of twenty years now.
I should also mention Ian Halperin and Max Wallace, two Canadian journalist's who have also covered Kurt's death extensively, claimed to have been harassed during the making of their book and multi-media presentation on the Cobain case. 
The cast of characters who may or may not have had a hand in the singer's demise are a short list, especially when you consider those who stood to benefit the most financially from his untimely end.

Should Seattle authorities change the listed cause of Kurt's death to that of – undetermined, and not suicide?

This is a reasonable question when you consider the facts in the case, as there were many anomalies at the crime scene, with police looking to make quick work of the case the moment they arrived at the Lake Washington residence.
According to the SPD's initial reports, they listed the crime scene as being consistent with that of suicide, before the homicide team had even had a chance to compile all the necessary information or process any of it, as an excerpt from the incident report confirms:
"They are requesting a homicide team at 171 Lake Washington Blvd. E. They are on the scene of a suicide."

IMAGE: 'Lake Washington' – This photograph depicts the entrance in to the greenhouse where Kurt's body was discovered on the opposite side of the room to the left.
Incredibly, police appear to have determined Kurt's 'cause of death' before a full investigation had even begun. 
You can clearly see in the incident report below, that Seattle authorities had suspected the case to be a suicide from the onset, strongly setting the tone for how it would be viewed from that point forward.

On the second page of the police report, it outlines how Kurt could not have barricaded himself in the greenhouse room, as the french doors that were near his body had been closed and unlocked with a stool close by and some garden supplies placed in front of them. There never had been anything lodged or pushed up against the doorway to impede access to the room from that side.
The elements of the police report directly contradicted an observation of the crime scene by Seattle Police Department officer Von Levandowski, suggesting that Kurt had locked and 'barricaded' himself in the room before supposedly committing suicide, this one line was later echoed in early media reports without retraction across the country.
Here is the line added at the bottom of the report referencing Levandowski's observations at the scene that appeared after the initial report had ended:
"Levandowski observed that the French doors at the opposite end of the room were blocked by a stool, preventing access."

IMAGE: 'There are many legs to stand on' – the gag stool  in the greenhouse where Kurt's body was found. It was placed in front of the French doors leading to the small balcony that overlooked the front driveway of the property. The SPD has recently released over 30 photos following the release of the first two unseen photos from the crime scene. 
Media Distortion
The french doors that were near the body did not provide access to the greenhouse, as they only opened to a small balcony overlooking the driveway and front of the main property at the Lake Washington residence. This was another crucial detail in understanding the layout of the scene and how it was distorted by police and media to better fit the overall narrative.
The doors at the rear of the greenhouse had been locked by a regular 'push and twist' door lock that anyone could have locked when leaving the room or entering the room. There were no signs of Kurt being barricaded in the room, as it had been inaccurately reported. 



Note at the Scene
Additionally, at the bottom of the same report, Police had already concluded their was a 'suicide note' left at the scene, without it being examined by handwriting experts, or any other forensic persons. We should also remember the note from Rome later referenced as another suicide note, was destroyed by Courtney, as she has been on record stating Sgt. Don Cameron – told her to do so.

The so-called suicide note penned in red, appears to have been mostly written by Kurt but when analyzing its contents it appears to be a letter to his fans telling them he would be leaving the music industry not referencing suicide.
Tom Grant believes that a small but significant portion was added to the end of the note that was written in larger print. Handwriting experts have been conclusive in some cases as to parts of the note being written by someone else's hand,  and in some cases the results have been inconclusive.
The most notable examination took place on Unsolved Mystery's by Forensic Document Examiner Marcel B. Matley, who had serious doubts as to who wrote the last four lines of the note:
"As to the last four lines, there are more than a dozen differences that should give us pause and we would have to reasonably explain these differences before we could conclude it was written by Cobain."
Another well-known document examiner Reginald Alton of Oxford University, also came to the conclusion that there was something amiss with the apparent suicide note, stating:
"There are many indications that there could be a second hand at work."
Here's the so-called suicide note left at the scene…
Below is a slight close-up of the bottom of the note which appears much larger than the rest of the text. It was also written after Kurt had signed his own name, seemingly after the end of the letter…
Tom Grant had also received a contractual note from Courtney looking strikingly like the handwriting above. According to reports, Rosemary Carroll had discovered a handwriting practice sheet for forgery in Courtney Love's bag shortly after Kurt was found dead. 
Do you notice some of the similarities in the lettering? 
Below is Courtney's contractual note…
There have been so many inconsistencies in the SPD's investigation of Kurt's death and entire the scene at the Lake Washington residence. Perhaps the most glaring and bizarre inconsistency was Kurt's death scene itself.
Kurt's Remington 20 gauge was found on his chest as he was laying on his back with the barrel pointing upwards towards his mouth and head. The scene forensically seems to have many difficulties proving that Kurt was the trigger man in his own death, as he would have had to be sitting up in order shoot himself.
Another question to consider: How would it have been possible for Kurt to shoot himself after injecting such a large amount of heroin?
Additionally, it has been said that the amount of heroin in his system would have given him between 10-20 seconds to pack up his drug box neatly and then get into an awkward position on his back with his head tilted up, subsequently firing off an apparent kill shot.
King County medical examiner Dr. Nicholas Hartshorne had overseen examining Kurt's body. It was found out later that prior to becoming an examiner, he had been a punk band promoter and had even booked Nirvana's third gig at the Central Tavern in Seattle.
It's fair to say, he probably should have removed from the case, considering how well he knew the deceased. He was also said to be a close friend of Courtney Love's and they were reported as having contact over the years. 
Hartshorne later died in a BASE jumping accident in Switzerland, on August 6th, 2002.
Hartshorne, had been quoted as saying this case was a "classic suicide," only to later say, it was a highly "unusual case."
Murder for Hire
A twisted and abrasive character known as Eldon Hoke (aka 'El Duce') the singer for the over-the-top sadomasochistic band The Mentor's, was said to have been offered $50,000 by Courtney to "whack" Kurt Cobain.
Eldon stated that Courtney had pulled up in a limousine as he waited for a friend outside a record store in Hollywood called the Rock Shop, a few days prior to New Years Eve in 1993 around 8:30pm:
"I think Kurt was getting ready to divorce her for adultery charges," claimed Eldon. "She had to have him whacked right away so she could get the money." 
The deviant rocker was said to have passed a polygraph by one of the country's best polygraph examiner's Dr. Edward Gelb, Eldon passed with an extremely high rate.
Dr. Gelb was also said to be the examiner who had logged O.J. Simpson's failed polygraph during his heavily publicized trial in 1994.
Gelb has performed over 30,000 polygraph examinations since 1969. Eight days after appearing in the Documentary Kurt and Courtney, Eldon was found to have died of an accidental death after being hit by a train in Riverside, California. 

IMAGE: 'Eldon Hoke aka El Duce' – The depraved drug addict and alcoholic was featured in a controversial episode of Jerry Springer, he was also also seen in the documentary Kurt and Courtney and was associated with the Seattle music scene.
Unsolved Case
In Nick Broomfield's documentary, Hoke mentioned that he knew who performed the hit on Kurt, briefly referencing a con-man by the name of Allen Wrench, who has fraudulently gained notoriety for claiming to have killed Kurt.
There is nothing to substantiate Wrench's claims and it has been considered a hoax by those close to the case for sometime.
The documentary Kurt & Courtney while entertaining, failed to provide a comprehensive report of the facts surrounding Kurt's death and ultimately on some level served to undermine the case.
During Kurt's intervention prior to rehab Nirvana's manager and Atlantic Records vice president  Danny Goldberg, was apparently quoted as discussing the star's well-being "(Kurt) denied that he was doing anything self-destructive," also adding that Kurt was "extremely reluctant."
Danny is married to the Cobain's former entertainment attorney Rosemary Carroll, who was said to have been the ex-wife of famed writer James Carroll of The Basketball Diaries, who himself was well-known addict. Danny was also the person who unceremoniously removed filmmaker Nick Broomfield from a podium at an ACLU event that Courtney was speaking at in 1998.  
Ironically, Courtney was subsequently discussing free speech in all forms of media, at the very moment Nick was shoved off stage for interrupting the awards event.
The picture becomes clearer as to why Rosemary backed down helping Tom Grant so many years ago, when you consider her marriage and the industry she was a part of.
Record executives appeared to seize an opportunity to turn the crisis into something profitable, apparently looking to Courtney to replace the image of her late husband as a new 'Grunge' rock icon. The sales would go through the roof for the supposedly grieving widow, who had just released a best-selling album just days after Kurt's death.
It's important to note, Courtney inherited the entire Cobain estate and one-third of the Nirvana fortune.
She was also said to have made millions from packaging Kurt's notebooks for public consumption in 2004. If she had divorced Kurt she would have had a prenuptial to contend with, making a large financial outcome much more difficult.
In a bizarre coincidence Nirvana was inducted into the Rock n' Roll Hall of Fame on April 10th, nearly twenty years to the day that Kurt was found dead.
Was this just an effort to hijack the narrative on the anniversary of Kurt's death, flooding the internet with their induction ceremony speeches, rather than the stories that have been digging for the truth in the wake of Kurt's death all these years?
Tom Grant taped many conversations between himself and Courtney Love, and even though it's illegal to record phone calls in the state of California without notification, Tom has been prepared for years to bring his information forward in a court of law to make a case that Kurt's death should be reopened.
Many of these shocking audio recordings are on his website the Cobain case. Tom has maintained that this case has always been in part about the large amount of suicides related to Kurt's death and that future generations need to know the truth to .
Tom Grant has never been sued for any of the information he has released regarding this case, that should tell you something.
There are many theories surrounding Kurt's death, some involving those from the Seattle drug scene, some positing that it was opportunistic wife Courtney, and some involving the record industry – all of whom who had a lot riding on the Nirvana star.
We may never know what happened to the iconic singer as he has seemingly been logged with all the other suspicious celebrity deaths over the years but this was a case that shattered a generation and there are those who have continued pour over its case files 20 years after iconic singer's death.
Grant claims to have even more damning information to prove foul play in this case but is waiting for this case to be re-opened by the Seattle Police Department.
The well-known private investigator, has been involved in the feature film Soaked In Bleach. A motion picture that discusses the final days of Kurt Cobain's life and the events surrounding his death. The film is apparently due to be released sometime in 2014-15.
Here is the trailer to 'Soaked In Bleach', a docudrama featuring noted pathologist Cyril H. Wecht, President of the American Academy of Forensic Science, as well as veteran private investigator Tom Grant…
https://www.youtube.com/watch?v=IROv4dE_p_E
READ MORE HOLLYWOOD NEWS AT: 21st Century Wire Hollywood Files
–