21st Century Wire says…
The FBI released 27 'never before seen' images chronicling the destructive Pentagon attack on 9/11. While the FBI move appears to be an effort to be more transparent, they've refueled old conspiracy suspicions – hidden in plain sight. 

'COVER-UP?' – Photo Illustration 21WIRE's Shawn Helton 
To this day, the attacks on September 11th, 2001, have remained some of the most enigmatic crimes of the century.
There has been an endless dispute over the how of 9/11 and the who, as well as the various methods used to carry out the atrocities of that day. There's an even heavier debate over what brought down WTC Building 7 and since then, other 9/11 'rabbit holes' have also challenged the nature of the planes said to be involved in both New York and Washington DC.
Whatever your thoughts are concerning planes or other theories on 9/11 it's still worth noting that even the mainstream media admitted at the time that there was,"no evidence of a plane at all," following the destruction of a portion of the Pentagon's western side.
Watch as Jamie McIntyre, a former Senior Pentagon correspondent for CNN, suggests the lack of evidence supporting the official story surrounding American Airlines flight 77….
Here's one telling image released by the FBI that doesn't appear to support the official story of American Airlines flight 77's fuselage crashing into the Western side of the Pentagon. Its as if logic and reason were also casualties on 9/11 – where is the rest of the plane and why is the crater so small?

'PENTAGON TALES' – What really happened here? (Image Source: vault.fbi.gov)
In another telling image, part of the damage seen at the Pentagon on 9/11 looks errily reminiscent to that of the Oklahoma City bombing…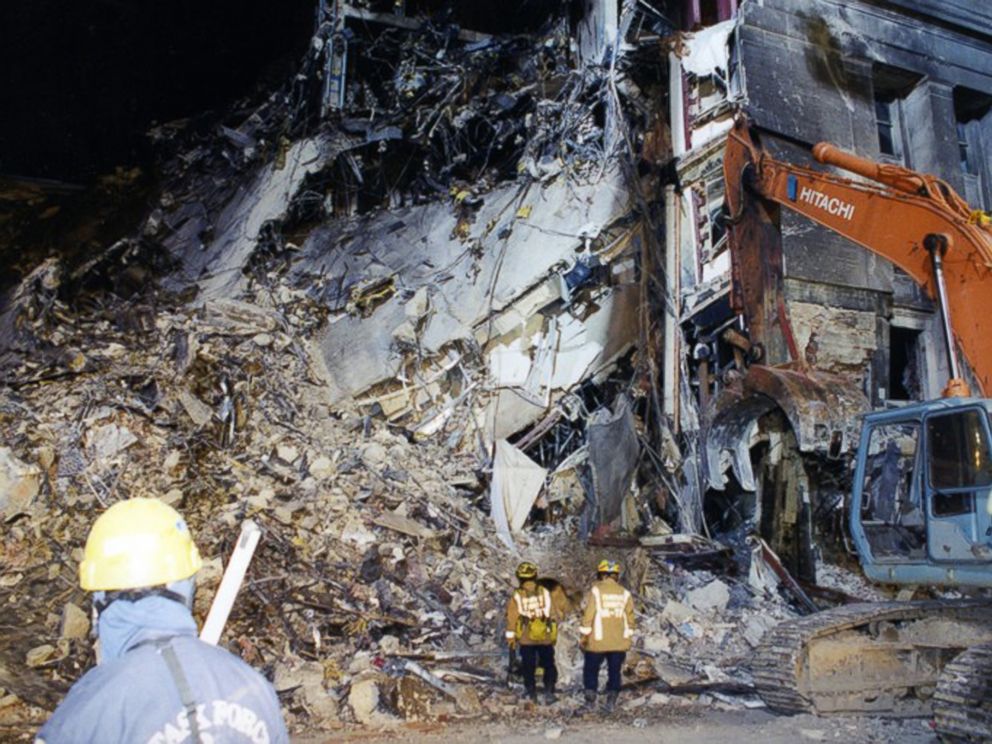 INTERIOR EXPLOSION? – Why does this look similar to the damage at OKC IN 1995? (Image Source: abcnews)
The FBI releases also contained images of twisted plane parts that curiously lacked evidence of fire damage – given the devastating crime scene, it's hard to see how that would be possible.
See the FBI photos here for yourself – and ask yourself one single question: where is the Boeing passenger airliner? 
.
More from Free Thought Project below…
BREAKING: The FBI Just Released Never Before Seen Photos of 9/11 Pentagon Wreckage
Claire Bernish
Free Thought Project
After surreptitiously releasing to the public one week ago, the FBI unceremoniously announced today the unprecedented release of never-before-seen images from the attacks of September 11, 2001, and some of the pictures evoke still more questions.