Shawn Helton
21st Century Wire
In the days leading up to the London attacks, Met Police rehearsed a 'terrifyingly realistic' drill on the River Thames prior to yet another known wolf act of terror taking place.

'GLADIO-322?' – The London attacks occurred exactly a year after the Brussels airport bombings, conjuring the peculiar lore of Yale's Skull & Bones numerology. Its also worth noting, the London attacks appear to have echoed elements of a 2016 Hollywood film called "London Has Fallen."(Photo Illustration 21WIRE's Shawn Helton)
Though many are still reeling in the wake of the tragic events in London – key questions have emerged following this latest terror attack in the UK.
During the course of this article, we'll examine some of the available evidence of the events in London, as well as discuss the relevance of the 'known wolf' aspect of the case. In addition, we'll consider the political context with which to view the attacks following an uptick of Western allied involvement in Syria.
Let's review the London attacks below…

'CHAIN OF EVENTS' – Was this the work of one attacker? (Image Source: bbc)
The London Attacks
On March 22nd, 4 people were said to have been killed in apparent two-pronged attack that stretched from London's Westminster Bridge to Parliament Square. All told, the crime scene reportedly left 40-50 people injured.
According to authorities, the London attacker now believed to be Khalid Masood, (aka Adrian Russell Ajao and Adrian Elms) drove into a crowd of people on Westminster Bridge, then allegedly carried out a knife attack on an officer outside of Parliament Square – but is this the full story?
In less than 24 hours, London authorities revealed that the British-born Masood, was already well-known to MI5 and had worked in Saudi Arabia sometime around 2008.
*UPDATE* – new reports state the following:
"A Saudi Embassy statement released late Friday said that Khalid Masood taught English in Saudi Arabia from November 2005 to November 2006 and again from April 2008 to April 2009.
The embassy said that he had a work visa. It said he returned for six days in March 2015 on a trip booked through an approved travel agent."
CBS news reported the following:
"Masood had an extensive criminal history stretching back 20 years — much of it petty offenses. He has been known by a number of aliases, including Khalid Choudri/Choudari.
His first conviction was in November 1983 for criminal damage, and his last was in December 2003 for possession of an illegal knife.
The London Metropolitan Police have said Masood had previous convictions for assaults, including causing gross bodily harm, possession of offensive weapons and public order offences."
Even though Masood was on the intelligence/police radar, he was never convicted of any terror related offenses and was not currently the subject of any investigation just prior to the London attacks. However, Masood was previously investigated on suspicion of extremism in the past.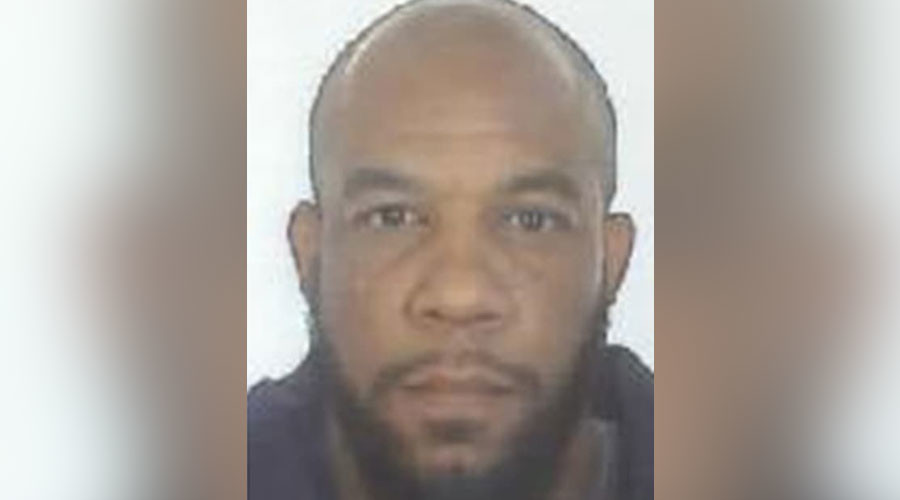 'MI5 LINKED' – Khalid Masood, the purported London attacker.  (Image Source: rt)
Interestingly, shortly after the attack, eye-witness accounts of multiple assailants was mentioned, something that directly contradicted the official story. In fact, in those reports it was suggested that at least two individuals participated in the attack. This aspect of the case has been mostly buried by major media outlets, something we've seen before in other high-profile cases involving 'known wolf' terrorists.
On March 22nd, Reuters stated at 17:30 GMT, "…police are currently looking for a second suspect in the Houses of Parliament. A BBC reporter says a witness described two assailants as being a "bald white man" and a "black man with goatee beard."
When we scratch away the mainstream veneer of any story, what we often discover underneath is a web of clandestine deception and media manipulation.
In recent years, there's been a pattern of multiple suspects often witnessed or said to be involved in other terror-related events. This proved to be the case in the aftermath of the Nice, France truck attack (a nearly identical attack method to the Christmas market attack in Berlin), as well as the Brussels airport bombing in 2016.
Zero Hedge reported on the confusion over the official identity of the attacker. Early reports had first named a known hate preacher as the person responsible for the London attacks – but it turned out he's still serving time in prison:
"Press reports are circulating that the terrorist responsible for the attack on Westminster Bridge in London, has been named as Abu Izzadeen, born Trevor Brooks from Clapton in Hackney, an infamous UK-born hate-preacher and Islamic extremist who had been convicted for raising funds for terrorism."
QUESTION: Was this really just a case of mistaken identity, like both the New Year's Eve Turkish nightclub attack and the Brussels bombings of 2016 – or was there something else at play?
Security & Police Terror Drills
On March 6th, Mark Rowley of the Met Police disclosed that 13 Paris-style terror plots have been supposedly foiled over the past 4 years, which have relied largely on public observation and reports of suspicious activity.
QUESTION: Why in the era of mass data collection, GPS tracking and surveillance of personal devices, is British counter-intelligence relying on public so heavily to help solve terror cases?
Here's a passage from Evening Standard on the matter:
"Assistant commissioner Mark Rowley, of the Met Police, also revealed that during that period there were more than 500 live counter-terror investigations at any time.
He disclosed the figures as he launched an appeal – Action Counters Terrorism – for the public to report any suspicions and act on their instincts, saying their help is critical to foiling atrocities.
He said that since the murder of Lee Rigby in May 2013, police and intelligence agencies have disrupted 13 terrorist attack plots – one higher than the last update in October."
On March 19th, the UK's Telegraph published a report detailing an anti-terror drill conducted by Met Police just days before the London attacks:
"Armed police have played out the chaos of a "pleasure boat" terrorist attack on the Thames in a unique marine-based exercise to test the emergency response to gunmen.
A sightseeing vessel became the scene of a fierce mock-gun battle between armed officers and police volunteers posing as terrorists shortly after 11am on Sunday, close to the London Docklands area.
The exercise marks the first time the Metropolitan Police have enacted a live-action, water-borne exercise of its kind, with over 200 officers involved."
There has been an uncanny number of attacks preceded by anti-terror/multi-agency fusion drills that theatrically act out violence before an attack. This was something that happened prior to the Brussels attacks of 2016 , as well as London's 7/7 bombings in 2005.
Watch this ITV interview with Peter Power that reveals the 7/7 rehearsal drills…
Incredibly, Power also predicted the 7/7 attacks a year earlier on BBC Panorama on May 16th 2004…
The Daily Mail reported the Parliament Square crime scene also revealed that the gates were left wide open with no one guarding it:
"A knife-wielding terrorist only managed to get on to the parliamentary estate because the gates were open for ministers to vote – and the Commons authorities knew it was a security weak spot."
Continuing, the article revealed that the policeman killed during the London attacks was 'unarmed' at the time he was stabbed by the alleged perpetrator:
"Concerns have been raised about how the extremist managed to get into the grounds of one of Britain's most important buildings and why the policeman killed was unarmed.
No armed police are thought to have been on duty at the gates, which open on to Parliament Square."
The article also stated that the entrance was "…blockaded with metal barriers, [and] is often left open during votes so ministers can drive in and out quickly. Once the division bell goes they only have eight minutes until the vote ends."
QUESTION: How did the alleged attacker Masood, know exactly when the gates might be open or closed during the voting session and why was it left virtually unattended?
*UPDATE* – Politics Home shed light on the recent terror event outside of Parliament Square a day after this report was published. Here's a passage revealing why armed guards had been removed from the entrance way at Carriage Gates by Scotland Yard over course of the last two years:
"Armed guards were removed from the Parliamentary gate where PC Keith Palmer was murdered because MPs found them "intimidating", it has been reported."
The Times explains: "The fixed armed position at Carriage Gates was replaced at some point over the past two years by a mobile firearms patrol. Parliamentary security sources confirmed that the switch had occurred but claimed it was because of Scotland Yard's concerns that a static armed officer on a gate that was usually open would be vulnerable to attack."

'PARLIAMENT SQUARE' – The emergency response teams and police were seen walking all over the crime scene in London's Parliament Square. (Image Source: 98FM)
Police Commissioner Eyewitness?
Rather incredibly, London's acting Police Commissioner Craig Mackey, just so happened to be a witness to the Parliament Square attack on Pc Keith Palmer. Here's the stunning admission logged by the Daily Mail:
'I personally was a witness to part of yesterday's events, including part of the tragic attack on Pc Palmer,' Mr Mackey said.
'As with all police officers, I therefore had a duty to secure my evidence and produce statements yesterday evening, which I did before resuming my role leading our response to this incident.'
The recent London attacks are a familiar theme: Berlin's Christmas Market Attack perpetrator Anis Amri, was watched by authorities for months in the lead up to staging a truck attack. Additionally, the recent events in London also recalled the Nice, France attack, with Mohamed Lahouij Bouhlel, a 31 year-old French man of Tunisian descent said to have carried out a similar vehicular assault. Both highly dramatized "ISIS-inspired" attacks produced a string of  'known wolves' that once again revealed evidence inextricably tying terror to security services.
QUESTION: Will this attack and others like it in the future, refuel the US-UK 'willing coalition' war rhetoric concerning military and proxy occupation in Syria?
The latest symbolically charged 'ISIS-approved' attack this springtime, appears to be an effort to polarize the perception of Western viewers with yet another round of wartime propaganda, while also providing a media smoke screen over recent US military action in Syria. In fact, a Reuters report practically confirms this:
"The perpetrator of the attacks yesterday in front of the British parliament in London is an Islamic State soldier and he carried out the operation in response to calls to target citizens of the coalition." 
RT reports there have been dozens of anti-terror raids over the past 24-48 hours following the London attacks, along with other significant arrests. Here's a passage from RT:
"A 39-year-old woman was arrested at an address in east London.
Overnight in Birmingham, a total of six people between the ages of 21 and 28 were arrested at two separate locations while a 58-year-old man was also arrested at a separate address in the city this morning.
All suspects were arrested on suspicion of preparation of terrorist acts.  
The Met added that the investigation into the terrorist attack "continues to develop at a fast pace and involves hundreds of detectives." 
Informants & Patsies
QUESTION: Why was Masood never convicted of violent extremism by authorities – given his lengthy criminal background?
As 21 WIRE has documented over the years, many so-called shooting/terror/attacks involve individuals being monitored by security services prior to an alleged act taking place. A place where a 'lone wolf' graduates into the ranks of a known wolf. In fact, very often those being watched by authorities exhibit all the tell-tale signs of a patsy or an informant, working either for a law enforcement or intelligence agency to potentially avoid jail time for previous criminal activity. Historically, government operators have often made use of low-life criminals, and mentally disturbed individuals to fulfill various role in entrapment stings or sometimes as bonafide actors in an actual attacks.

In any case, alleged attackers and security agencies have a dicey relationship, making any link between them highly suspect in nature.
In January of 2015, a strategic security service think-tank known as The Soufan Group, reported that a larger national security threat resides with radicals who've had a lengthy criminal background with known ties to security agencies:
"The Soufan Group, a New York think tank, said a better term for "lone wolves" would be "known wolves", given how many are already known to Western intelligence agencies before they strike.
"These individuals, acting alone or in small groups … have been on the radar of various agencies and organisations, highlighting the difficulty of effectively monitoring and managing people at the nexus of criminality and terrorism," it said in a report this week…"
Other terror stooges and suspicious intelligence 'informant' cases include the following:
Tamerlan Tsarnaev (see his story here)
Buford Rogers (see his story here)
Jerad Miller (see his story here)
Naji Mansour (see his story here)
Quazi Mohammad Nafis (see his story here)
Mohamed Osman Mohamud (see his story here)
Timothy McVeigh (see his story here)
Salim Benghalem (see his story here)
Michael Adebolajo (see his story here)
Daba Deng (see his story here)
Elton Simpson (see his story here)
Man Haron Monis (see his story here)
Abu Hamza (see his story here)
Haroon Rashid Aswat (see his story here)
Glen Rodgers (see his story here)
Omar Mateen (see his story here)
Tashfeen Malik (see her story here)
Djamel Beghal  (see his story here)
Anjem Choudary (see his story here)
Cherif Kouachi (see his story here)
Said Kouachi (see his story here)
Amedy Coulibaly (see his story here)
Hayat Boumeddiene (see her story here)
Salah Abdeslam (see his story here)
Michael Zehaf-Bibeau (see his story here)
Nidal Malik Hassan (see his story here)
Abdelhakim Dekhar  (see his story here)
Abdelhamid Abaaoud (see his story here)
Samy Amimour (see his story here)
Ismaël Omar Mostefaï (see his story here)
Mohamed Lahouij Bouhlel (see his story here)
Anis Amri (see his story here)
As we've mentioned at 21WIRE numerous times in recent years, many political leaders and media operatives bang the drums of security over so-called terror 'sleeper cells' (see the the London Boys sleeper cell) hiding in a nation near you – none of them acknowledge the historical fact that they themselves have also helped to harbor, grow, foment and radicalize individuals through counter-terrorism operations for decades.
All too often we've seen the 'stage persona' of any alleged attacker or killer being touted as hard evidence, despite the fact that even strong circumstantial evidence of any apparent crime would likely result in many hours of analysis and debate, potentially without a definitive conclusion, even if the evidence reaches a court room.
For the average person, it's hard to differentiate from a drill or a real event, causing one to scrutinize the legitimacy of such an operation.

'MI5's INSIDE MAN' – Anjem Choudary has been linked to many high-profile terror events, as well as the terror mascot/avatar for ISIS, Jihadi John. (Image Source: twitter)
The Terror Factory
In August of 2016, a hyper-propagandized war image of Omran Daqneesh went viral in the West – at the same time the well-known radical preacher Anjem Choudary was being processed through the media, appearing to be 'protected' by MI5, despite being linked to major terror plots over the past decade. All in all, they were two narratives that reflected the 'humanitarian' and 'radicalization' guises of NATO's international security syndicate that has masked the reality of the War On Terror era.
Here's a portion of a 21WIRE article I wrote in August of 2016 entitled "COINTEL CHAOS: The MI5's 'Known Wolf' Preacher, Aleppo Agitprop & NATO's Mask." The dense report further outlined the historical lens with which to view links between terror operators and counter-terror operations and how both have played a dramatic role in many major acts of terror over the past 16 years:
"It's worth noting that the contemptible cleric Choudary, now facing jail time for supporting ISIS, crossed paths with Abu Hamza, another radical preacher who subsequently ran the Finsbury Park mosque in North London – a known limited hangout for spooks, criminals and other informants.
In 2015, 21WIRE discussed the dubious role of Hamza at Finsbury Park, as well as his long time connection to MI5, while under the gaze of MI6:
"Hamza's role as a state instigator and secret custodian of the Finsbury Park's radical 'honey pot', now appears obvious. In a typical honey pot operation, security chiefs will place an outrageously radical character into position in order to attract "the worst of the worst" and then inform on them to authorities. For years Hamza openly preached his overtly radical, over-the-top sermons at Finsbury Park, often praising Osama Bin Laden and glorifying the attacks of 9/11, all the while mocking the police."
Continuing, the Special Report examined Abu Hamza (photo, left) and his meetings with British security services since the 1990's:
"…the Daily Telegraph disclosed how Abu Hamza had at least 12 secret meetings with MI5 and police special branch over a six year period, starting in the late 1990's. Other testimonies also exist that show both Abu Hamza and Abu Qatada – Britain's two most celebrated radical Islamists, were both informants."
In May of 2015, the UK's Independent discussed the almost two dozen terror attacks linked to the group known as "Al-Muhajiroun," a banned terror-linked organization with ties to British intelligence, specifically MI5. In the passage below, many of the international attacks connected to Al-Muhajiroun had been 'foiled' by police prior to happening:
"The 7/7 attacks, the murder of fusilier Lee Rigby, the plot to blow up planes with liquid bombs and the plot to blow up the Ministry of Sound nightclub are among the 23 planned terrorist attacks that have been linked to one single radical group operating in the UK over the past two decades: al Muhajiroun.
According to a new book by terrorism expert Raffaello Pantucci, al Muhajiroun, a banned network in the UK, has been linked to a number of plots and attacks carried out both in Britain and abroad since 2000.
The book, entitled We love death as you love life – which Pantucci said is a "catchphrase" used by many of the attackers in their propaganda – claims that 23 out of 51 of these terror plots either carried out or foiled by police in the UK and abroad have been linked to al-Muhajiroun."
Shortly before London's 7/7 bombings in 2005,  Al-Muhajiroun's Omar Bakri Mohammed (Anjem Choudary's co-founder) was outed as an informant for MI5 after the Pulitzer Prize winning investigative reporter Ron Suskind spoke to a senior MI5 official. Bakri later 'conceded' the connection during an interview in Beirut, which was featured in Suskind's controversial book, The Way of the World.
In an article written by Nafeez Ahmed entitled,"The circus: How British intelligence primed both sides of the 'terror war'," the larger role of Bakri and Choudary is revealed:
"Bakri was regularly in touch with his deputy, Anjem Choudary, over the internet and even delivered online speeches to his followers in Britain instructing them to join IS and murder civilians. He has now been detained and charged by Lebanese authorities for establishing terror cells in the country.
Bakri was also deeply involved "with training the mujahideen [fighters] in camps on the Syrian borders and also on the Palestine side." The trainees included four British Islamists "with professional backgrounds" who would go on to join the war in Syria. Bakri also claimed to have trained "many fighters," including people from Germany and France, since arriving in Lebanon. Was Mohammed Emwazi among them? Last year, Bakri disciple Mizanur Rahman confirmedthat at least five European Muslims who had died fighting under IS in Syria had been Bakri acolytes."
Interestingly, a UK think-tank called the Quilliam Foundation, that focuses on counter-extremism, has functioned alongside the MI5's counter insurgent programs. Many critics of  Quilliam have suggested the foundation has some controversial bedfellows, in addition to their close affiliation with the Council on Foreign Relations and their connection to the Henry Jackson Society which has been associated with other neoconservative think-tanks.
In the US, many neoconservative republicans have been in favor of escalating the conflict in Syria and Quilliam's involvement could be seen as another group behind the scenes designing a particular outcome for Western interests."
QUESTION: Is it possible that Masood was working in a similar manner with MI5?

COERCED OPERATIVE? – Was Mohammad Emwazi forced to participate, and 'play a role' in the fraudulent ISIS terror videos? (Photo link 24matins.fr)
Adding to the information above, the man purported to be the infamous ISIS executioner 'Jihadi John' was a former computer programmer, 27-year-old Mohammad Emwazi. According to reports, Emwazi was believed to have left the UK to join ISIS militants in Syria sometime in 2013.
In fact, British security services, along with the FBI, revealed that they had 'unmasked' the ISIS terror video persona and had even known his identity for at least 6 months. While this news stunned the international community – it was quickly revealed that the man suspected of being the ISIS front-man was known by MI5 for the past 6 years.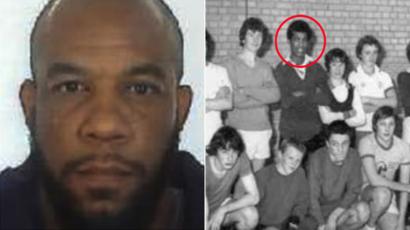 'LONDON ATTACKER' – Khalid Masood seen more recently on the left and while attending Tunbridge Wells on the right. (Image Source: bbc)
Profile of a Killer?
In the aftermath of many high-profile terror events we hear reports of those who knew the alleged perpetrator and very often these people find it hard to believe that the person they had come to know could carry out such a heinous act, even though the accused had a lengthy criminal history. This appears to be the case with Masood. The BBC reported the following:
"Stuart Knight, a classmate of Masood's at Huntleys Secondary School for Boys in Tunbridge Wells, said he was a "nice lad" who was a "fun guy, always laughing, always joking".
Mr Knight added that Masood "worked reasonably hard, [was] good at sport, played rugby very well. Just an unassuming guy. Nothing extraordinary about him at all".
He also said he was shocked to learn of his former classmate's actions. "I wouldn't have thought it of him. It was so out of character for the guy I knew nearly 40 years ago."
CBS news added:
"The manager of a hotel where Masood stayed the night before he plowed his 4×4 into pedestrians on Westminster Bridge and then stabbed a police officer at Parliament said Friday that he seemed unusually outgoing and mentioned details about his family, including having a sick father."
"He was normal, in fact friendly, because we spent possibly five or 10 minutes talking to him about his background and where he came from," Sabeur Toumi told CBS partner network Sky News on Friday."
QUESTION: Is it possible that Masood was financially enticed for his role in the London event?
Look for the Met to build up a darker back story to further gain public acceptance of the official narrative of the London attacks as it relates to Masood. As Masood's violent criminal past will be used as the pretext for his apparent involvement in the London attacks. Already authorities have searched a Carmarthenshire home belonging to his mother, echoing some of the investigative tactics seen after the terror events witnessed in San Bernardino and Orlando over the past two years.
The Met's Mark Rowley discussed the extent of the search for information about the case thus far. Here's a quote published by CBS news:
"We've seized 2,700 items from these searches, including massive amounts of computer data for us to work through," Rowley said, adding that contact had been made with 3,500 witnesses.
Below is another look at the type of formulaic scripting often involved in these kinds of events. Scripted elements that are grafted onto each future terror-related incident:
– Suspect or suspects have alleged connections to terror or terror networks and security services.
– Suspect or multiple suspects reportedly have 'radicalized' views on religion, feeding a prepackaged media narrative.
– Sensational media projections bring in additional story lines for dramatic effect.
– There is an unknown motive for the crime committed – followed quickly by a 'presumed' terror motive with vague or little to no evidence provided.
– Politicians, law enforcement and media call the incident a 'terror attack' before all evidence has been properly examined.
– A 'claim of responsibility' manifesto, text or social media post is often conjured over a 48-72 hour time period.
Time and time again, we've seen this same choreographed narrative pushed by mass media and authorities – only to be exposed at a later date. 
It is also widely known that the FBI created the counter-intelligence program (COINTELPRO) to influence and disrupt political factions from the inside out. Between 1956 and 1971 (including the Socialist Workers party in 1973), the FBI's controversial program infiltrated and radicalized hundreds of left-wing and right-wing groups to control and neutralize political dissidents across America.
Similarly, on a global scale, NATO's paramilitary-style stay-behind-armies (under the moniker Operation Gladio) have been implicated in a number of terror attacks across Europe for several decades.
Allied nations regularly bring up the fact that Western intelligence uses double agents and informants under the banner of security to obfuscate the deceitful reality of such programs.
Was the London attacker also involved in a covert scenario like this?
Here's another look at a compelling documentary discussing the details of NATO's secret army used to redirect political interests…
READ MORE LONDON ATTACK NEWS AT: 21st Century Wire London Attacks Files
READ MORE UK NEWS AT: 21st Century Wire UK News
SUPPORT OUR WORK BY SUBSCRIBING & BECOMING A MEMBER @21WIRE.TV
***
Author Shawn Helton is Associate Editor of 21st Century Wire, as well as an independent media forensic analyst specializing in criminal investigations and media coverage from war theaters.