21st Century Wire asks…
Will this be the beginning of the end for John McCain's re-election campaign?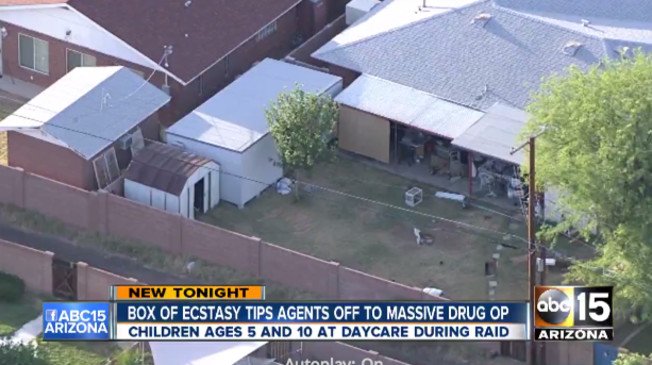 'BUSTED' –  The police raid in Phoenix that targeted a McCain fundraiser. (Photo link scoopnest)
Earlier the week, US Senator John McCain's campaign fundraiser Emily Pitha was arrested at her Phoenix residence by Maricopa County sheriff's deputies after an operational meth lab was discovered on the premises by authorities.
Pitha, an independent consultant at the political organization LovasCo Consulting Group has been involved in Arizona political fundraising for nearly 3 years according to her Linkedin profile.
The LovasCo Consulting Group is operated by Corinne Lovas, wife of Arizona Representative Phil Lovas. McCain's re-election campaign parted ties with Pitha after her arrest but said it will continue to work with LovasCo.

'FUNDRAISER TO FELON?' – Emily Pitha, McCain's campaign fundraiser seen here in an image from LinkedIn. (Photo link phoenixnewtimes)
Dirty Money
Pitha, 34, along with her boyfriend, Christopher Hustrulid, 36, face a host of felony drug charges after authorities were tipped off by package that arrived at her residence from the Netherlands containing 250 grams of MDMA.
The Phoenix New Times recently reported that the couple's "Phoenix home turned up a large quantity of contraband and evidence of drug dealing."
The New Times also stated in an ironic twist that "The top Republican fundraising company that employed drug-bust suspect Emily Pitha also raised money for Arizonans for Responsible Drug Policy, an anti-marijuana-legalization group."
Prior to Pitha serving as a constituent service representative for former Senator Jon Kyl, Senator Jeff Flake, she recently worked as a logistics manager for former Ambassador Barbara Barrett in 2013, according to her LinkedIn profile.
Barrett is chairman of the Aerospace Corporation and served as the US Ambassador to Finland from 2008-2009. Aerospace has direct ties to the Senate Armed Services Committee with some of its former board members serving as counsel for the CIA, Department of Defense and Department of State. US Senator John McCain curently serves as Chairman for the Senate Armed Services Committee.

'BREAKING BAD' – Emily Pitha with boyfriend Christopher Hustrulid arrested after being implicated in multiple drug related charges. (Photo link phoenixnewtimes)
Political Plague
Over the past few years, 21WIRE has outlined a virtual wrap sheet of items that have led to McCain's fall from grace on the political scene. Most notably, in May of 2013, Senator McCain illegally entered into northern Syria to meet with known members of terrorist factions while claiming that they were "moderate rebels" not connected to extremist fighting groups.
Following this trip, the false chemical weapons allegations implicating Syria's Assad soon appeared on the scene just months after McCain's planned visit.
McCain later met with NeoNazi fascist leaders in Kiev, a few short months before Maidan Square melted down and the West's regime change took shape in the Ukraine.
In the face of all this, McCain, chairman of the Senate Armed Services Committee continues to be 'hawkish' on Syria and calling for more than the 250 troops recently deployed to Syria.
Will authorities account for all of the funds raised by Pitha and look at how they were appropriated?
McCain's political career has been plagued by a series of blunders and scandals – one wonders if his campaign will be derailed by the charges against his former fundraiser or will this inconvenient truth get swept under the rug?
Read more from Sputnik below…

'SCANDAL' – US Senator John McCain (Photo link beforeitsnews.com)
Is the beleaguered US Senator's reelection bid taking a page from the hit series Breaking Bad in a desperate attempt to appeal to young voters?
On Tuesday, 34-year-old Emily Pitha was arrested for narcotics distribution and manufacturing when Maricopa County sheriff's deputies found an active meth lab and illicit drugs during a search of her north-central Phoenix home.
Pitha, a former staffer for retired Arizona Republican US Senator Jon Kyl, was serving as the chief fundraiser for Arizona Republican Senator John McCain's 2016 reelection bid at the time of her arrest. The McCain campaign immediately released a statement saying Pitha was "immediately terminated upon our learning of her alleged involvement in narcotics distribution"
The sheriff's office spokesperson said that they were alerted to criminal activity at the residence after a package was identified in transit from the Netherlands carrying over 250 grams of MDMA, street name ecstasy, a popular and illegal psychoactive drug. Pitha's boyfriend, 36-year-old Christopher Hustrulid, signed for the package when it was delivered Tuesday afternoon, right before a search warrant was served.
Detective Doug Matteson said that the two children, ages 5 and 10, "had easy access to all of (the) drugs and materials, even the bomb-making materials that were located in the back with the meth lab." Methamphetamine production involves volatile elements also used in manufacturing explosives.
The news comes as McCain finds himself in the most competitive reelection campaign of his career. In the Republican Primary, the embattled US Senator faces an insurgent challenge from Tea Party Republican state senator Kelli Ward who has successfully tapped into the anti-establishment narrative of the 2016 election cycle.
Continue this story at Sputnik 
READ MORE ELECTION NEWS AT: 21st Century Wire 2016 Files