Shawn Helton  
21st Century Wire
With the United States in the heat of the 2016 presidential election cycle, key questions surrounding the death of Supreme Court Justice Antonin Scalia continue to persist – as there's a new conspiratorial twist added to an already suspicious case.
Recently, here at 21WIRE, we discussed many of the strange circumstances observed in the aftermath of Justice Scalia's death. The 79-year-old conservative justice was found dead in his hotel room at Cibolo Creek Ranch, a luxury ranch located in Presidio County, Texas.
There was no official autopsy made by a medical examiner in Scalia's death, only a controversial pronouncement over the phone by Presidio County Judge Cinderela Guevara.
As 21WIRE pointed out in an earlier report regarding Scalia, Guevara appears to have reversed her previous statement claiming that Scalia had died of a 'heart attack', revising the cause of death to "natural causes." Guevara's handling of the death scene of a Supreme Court Justice without being present has drawn sharp criticism from both the media and the public.

'ORIGINAL MEANING' – Controversial conservative firebrand, Supreme Court Justice Antonin Scalia. (Photo illustration 21WIRE)
Secret Order, Secret Death?
On February 24th, The Washington Post published an article entitled "Justice Scalia spent his last hours with members of this secretive society of elite hunters":
"When Supreme Court Justice Antonin Scalia died 12 days ago at a West Texas ranch, he was among high-ranking members of an exclusive fraternity for hunters called the International Order of St. Hubertus, an Austrian society that dates back to the 1600s."
Continuing, The Washington Post confirmed that indeed, the FBI will not be conducting an investigation into Supreme Court Justice Scalia's death. On an interesting note however, the article states that the FBI was unaware of the secretive international order all together:
"Law enforcement officials told The Post that they had no knowledge of the International Order of St. Hubertus or its connection to Poindexter and ranch guests. The officials said the FBI had declined to investigate Scalia's death when they were told by the marshals that he died from natural causes."

'CLOAK & DAGGER' – Members of The International Order of Saint Hubertus, from left: John Kotts, Boysie Bollinger, Vidal Martinez, Reed Morian and John Poindexter. (Photo link chron)
The Washington Post article also revealed the identity of Scalia's travel partners: "C. Allen Foster, a prominent Washington lawyer who traveled to the ranch with Scalia by private plane," and that Cibolo Creek Ranch owner John Poindexter, along with C. Allen Foster, had flown with Scalia to the ranch for the now infamous quail-hunting trip.
Also according to the Post, both Poindexter and Foster, "hold leadership positions within the [Saint Hubertus] Order. It is unclear what, if any, official association Scalia had with the group."
While the Post acknowledged that many of the 35 guests in attendance at Cibolo Creek Ranch have remained largely unknown to the public eye, they discuss some of the details surrounding the St. Hubertus order, an international brotherhood whose founding member, Count Franz Anton von Sporck , also started a branch of Freemasonry in Bohemia (now the Czech Republic):
"Members of the worldwide, male-only society wear dark-green robes emblazoned with a large cross and the motto "Deum Diligite Animalia Diligentes," which means "Honoring God by honoring His creatures," according to the group's website."
The conspiratorial coincidence doesn't end there, it was also revealed that "The society's [Saint Hubertus] U.S. chapter launched in 1966 at the famous Bohemian Club in San Francisco."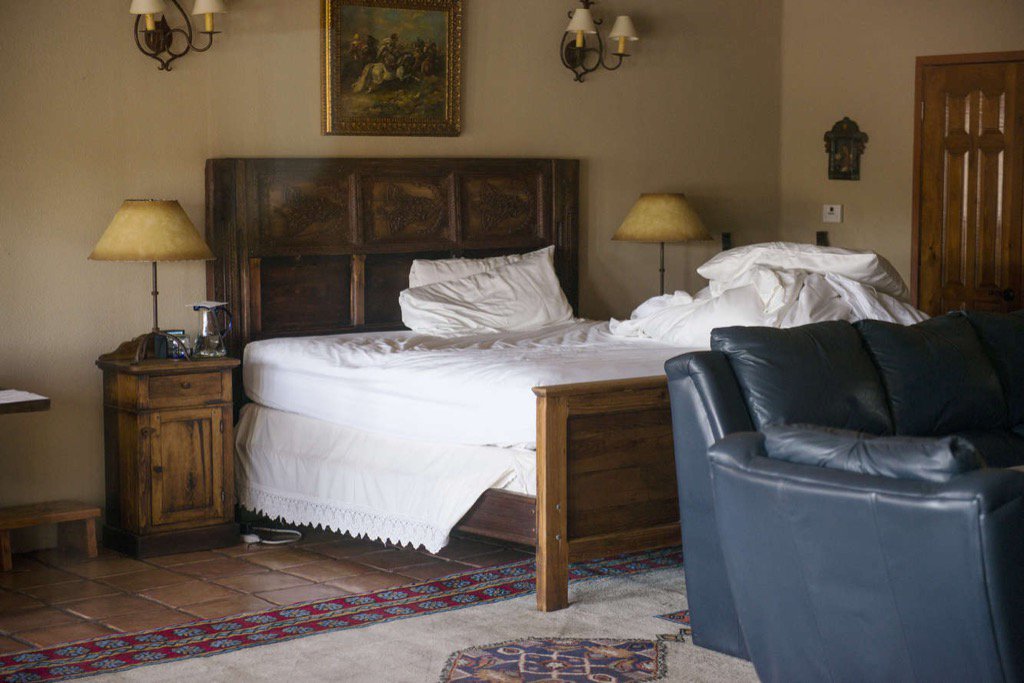 'CIBOLO CONSPIRACY' – What really happened to Supreme Court Justice Antonin Scalia. (Photo link twitter)
Magic Bullets Become 'Magic Pillows'
Another bizarre element to this story, was the description and discovery of Scalia's body when it was first found by Cibolo Creek ranch owner, Poindexter. This aspect of the story is illustrated very clearly in a passage from the blog Followship of the Minds:
"On February 14, 2016, in an article for mySA (MySanAntonio) titled, "Texas Ranch owner recalls Scalia's last hours," reporter John MacCormack quoted Poindexter:
"We discovered the judge in bed, a pillow over his head.Everything was in perfect order. He was in his pajamas, peacefully, in bed. His bed clothes were unwrinkled. He was lying very restfully. It looked like he had not quite awakened from a nap."

On February 17, Poindexter "clarified" his comment to the New York Daily News that "There was a pillow over his head, not over his face. The face was entirely clear."

And now, the latest.

David Warren reports for the AP that according to a Presidio County Sheriff's Office incident report obtained by The Washington Post on Feb. 23, nothing appeared out of place around Scalia's bed.

"Three pillows were stacked to elevate Scalia's head. A top pillow appeared to have toppled onto his eyes and forehead but didn't appear positioned to impede his breathing." Scalia's "arms were at his side atop the bed covers, which were pulled up to his chin. The bed covers were smooth and creased and showed no sign of a struggle."

That is one magic pillow!

First, it was over Scalia's head.

Then, it was above Scalia's head, whose face was "entirely clear".

Now, the pillow is neither over nor above Scalia's head, but partially covering his face ("toppled onto his eyes and forehead"), although the pillow made sure to position itself so as not to "impede his breathing"."

'SECRETS IN CIBOLO' – The scenic surroundings of Cibolo Creek Ranch. (Photo link tripadvisor)
While you have to wonder about the confusion surrounding Scalia's pillow placement, The Washington Post's recent eye-opening revelations regarding the Order of St. Hubertus – give us some other things to consider…
Silencing Conspiracy with Conspiracy
The overtly conspiracy-tinged Post piece is a rarity in the mainstream world, one that conjure's many Hollywood or government tales of murder, deception and intrigue throughout history.
The acknowledgement of a decadent Eyes Wide Shut-like 'secret society' on location at Cibolo Creek Ranch prior to Scalia's death, only enhances the drive by voyeurism witnessed since his passing and in a way, it could undermine any legitimate investigation into his death after the fact.
While its true, this compelling new detail will most likely bring its lion's share of political protest, as well as predictable calls for congressional inquiry or a push for a federal investigation (as should be) – the heavily publicized presence of a secretive fraternal order of hunters nearby a suspicious crime scene, will unfortunately fuel more speculation.
Put another way: Whether or not the secret group at Cibolo Creek Ranch was involved in Scalia's death, you have to wonder why the mainstream media revealed this latest conspiratorial element in the first place.
Media gatekeepers in television, print and radio will have a field day with this new controversial piece, all the while pushing and pulling the population into a particular corner – and by the looks of it, that's already happening.
Having said all of this however, there's still much to be concerned with regarding Scalia's highly suspicious death…

'OBAMA NO-SHOW' – The funeral service for Supreme Court Justice Antonin Scalia. Oddly, President Obama elected not to attend. (Photo link detroitnewstime)
Big Questions Remain
Over the years, Scalia's various political connections and political perspective on important issues earned him a controversial reputation.
In 2014, Justice Scalia drew harsh criticism for his views on the CIA torture debate, when the U.S. Senate Intelligence Committee released a report on the interrogation techniques used since the 9/11 attacks.
Whether you agreed or disagreed with Scalia, it's important to note once again that the high court has several pending landmark cases on climate, abortion and immigration, all within weeks or months of his death.
The NY Post's recent article entitled "Scalia could have been poisoned: forensic pathologist," raised even more questions about the state of Scalia's body upon being discovered:
"Lethal poisoning could have left Supreme Court Justice Antonin Scalia's body in virtually the same condition in which it was found, a top forensic pathologist [Dr. Michael Baden] told The Post on Wednesday."
For the time being, were left to wonder what other secrets lie in Cibolo Creek Ranch regarding the death of Supreme Court Justice Antonin Scalia…
READ MORE ELECTION NEWS AT: 21st Century Wire 2016 Files