Shawn Helton
21st Century Wire
While pledging support for the Constitutional right to bear arms in United States – GOP presidential frontrunner Donald Trump unveiled a platform for nationwide concealed carry.
This past week Trump laid out a comprehensive plan to uphold the 2nd Amendment rights of law abiding citizens within the United States.
The plan included a proposal for nationwide concealed carry without placing a ban on certain types of guns or magazines. Additionally, the GOP candidate discussed the ability to arm military personnel at bases and recruitment centers. The following is a passage from Trump's website:
"The Second Amendment to our Constitution is clear. The right of the people to keep and bear Arms shall not be infringed upon. Period.
The Second Amendment guarantees a fundamental right that belongs to all law-abiding Americans. The Constitution doesn't create that right – it ensures that the government can't take it away. Our Founding Fathers knew, and our Supreme Court has upheld, that the Second Amendment's purpose is to guarantee our right to defend ourselves and our families."
Trump's constitutional stance on gun rights is likely to give his campaign another large boost.

'OUTSIDER?' – GOP presidential candidate Donald Trump. (Photo thenewscommenter)

Media Manipulation

The GOP establishment, along their neocon ilk, have been bewildered since Trump first threw his hat in the ring for the 2016 Republican presidential race in June and in the process, the Grand Old Party's prehistoric political machine has been upended.
Media gatekeepers within the halls of FOX, CNN, as well as others, have been stretching themselves to quell the rise of The Donald through a series of timely 'gotcha' questions, ambush interviews and choreographed debate forums all working in unison to unsettle the apparent GOP outsider.

In fact, there's no shortage of media pundits, politicians and beltway lobbyists who would rather see America continue its political stagnation than to take a chance on 2016's interloper.
Over the past few weeks alone, Trump has faced a flurry of criticism over comments made about fellow GOP candidates, a media firestorm over an 'anti-muslim' town hall questioner, who may have been planted, while enduring a failed 'hatchet job' interview by radio pundit Hugh Hewitt – all in an effort to Stump Trump.
This Wednesday it was announced that Trump's upcoming appearance on the The O'Reilly Factor had been abruptly cancelled. This prompted Trump to take to social media, stating the folllowing, "Fox News has been treating me very unfairly & I have therefore decided that I won't be doing any more Fox shows for the foreseeable future."
Recently, 21WIRE political affairs editor Patrick Henningsen weighed in on the reality of Trump's unlikely brand of politics, as the rising GOP front-runner continues to fend off a series of seemingly staged media attacks:
"As tough as it looks for Trump, however, there is a silver lining in this storm. Trump has two things that the rest of GOP field doesn't have, and cannot have even if they tried (and tried hard). The first is that his supporters believe him when he says he will do something. Like it or not, good or bad, that's a reality. The second thing is even more powerful by an order of magnitude. Despite what his detractors claim, Trump has the potential do well in dealing with other international heavy weights, including Russia, because unlike the rest of the career politicians whose job is to lie for a living – Trump is a brand, and a successful one at that, which means he already has something to play for."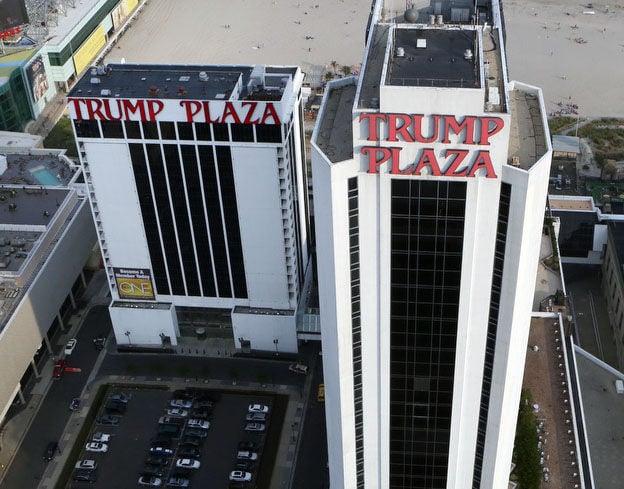 'GHOST CASINO' – Trump is in a legal battle to take his name off of property he no longer holds in Atlantic City. (Photo pressofatlanticcity)
Uncovering A Property Battle 
Some critics of Trump have questioned the constitutional principles of the real estate mogul by citing a high-profile eminent domain case the well-known developer was involved in during the 1990's.
In 1993, when Trump was looking to expand the parking area for his casino and hotel in Atlantic City, New Jersey, he eyed a nearby plot of land owned by Vera Coking. The property owned by Coking was originally bought as summer retreat with her husband Raymond in 1961 for $20,000 dollars.

'DONE DEAL' – In August 2014, the Coking boardhouse sold on auction for 530,000 dollars. Despite the glistening white paint job, at the time of the auction, the property was said to be in disrepair. (Photo auctionadvisors)
While Coking was regarded as a folk hero for taking on the city and various developers over the years, it appears mainstream media largely misrepresented elements of her story.
According to a NY Times article published last year, Coking was offered well above the market value for her property and at least a 100 times more than she originally paid for the house:
"She was not completely opposed to selling, but whatever price she had in mind, no one could ever meet it, including Mr. Trump, who recalled offering as much as $4 million as well as a room for life at any of his properties. Mr. Casey said the most he remembered Mr. Trump offering was $1.9 million. "He never made her a real offer," Mr. Casey said. "He just tried to steal it."
It has long been asserted that Coking didn't want to leave her property but according to her grandson and others, it may have been a matter of price.
The article continued by quoting Coking's grandson Casey as saying "there were never any offers she [Coking] thought were reasonable."



'HOLDOUT' –  A steel framed structure encased the Coking boardinghouse for 15 years before being torn down in 1993. (Photo tumblr)

Coking's decline of Trump's deal, marked the second time she rejected an offer for her much sought after property. It was also the second time she was offered compensation well over market value.
In the late 1970's, Coking declined a $1 million offer for her property from Penthouse magazine publisher Bob Guccione. A short while after, Guccione erected steal framed skeleton around Coking's property in 1978, the start of his casino and hotel dreams. However, the Penthouse Boardwalk Hotel and Casino never materialized for Guccione, as he stopped construction for the massive project due to lack of funding.
Trump eventually acquired the property where Guccione's steel frame stood and during demolition of the unfinished building in 1993, Coking's property was damaged. Coking sued Trump and Iaconelli Contracting Inc. for an estimated 126,000 in damages.
In 1997, a $90,000 dollar settlement was reached for the damage caused to Coking's property. 

In 1996, the city's Casino Reinvestment Development Authority (CRDA) appraised the value of Coking's property at $251,000, thus marking the start of a well-publicized eminent domain case in which Coking was awarded a victory in 1998. The Superior Court Judge Richard Williams threw out the case against her, along with two other property owners, reportedly "because there were "no limits" on what Trump could do with the property." However, the judge did not reject the practice of using eminent domain.
As time has passed in Atlantic City, not everyone involved in the eminent domain case believed Coking made the right decision. The following is a passage from the NY Times article quoted above:
"Even [Coking's] her fellow holdouts said they thought she had made a mistake. Both eventually agreed to sell, the owners of Sabatini's restaurant receiving $2.1 million and $1.6 million going to the pawnshop. Their buildings were demolished, now part of a huge lawn flanking a taxi stand for the casino.
"I think she got greedy and made a mistake, a big mistake," Vincent Sabatini, a former owner of the restaurant, said of Ms. Coking. "Trump was tough, but it was just business.
Jim Whelan, the former mayor and a current state senator, is among those who place some of the blame for Atlantic City's decline on Ms. Coking. "I wouldn't say it was her singularly, but the climate she and other holdouts created," he said. "It scared off development, and maybe the city wouldn't be so reliant on gaming. A lot of people's boats came in, and they wouldn't get on."
Before going to auction, Coking's property was put on the market for $5 million dollars sometime in 2010. The listing was eventually reduced to $995,000 dollars prior to being placed on auction. The property recently sold for $530,000 dollars, well below the city's assessed value of $580,000 in 2009.
In the end, Coking never accepted any deal for her once highly coveted property a half a block away from Atlantic City's boardwalk.
Coking owned the property as a boardinghouse for more than three decades. She has since relocated to the San Francisco Bay Area sometime within the past five years, settling in a retirement home near her grandson.
Recently, Townhall Magazine published an article admonishing Trump for not offering just compensation in the well-known eminent domain case by echoing claims from a heavy-handed article featured at National Review in 2011.
However, it appears that much of this case has been lost in translation, with many failing to present a more balanced view point of the much-fabled Atlantic City property battle.
As the election cycle is now in full-swing, there will be many polarizing media stories pushing different political angles – without taking a close look at the details.
READ MORE 2016 ELECTION NEWS AT: 21st Century Wire 2016 Files