21st Century Wire says…
Malaysia Airlines flight MH370 is said to have disappeared in the early hours of Saturday, March 8th, 2014. Although there have been many theories surrounding the missing airliner, this latest claim could blow the lid of of this highly controversial story…
The US may have shot down Malaysian Airlines flight MH370 and then covered it up according former French airline CEO Marc Dugain.

As we documented here at 21WIRE this past March, a former member of the US National Transportation Safety Board, John Goglia, reported that the ACARS transmitter 'continued sending out blips' that were recorded by satellite 'once every hour' after the transponder had been off, in addition to Rolls Royce transmitting live data to its global engine health monitoring center in Derby, UK every 30 minutes during flights.
Over this past year, we covered a report detailing how a Boeing 777 along with other Boeing models, can in fact be flown remotely through the use of independent embedded software and satellite communication. Once this advanced system is engaged, it can disallow any pilot or potential hijacker from controlling a plane, as the rooted setup uses digital signals that communicate with air traffic control, satellite links, as well as other government entities for the remainder of a flight's journey. 
So how did we lose track of MH370 in the digital age and will this latest claim bring us closer to the truth?
 
More from RT below…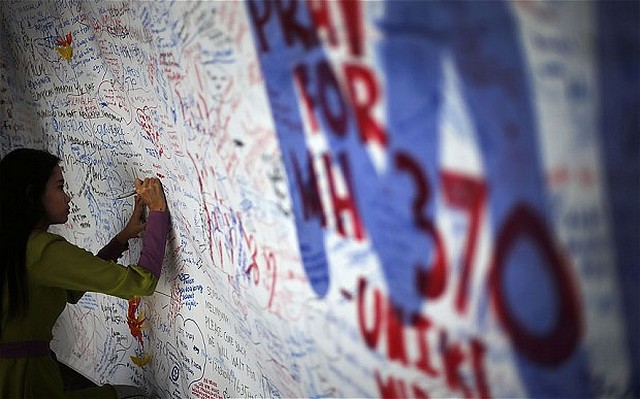 IMAGE: 'MH370 Psyop'  MH370 is said to have 'vanished' in the age of surveillance and digital tracking. (Photo link laquotidienne.fr)
MH370 was 'shot down by US military', claims former French airline boss
A former French airline CEO Marc Dugain claims that the US may have shot down Malaysian Airlines flight MH370 and then covered it up, adding to a rash of conflicting theories about the missing plane.
In a six-page article published by French weekly Paris Match, Dugain claims that the Boeing 777 may have got into trouble and as it was approaching the US military base on the British territory of Diego Garcia in the Indian Ocean, it was shot down. US forces may have feared the plane was attempting a 9/11 style attack on the base, Dugain said.
"It's an extremely powerful military base. It's surprising that the Americans have lost all trace of this aircraft. Without getting into conspiracy theories, it is a possibility that the Americans stopped this plane,"Dugain said, English-language website The Local reported Friday.
Dugain said there were witness in the Maldives, the nearest islands to Diego Garcia about 500 kilometers to the north, who claim to have seen a "huge plane flying at a really low altitude" with Malaysian Airlines colors flying toward Diego Garcia.

IMAGE : 'Cloaked at Sea' – The United States Navy operates Naval Support Facility (NSF) in Diego Garcia a communications and space-tracking facility in addition to support for other naval operations. ( Photo link resources2.news.com)
In August, the UK Daily Mirror reported that the MH370 was heading for the tiny Indian Ocean atoll of Diego Garcia, but the US Embassy in Kuala Lumpur denied this. A spokesperson for the US Embassy in Malaysia told the local Star newspaper at that time that there was "no indication that MH370 flew anywhere near the Maldives or Diego Garcia."
He added: "MH370 did not land in Diego Garcia."

Dugain writes that the aircraft, which disappeared on March 8 with 239 people on board, while on a scheduled flight from Kuala Lumpur to Beijing, could have been hijacked remotely and then steered toward Diego Garcia.
Another explanation, he says, is that an onboard fire forced the crew to turn off all electronic devises without damaging the plane's exterior, allowing it to continue on autopilot with everybody on board asphyxiated.
The testimonies of witnesses in the Maldives have been suppressed, Dugain claims, adding he was approached by a British intelligence officer, who warned him he would be taking "risks" by trying to find out what really happened to the MH370. As the British own the island, it would figure they would cover up any incident, Dugain said.
The US has consistently denied it has had any knowledge of the fate of the airliner, but Dugain doubts the US, which is "equipped with the best technology in the world" could have completely lost track of "a 63-meter-long object."
Sir Tim Clark, CEO of Emirates Airlines, the world's largest, said in October that he thought information on what happened to the doomed airliner was being withheld by some people and that even with all its electronic communications systems turned off the plane would still be traceable by powerful military radar.
READ MORE WAR ON TERROR NEWS AT: 21st Century Wire War on Terror Files