FERGUSON LIVE
21st Century Wire 
NOT GUILTY VERDICT DELIVERED IN FERGUSON – FOLLOWED BY PROTESTS AND RIOTING
(START)
MONDAY NOV. 24, 2014:
10:00pm EST/9:00pm CST
St. Louis County attorney and spokesperson for the prosecution, Bob McCulloch (D), delivers a live address from Clayton, Missouri on the Grand Jury's decision on the Officer Darren Wilson vs Michael Brown case.
A total of 5 indictment charges were presented to the Grand Jury, and the jury found "no probable cause" and a "no true" bill on all five of the original indictment charges.
McCulloch also noted hows the grand jury members had "given up their lives" while deliberating on the case. See more about the details of the verdict here.
Because of threats of violence and reprisals from angry protesters, 28 year old Officer Darren Wilson has gone into hiding with close family members, and is said to be retiring from the St. Louis police department.
Grand Jury testimony revealed that on Aug. 9, 2014, the day of the shooting, the Officer had in fact known that Michael Brown had just robbed a local convenience store, Ferguson Market and Liquor, stealing a box of Cigarillos while intimidating store clerks – which made Michael Brown a suspect in a crime at the time of shooting and not just "an unarmed pedestrian", as he was characterized by media before the investigation began.

The family of Michael Brown have already stated their "profound disappointment" over the verdict. The family calls for peace from street mobs, stating:
"While we understand that many others share our pain, we ask that you channel your frustration in ways that will make a positive change".
The family go on to issue a very loaded statement, however, which carries an undercurrent of incitement and infers that the Grand Jury's verdict was part of a 'police violence' cover-up, or that police out on the streets are initiating violence. The Brown family did not clarify the meaning of this second statement:

"We respectfully ask that you please keep your protests peaceful. Answering violence with violence is not the appropriate reaction".
Law enforcement brace themselves for more protests after the verdict is announced.
Obama Calls for "Care and Restraint"
Obama took to the podium at 10:10pm EST, stating, "We are nation built on the rule of law, so we need to respect that this was a decision that was the Grand Jury's decision to make… I join Michael Brown's parents to ask that anyone protesting this decision to do so peacefully".
Moderate protester leaders on the streets are calling for calm, encouraging that cooler heads must prevail.
10:25pm EST/9:25pm CST:
Early reports are that mobs are now throwing bottles, rocks, and projectiles at police, and also breaking windows of cars passing by.
For updates from #CNN in #Ferguson, follow @MbasuCNN, @sarasidnerCNN, @jaketapper. Full list: https://t.co/UJRNJbzJca pic.twitter.com/FMsQbrPMcW

— CNN (@CNN) November 25, 2014
CNN's Jake Tapper reports that crowds have attempted to overturn a police car. In response, police have fired tear gas to clear the streets, and moved MRAP vehicles into positions just behind main police lines.
CNN's Don Lemon reported minutes ago, choking on tear gas, tells of multiple gun shots fired from protesters, as well as "the smell of marijuana in the air", as he reported live from the streets of Ferguson.
11:00pm EST/10:00pm CST:
CNN's Tapper reports multiple building have been vandalized, with windows already smashed and looted including a local law firm, a Chinese restaurant, a Mexican Restaurant and other black-owned businesses including one beauty supply store.
Fire has also broken in one commercial building across the main road where some media are positioned, about 100 meters from the police line… 
A woman complains that one protester is downed and may have sustained a heart attack, and that crowds had walked over the person because police were pressing crowds back.
Flash mobs have now descended on Ferguson Market and Liquor, the same store where Michael Brown was scene on CCTV to have stolen Cigarellos after he had intimidated store keepers.
CNN reporter Don Lemon describes the scene as "an embarrassment to the family of Michael Brown".
11:15pm EST/10:15pm CST:
Police let off massive canisters of tear gas, pushing crowds back away from police lines and main intersection.
Two police cruisers are reported to have been set on fire by protest mobs.
Most of the violence has been herded in to a relatively small area. Talk along protest lines is that protest leaders and other agitators are planning to move the protest to a new location in order to avoid police and tear gas.
11:30pm EST/10:30pm CST:
Little Caesars pizza restaurant has been set on fire by angry arson mob.
White House urges for calm, while police forces move to protect businesses from further arson by mobs.
Crowds have amassed in other US cities, including a large crowd in downtown Philadelphia, with protesters on the move. Protesters are carrying signs that have been prepared and made in advance.
Protesters from Union Square moved the Times Square, and have now gathered on 7th Avenue in New York City, numbering in the thousands, marching along the southbound lanes at the 47th street junction.
NYC march is still going strong for #Ferguson two groups now this one is headed towards Harlem pic.twitter.com/E2mfHF2bSr

— Luke Rudkowski (@Lukewearechange) November 25, 2014
NYC protesters throw a bag on fake blood over NYC Police Commissioner William Bratton.
USA TODAY are reporting that crowds are now gathering near the White House in Washington DC.
. RT @MajorNews911: #BREAKING: Building fully enflamed in Ferguson, MO. pic.twitter.com/6ehaTGhDok

— DanRiehl (@DanRiehl) November 25, 2014

11:45pm EST/10:45pm CST:
Cold weather setting in at 35F, driving some crowds away from epicenter of Ferguson protests.
FOX NEWS reporter moves back off the front line in Ferguson after 50-60 gun shots are fired from small calibre hand guns from unknown protesters 800 yards from media reporters position.
Police now returning fire at unknown armed protesters.
Police helicopters scrambled to area to find source of protester gun shots.
Fires to business are "spreading and growing" around beauty store fire in Ferguson, as fire fighters move in to put out fires. Police move to maintain a perimeter around fire fighters for protection against mobs.
In Oakland, CA, and in Los Angeles, CA, hundreds of protesters are on the move, marching near the city centers, but no violence or vandalism has been reported as yet.
In the nearby downtown of St. Louis, Missouri, at I-44 and Grand Ave, approximately a thousand of peaceful protesters stretching 6-8 city blocks, with cross traffic stopped.
Protesters laying in the middle of LaBrea and Wilshire in silence #LosAngeles #ferguson pic.twitter.com/IVDPFXbScY

— Gadi Schwartz (@GadiNBCLA) November 25, 2014
In Los Angeles at 8:50pm local time, hundred of "artivist" protesters can be seen lying at a major street intersection, symbolizing 'Michael Brown lying in the street after being shot'.
12:00am EST/11:00pm CST:
Ferguson: A car, possibly a police cruiser, can be seen being torched in the street with mobs looking on:
Heavily armored #Ferguson riot police clearing streets – WATCH LIVE http://t.co/5VoCSD9dVv – via @Ruptly pic.twitter.com/MED15fotG2

— RT America (@RT_America) November 25, 2014
More gun fire is reported, going off in multiple directions.
00:15am EST/ 11:15am CST:
Thousands storm the streets of Chicago in collective rage following the Ferguson decision. Occupy Chicago had mobilized crowds in advance of the verdict announcement…
BREAKING: "No justice, no peace!" #Chicago protesters head north on MLK Dr. #Ferguson – @ChipMitchell1 pic.twitter.com/rzlcVN8r5d

— NewsBreaker (@NewsBreaker) November 25, 2014
#Chicago: March downtown after Ferguson decision #Chi2Ferguson v @PeterNickeas & @JeremyGorner http://t.co/YzeD6uwEj0 pic.twitter.com/YiX7E18Ip6

— Occupy Chicago (@OccupyChicago) November 25, 2014
1:00am EST/00:00 CST:
Fire and looting has hit other Ferguson businesses – latest victims: Advanced Auto Parts (fire, looting), and New York Grill (vandalism looting).
Fire crews are currently unable to attend new fires set by arsonist protesters. Don Lemon reports that there are "unconfirmed" reports that Ferguson fire fighters have left tending fires at burning buildings after being shot at by gunmen…
British photojournalist in Ferguson: 'It's a license to let hell come loose' http://t.co/wuUHpsNf2e #chicago pic.twitter.com/BgqOwyMOca

— Chicago News Now (@chicagonewsnow) November 25, 2014
CNN speaks to one local female resident who says, "This place is gonna be a ghost town now".
Because of gun shots allegedly fired at police helicopters, the FAA has now canceled flights into and over St. Louis area, also due to "General Unrest in Ferguson". Watch:
https://www.youtube.com/watch?v=aVnCOJHVhDI
Ferguson: Police are slowly sweeping the streets around original protest lines, as mobs now thinning out, and as temperatures drop into the late evening.
1:30am EST/12:30am CST:
Sam's Meat Market is added to the list of burned and looted buildings and businesses in Ferguson tonight.
Confirmed: Fire Fighters were heard by CNN reporter on the scene, saying, "It's not safe" in front of Ferguson beauty shop which was let burn because fire crews feared gun fire from protesters. Fire fighters had abandoned their fire hoses, dropping them on the street before leaving the burning building in fear.
Man just shattered window of Cho Suey restaurant next to burning TitleMax. #Ferguson @kmoxnews pic.twitter.com/4JC2F6mXIV

— Michael Calhoun (@michaelcalhoun) November 25, 2014
Slow response times by fire fighters continues, as shots can near West Florissant and Canfield Streets in Ferguson.
2:00am EST/1:00am CST:
Ferguson: AutoZone remains engulfed in flames, with no fire fighters to be seen near the burning warehouse structure.
Ferguson's Taco Bell can be seen vandalized and looted, alongside the adjacent Gas Station – also vandalized and looted.
Protests have also broken out in Seattle, WA.
MT @bettinahansen Cops pepper spray protesters as they try to get on the on ramp appx 9:50 PM PST #Ferguson #Seattle pic.twitter.com/bewvNy8Te3

— Revolution News (@NewsRevo) November 25, 2014
2:30am EST/1:30am CST:
Another local business in Ferguson, Fashions R Boutique is now collapsing following a fire…
The Fashions R Boutique from my earlier tweet is collapsing. #Ferguson @kmoxnews pic.twitter.com/DkN80Ma9fh

— Michael Calhoun (@michaelcalhoun) November 25, 2014
Dozens of car fires, and also building fires are still raging in Ferguson.
Missouri Governor Nixon just released a statement confirming that the state is preparing National Guard troops on standby to deal with any further unrest in Ferguson for this morning and tomorrow.
Chief Jon Belmar of the St. Louis County Police Department confirms at live press conference, "I can tell you personally that I heard about 150 shots fired (from protesters)".
He added, "We were really hoping for a peaceful protest, and I mean that."
"But as soon as Mr. McCulloch announced the verdict my officers started taking rocks and batteries."
"I told the troops (police), I said just 'back off'. We started losing glass across the street, because of that we decided to stage, but not bring, the TAC Units forward. Then we started getting gun fire from across the street."
MSNBC confirms: St. Louis Police also report heavy automatic gunfire (from protesters).
When #ferguson gave me the aux cord pic.twitter.com/dOz8rplhm9

— ⠀ (@euphoricalIy) November 25, 2014
3:00am EST/2:00am CST:
St. Louis Police: "We didn't see a lot of peaceful protesters. This community is now really fractured, and torn apart".
LIVE video feeds show cars in a local Car Dealership business, and other buildings still on fore in Ferguson.
Confirmed: CNN reports that Officer Darren Wilson's Grand Jury testimony is released to public…
#News #MostRecent Darren Wilson's grand jury testimony released http://t.co/XLPKJzFJHb via @CNN

— iRSSNews (@iRSSNews) November 25, 2014
Just released: See all released Grand Jury Documents here.
Police chief: Cops "fired no shots tonight" in #Ferguson, and at least 29 were arrested…
Police chief: Cops fired no shots overnight in #Ferguson, at least 29 arrests http://t.co/w7foR72TH7 pic.twitter.com/psCrRY08l0

— NBC News (@NBCNews) November 25, 2014
BREAKING: CNN International live caller, Mayor Reggie Jones of Dellwood, says a number of businesses in Dellwood have been vandalized and set on fire, and also confirms at 2:00am CST, that Missouri National Guard Troops can now be seen on the streets in Ferguson.
Minnesota: Protests in Minneapolis show mobs burning American flags…
4:00am EST/3:00am CST:
FOX News shows rioters hanging out of car windows, driving around Ferguson, Missouri, in a celebratory mood with local businesses burning in the background and shouting, "This is justice!"
Eyewitness confirms that at least 5 bus loads of National Guard troops have arrived in Ferguson to relieve law enforcement there.
I will laugh when they are tear gassed and dragged off to jail…. #Ferguson pic.twitter.com/7Jheky1wn6

— DJ Rubiconski (@Rubiconski) November 25, 2014
TUESDAY NOV 25, 2014:
1:00pm EST/ 12:00pm CST
2,200 Missouri National Guard troops have been deployed by Governor Nixon.
6:41 pm – Occupy Portland movement holds protest in downtown area. 
"Military veterans called for peace, a communist group called for the overthrow of capitalism, and a group calling for a Palestinian state all held court during a series of speeches on the steps of the state Justice Center in Portland."
 8:pm EST/7:00pm CST
ABC's George Stephanopoulos gains an exclusive interview with Officer Darren Wilson.
Just finished a more than hourlong interview with Officer Darren Wilson. No question off limits. pic.twitter.com/BrD4e39ABg

— GeorgeStephanopoulos (@GStephanopoulos) November 25, 2014
Protests resume across the US this evening.
New York City – street protest demonstrations resume in Manhattan, gathering in and around Times Square.
In Atlanta, Georgia, black crowds are gathering in streets, interrupting traffic. Police have arrived on the scene.
9:45pm EST/8:45pm CST:
In Los Angeles, thousands of protesters are heading down Figueroa Street, heading towards City Hall.
11:30pm EST/ 10:30pm CST:
Argus News service reports that over 150 Homeland Security vehicles in the basement garage of a 5 star hotel in the area of Ferguson. 
Some unrest and "light violence" taking place on the streets of Ferguson.
Police announcement over loud speaker in Ferguson that all protesters must disperse now, or face arrest.
1:30am CST/11:30pm PST:
In LA, hundred of protesters are herded by LAPD to Olympic Blvd and Santa Monica Freeway, and ordered to disperse but are refusing to leave at present.
National Guard troops in Ferguson clash with small groups of street agitators…
Natl Guard makes arrests in downtown #Ferguson. pic.twitter.com/V5uOlvt3cN

— Robert Cohen (@kodacohen) November 26, 2014
A St. Louis Police press conference is due to take place within the next 30 minutes in Ferguson.
Chief Jon Belmar: A car was set on fire activist/arsonists adjacent to the Michael Brown Memorial in Ferguson.
Gun shot s were fired at the time. Police made a total of 44 arrests, including 4 felony arrests this evening in Ferguson.
Police still treating Ferguson riot zone from Monday night as "a crime scene". 
Shocking footage from Minneapolis…
GRAPHIC VIDEO: RT @BuzzFeed: Car Plows Through Crowd During #Ferguson Rally In Minneapolis. http://t.co/SQuT8Vhovu https://t.co/e9W0IvDygY

— Jason Whitely (@JasonWhitely) November 26, 2014
MRAPS in Oakland…
RT: Fucking tanks in the street. They are declaring this an unlawful assembly. #Oakland to #Ferguson pic.twitter.com/bg1GAcN1Cy"

— Cañas de Amore (@Niche4Lights) November 26, 2014
Here's a YouTube clip from LaughingAtLiberals from the streets of Portland, Oregon, documenting the violent unrest from protesters blocking streets and confronting people in vehicles…


Another clip from LaughingAtLiberals depicting protesters trying to incite Portland police during a gathering downtown…
RT producer, Denise Reese, was detained by police in Ferguson…
#Ruptly journalist detained in #Ferguson http://t.co/Y5x26HyXcX #FergusonDecision

— Ruptly (@Ruptly) November 26, 2014
Protesters go mad, gather at the head studios of CNN , claiming that the network "is not giving us a voice". CNN reports:
"Some Atlanta protesters held signs that read "Enough" and "We are all one bullet away from being a hashtag."
One demonstrator wore a T-shirt that read, "Racism isn't over but I'm over racism."
"It's a travesty; it's just not right," ShaCzar Brown said as held up a sign that said, "Stop killer cops."
"Seventy years ago, it was legal to kill black people," Brown says, referring to the spate of lynchings that spread through the U.S. in the late 19th and early 20th centuries. "It's essentially still legal."
Earlier in the day, protesters invoke 'Black Power' salute during moment of silence…
powerful – four and a half minutes of silence for #MikeBrown #cnn #Ferguson https://t.co/ZqjG5DKeKb

— sgallman (@sgallman) November 25, 2014

WED. NOV. 26, 2014
7:44 AM PDT
Four freelance reporters robbed at gunpoint at 8pm, Tuesday 11/25…
Four reporters attacked – Breibart http://www.breitbart.com/Big-Government/2014/11/26/Reporters-Robbed-at-Gunpoint-In-Ferguson
11:00am CST:
Two FBI agents are reported to have been shot near Ferguson…
Two FBI agents shot near Ferguson — RT USA http://t.co/dnwo2gM2I4

— DJS (@DJSiri) November 26, 2014
12:30pm CST:
@BBCBreaking Car Drives Through Protest Ferguson Decision in Minneapolis https://t.co/AkTMgABApw #Ferguson #FergusonDecision

— Kiril (@vezen7) November 26, 2014

Black Friday Shopping Early Bird blue light sale special – Ferguson's finest busy Christmas shopping…
"@NavyDad0007: RT @deray: We have nothing to lose but everything to gain by looting. #ferguson pic.twitter.com/9NlLQILI21

— superman75 (@suprmn75) November 26, 2014
1:21pm CST:
Marcus Dipaola, one of the four journalists said to have been held at gunpoint, had his car stolen and torched – "RIP Prius. survived multiple hurricanes, tornadoes, countless breaking news stories. But did not survive #ferguson ."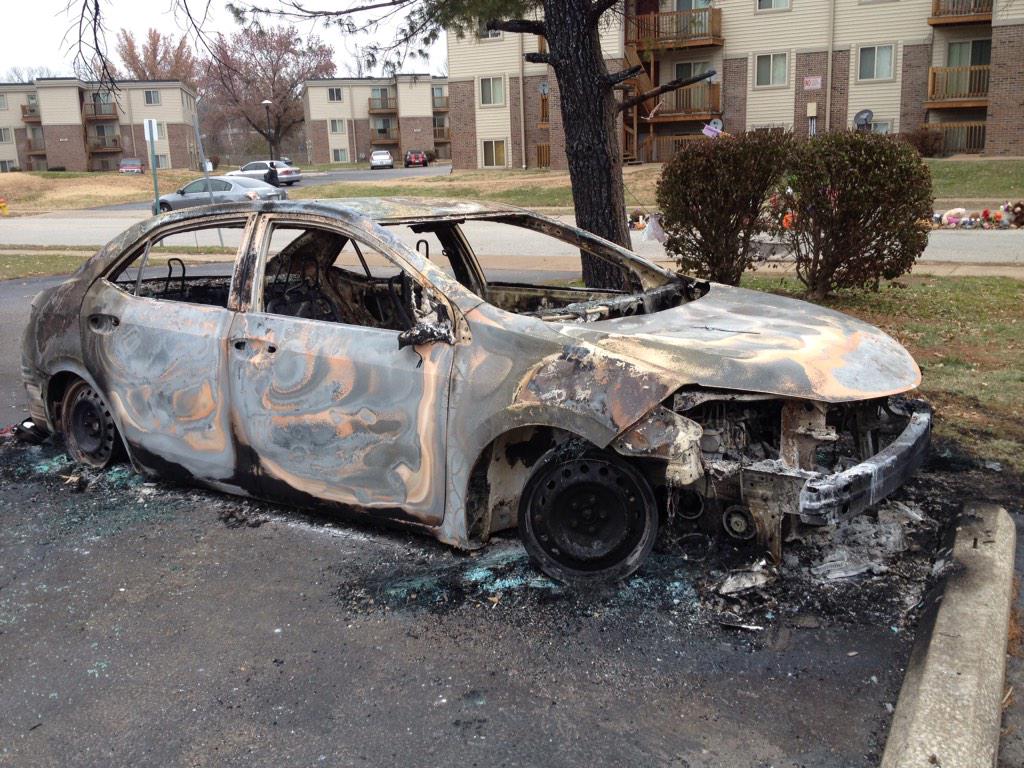 4:00pm CST:
BREAKING: Ferguson Police Brace for more protests this evening.
National Guard encampments and extended police perimeters are now in place, police confident that commercial district and gov't building are secure.
Ferguson: dropping temperatures and show flurries are expected to deter mobs this evening.
NAACP head Cornell Williams Brooks is now calling on national TV for a "7 Day March" (in the snow?) in the spirit of the 'Selma to Montgomery March' that happened 50 years ago… Cornell Williams Brooks then goes on to tell black GOP 2016 candidate Ben Carson to, "stick to the operating room" and not to get involved in US politics.
As seen from placard signs in this tweet, the Socialist Workers Party (Communist Party in UK) have organized a Michael Brown Rally in London:
WATCH LIVE: Londoners rally for 'Justice for #MikeBrown' http://t.co/e50ZJ07Hea #Ferguson #LondonToFerguson pic.twitter.com/yNYS6QvT2O

— RT (@RT_com) November 26, 2014
8:00pm CST:
Church Michael Brown's Father Attended Burnt Down; ATF Investigating http://t.co/Ok27d05tuK (VIDEO) #Ferguson pic.twitter.com/nMedwAZgHH

— Mediaite (@Mediaite) November 26, 2014
WATCH: Commuters Confront Ferguson Protesters Blocking Roads in California http://t.co/SipFjAATUN (VIDEO) pic.twitter.com/siToDz7tOg

— Mediaite (@Mediaite) November 26, 2014
Rapper Rick Ross: If I Were in #Ferguson, I Might Be Rioting Too http://t.co/oXi8Ynqz7K (VIDEO) pic.twitter.com/SSLzoKh8R3

— Mediaite (@Mediaite) November 26, 2014
THURS NOV. 27th
1:00am PST:
Oakland: As riots and looting continued to spread  to other locations around the US, opportunistic leftist looters in Oakland, CA, also began targeting a number of local businesses there. 
Hostilities in Oakland started when a crowd of 150 protesters led by 'community organizers', who gathered in central Oakland and started to throw rocks at windows, vandalize and spray paint buildings and eventually, all-out looting…



IMAGE: Black youths were looting in Oakland, but female looter is confronted by another female protester.
–
Stay tuned for more updates here.
SEE ALSO: Ferguson's Violent Hangover and The Incredible Shrinking President 
READ MORE FERGUSON NEWS AT: 21st Century Wire Ferguson Files
–