SEE ALSO: US Will Use 'ISIS Airstrikes' in Syria as Aircover for Rebels, Hit Syrian Military Targets
21st Century Wire says…
Today, the US launched its first wave of bombing runs and missiles attacks inside the country of Syria. Initial US targets were focused on the northeastern Syrian city of Raqqa, along with some 20 other Islamic State, or 'ISIL' targets including "training sites, headquarters of Sunni fighters and troop encampments", all expected to be acquired in the coming days.
US Rear Adm. John Kirby, the Pentagon's official press secretary Tweeted the news this evening (US time):
US military & partner nation forces have begun striking ISIL targets in Syria using mix of fighters, bombers and Tomahawk missiles.

— Rear Adm. John Kirby (@PentagonPresSec) September 23, 2014
According to the Pentagon, a mix of fighter jets, bombers and ship-based Tomahawk missiles were deployed in Syria, against supposed "Islamic State targets in Syria". Operations are expected to be "ongoing".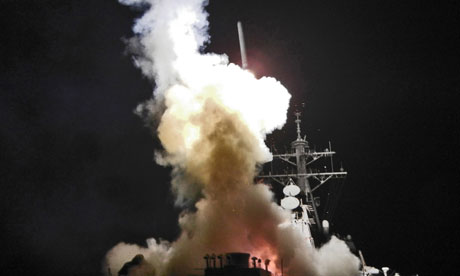 US Naval Ship in the Mediterranean unleashes its Tomahawk Cruise Missile payload on ISIL targets inside Syria (Photo: Socialism and Barabarism).
The US military are said to have deployed F-16, F-18 fighters, F22 Raptors, Rockwell B-1 strategic bombers, MQ-1 Predator drones and Tomahawk cruise missiles fired from US ships in the Red Sea and Arabian Sea. US media outlets like CNN and FOX have been gleefully touting "US Firepower" in their coverage, with colourful and impressive graphics of aircraft and bomb specs and capabilities.
Keen to project itself as part of a coalition, Washington is claiming that they did not fly their missions alone, and that there were Arab 'partners' involved in the airstrikes, although it's difficult to see how that could have actually happened. The announcement appears to be more of a PR move, especially since the US are still withholding any details of what its Arab 'partners' actually did during these attacks. The Washington Post initially reported:
"Two U.S. defense officials identified the partner nations as Saudi Arabia, Jordan, the United Arab Emirates and Bahrain. One official described them as "full participants" in the airstrikes in Syria but did not give further details, saying it was up to those countries to fully disclose their roles."
This latest move puts the US in a precarious position as it refused to consult Syrian authorities about US-led military operations inside their country, which is technically a blatant act of war against Syria. Any such unauthorised, unilateral attack inside another sovereign nation and UN member state will be viewed as a clear violation of international law, yet another uncomfortable abuse of military power by Washington. If history is any guide, it's doubtful that the UN will take any notice of this latest unilateral military operation by Washington DC.
US Will Use 'ISIS Airstrikes' in Syria as Aircover for Rebels, Hit Syrian Military Targets
RT explains the lines Washington is currently crossing over:
"The Syrian government was willing to cooperate in coordinating strikes on Islamic jihadists which the country has been battling against for over three years, but US officials rejected any possibility of such cooperation. Any strikes on Syrian soil without Damascus' consent will be considered an act of aggression, Syria has warned."
They added, "Washington should respect the sovereignty of Syria in its attempts to deal with the Islamic State, Russia has warned repeatedly. Moscow previously expressed concern that US airstrikes may target not only the Islamic State, but also government forces loyal to President Assad."
Pentagon officials are now saying to expect this effort to last, "not weeks or months, but years".
Stay tuned for additional information, and further news on actual targets hit, including damage reports from inside Syria by 21WIRE…

SEE ALSO: US Will Use 'ISIS Airstrikes' in Syria as Aircover for Rebels, Hit Syrian Military Targets
FOR MORE INSIDE INFO ON ISIS, VISIT: 21st Century Wire ISIS Files
–