21st Century Wire says…
A securities fraud lawsuit has been filed by New York's attorney general against the British institution Barclays, which has allegedly been giving an unfair advantage to high frequency traders…
In 2008 if you remember, it was Barclays that had acquired Lehman Brothers following their subsequent bankruptcy, absorbing the bank that was often vilified for its role in the financial meltdown. The truth is, just six days before Lehman Brothers dissolved it was given an 'A' rating by Standard & Poor's which pointed to a larger financial cover-up.
Barclays has had a sordid history, rife with crony capitalism, exploitation and other 'inconvenient truths' such as their Nazi past. The bank has been mired in subterfuge and scandals, which were recently reignited with their involvement in the LIBOR-rigging disgrace. Reportedly back in May, Barclays revenue fell 28% – which could be a sign its death-rattle is near.
Does this new information signify that an impending financial collapse is also close at hand?
More from Bloomberg below…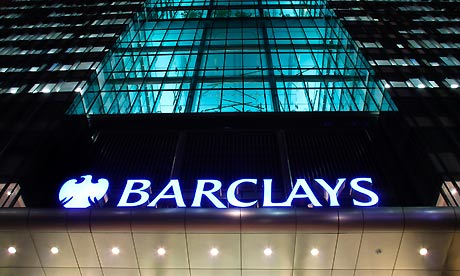 IMAGE: 'Lives Made Much Easier' – This is the long time slogan of the much maligned bank, which is currently the seventh largest bank in the world. (Photo: theguardian.com)
Dark Pool Greed Drove Barclays to Lie to Clients, N.Y. Says
Keri Gieger
Bloomberg
Barclays Plc (BARC) was so bent on lifting its private trading venue to the upper ranks of Wall Street dark pools that it lied to customers and masked the role of high-frequency traders, according to New York's attorney general.
Barclays falsified marketing materials to hide how much high-frequency traders were buying and selling, according to a complaint filed today by Eric Schneiderman. Barclays runs one of Wall Street's largest dark pools, a private trading venue where investors can trade stocks mostly anonymously.

Schneiderman has taken a leading role in seeking to reform how equities trade in the $23 trillion U.S. stock market, examining whether exchanges and dark pools give unfair perks to high-frequency traders. His suit against Barclays says clients such as institutional investors were the losers, led to believe they were safe from predators on a trading venue where aggressive trading strategies were in fact encouraged.
"This is obviously a breach of confidence, a breach of trust," said Joe Saluzzi, co-head of equity trading at Themis Trading LLC in Chatham, New Jersey. "It's pretty obvious at this point that the SEC needs to come in, it needs to know what's going on actually inside these boxes. Barclays — are they the only ones? We don't know. I don't know."
In a statement, Mark Lane, a spokesman for London-based Barclays said: "We take these allegations very seriously. Barclays has been cooperating with the New York Attorney General and the SEC and has been examining this matter internally. The integrity of the markets is a top priority of Barclays."
READ MORE FINANCIAL NEWS AT: 21st Century Wire Financial Files