21st Century Wire says…
The official Bilderberg website claims that the 60th Bilderberg Meeting will take place in or around the capital city of Copenhagen in Denmark, on the last week of May 2014.
A shortlist of possible venues in and around Copenhagen reveals a few contenders. Some online sources have put forth the Marriott Hotel in Copenhagen, which appears to be block booked between Wednesday, May 28th through to Sunday, June 1st. But as we will show you, Bilderberg may be held in two venues this year – an official 'announced' venue (Marriot Hotel) and a secret venue nearby, as what appears to be the case last year…

PHOTO: A partial glimpse of Bilderberg matriarch, Queen Beatrix of the Netherlands at last year's meeting.
A Bilderberg Red Herring in 2014?
It's important to note that this year is the first time the location of their annual meeting has been announced by Bilderberg in advance, and any 'official' venue announcement could also be a diversion from its real location in or out of Copenhagen – or even outside of Denmark itself. Despite their announcement of this year's event being in Denmark, both Belgium or the Netherlands still seem like more likely locations considering proximity to this year's G7 in Brussels. We'll see (or maybe we won't).
Demonstrators hoping to gatecrash the annual embryonic global government confab should beware that the secretive organisation has already deployed slight of hand deception regarding the actual location of the main conference in order to herd activists and truth seekers to the wrong location, as looks to be the case in London in 2013…
'Bait and Switch'
Last year, many hundreds of Bilderberg enthusiasts gathered at Watford's Grove Hotel last summer, and even staged a 'Bilderberg Festival' on the adjacent grounds, but unknown to the alternative media crowds in attendance, the Grove Hotel was only an 'R & R', or 'rest and recovery' venue for conference attendees Thursday to Sunday, with social events, golfing and at least one interesting corporate presentations for delegates. Meanwhile, the real Bilderberg Conference actually took place on the other side of London, with steering committee meetings on Tuesday, Wednesday and Thursday at the luxury Selsdon Park Hotel resort (photo, Below) located in Croydon, South London – a venue with its own heliport and only minutes away from Gatwick International Airport.

SELSDON PARK: The real location of last year's Bilderberg Meeting.
Although this information was available in the alternative media circles and on social media in advance of last year's event (we are told that the original source of this information came via a law enforcement tip off), it was ignored by crowds who seemed more attracted to the party on offer rather than actual meeting. Everyone was hoodwinked it seems.
With last year's event long over, there are few activists or alternative media pundits keen to entertain the possibility that they had been a victim of misdirection at the hands of Bilderberg, with some brushing off the plot as irrelevant in comparison to the 'networking opportunity' that Bilderberg 2013 provided them, and the sense of community felt at the Grove, which it was. As well-organised as the alternative media appear to have been however, it should be noted also how well-organised the Bilderbergers were in diverting their adversarial herd into a designer corral – all the way across town from the actual conference (there's a real lesson in that for everyone).

BON VOYAGE BILDERBARGE: American Radio Host Alex Jones may have been bull-horning the wrong venue in 2013.
Another prime Conference, or 'R & R' venue, for this year's Bilderberg could be Copenhagen's Kokkedal Castle, a secluded venue with suitable alternative access and egress points, along with golf course facilities and other function staging areas (and a dungeon or two), and it is also said to be fully booked from the 29th May 2014. Which ever venue it is, proximity and easy access to an international airport would be at the top of the organisers' list.

Kokkedal Castle: Could this be the venue for this year's Bilderberg Meeting?
Bilderberg paradigm certainly shifted in 2013, a year which saw the formerly private meeting come out of the closet, posting what it said to its full guestlist and agenda in a major media outlet, the London Telegraph, announcements of venues in advance and aided by the alternative media's circus-like 'fringe festival' staged at the Grove Hotel that provided a convenient diversion away from the real location at Selsdon Park, indicates that Bilderberg is getting more proactive in terms of its PR management. It's safe to say that Bilderberg has been forced into the public eye due to the fact that alternative and mainstream media coverage, as well as access to information on Bilderberg, has grown in recent years – making it impossible to remain completely in the shadows. In light of this shift, it's safe to assume that Bilderberg will run diversions as standard, and that the meeting itself will contain less and less substance as the public light increases, as the global elite move out of their steering committees and nudge ever closer to implementing a working framework for their beloved world government institution.
This Year's Agenda
Much has been made in the past of Bilderberg being an audition weekend for future US Presidents and UK Prime Ministers. Past attendees included Tony Blair, Bill Clinton, and even Barack Obama – who is said to have attended with Hillary Clinton during the 2008 primary race, and where a deal may have been brokered by Bilderberg for Hillary to stand down and wait until her turn in 2016. Other hopefuls like Texas Governor Rick Perry and GOP nominee Mitt Romney have showed their face before or during their campaign trails, so attendance itself does not necessarily mean they are selected for leadership. This year could see Kentucky Senator Rand Paul, or Florida's Jeb Bush in attendance, which would send the Bilderberg rumours flying of course.
So rather than the meeting itself, what could be more important than VIP appearances – are announcements of other globalist events taking place before and after Bilderberg. Last year saw Google's 'Big Tent' event which took place before Bilderberg at their Watford venue, and shortly afterwards, the G8 was held in Ireland. As 21st Century Wire reported last summer, one of their big announcements was of course the plan for a 'global taxation regime', which appeared to be a stage-managed crisis including a fake joust between UK Chancellor George Osbourne and Google ahead of the Google Summit. Nonetheless, all players appeared to be on board with the directive. This important development went mostly unnoticed by top alternative media outlets, who perhaps were more focused on the celebrity aspect which defined the spectacle that became Bilderberg 2013. Look for a similar globalist-corporate announcement or new policy directive likely to be rubber-stamped at Bilderberg this year.
One item certainly on their list will be negotiations on the EU-US Transatlantic Partnership (TP) and Free Trade Agreements, which the public and sleeping politicians are now waking up to. The TP is dangerous. Like its other half – the Transpacific Partnership (TPP), it gives transnational corporations and their lawyers dominion over a nation's laws and sovereignty. TP working groups are already way ahead of any public discourse, giving the transnational corporations behind the TP a massive head start. Bilderberg's captains of industry and political water carriers will certainly be working hard to accelerate their TP agenda during that week in Denmark.
Another one to look out for is any major IMF, ECB, or US Fed announcement after Bilderberg, specifically relating to global crisis in currency valuations.
On the foreign policy and geopolitical front, the West's severing of cooperation with Russia will be front and centre on the agenda, but look out for a major diplomatic crisis and announcement involving Iran before Bilderberg as globalists move on to the G7 (formerly G8, now sans Russia) the following week at the beginning of June 2014. The US are also in the process of ramping up the war in Syria for the summer of 2014, and new arms shipments to opposition fighters are already underway via Jordan, so Syria will be in the frame for sure.
Denmark certainly has the pedigree required for a Bilderberg bash, with many commentators pointing out its global government credentials, from its 2009 UN Climate Summit 'COP13', where the framework for global government was unveiled to its much hyped 'green image', Denmark is a bonafide internationalist nation, and synonymous with the word "progressive", especially in liberal discourse. Interestingly, Danish Prime Minister Helle Thorning-Schmidt has also recently ascended into political celebrity status following the recent funeral of Nelson Mandela in South Africa, where she posed for a 'selfie' with Barack Obama and David Cameron (see her in photo below).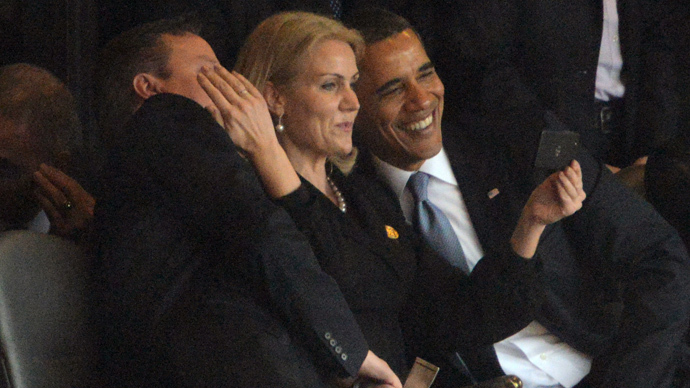 Rumour has it that PM Thorning-Schmidt is being groomed for one of the top EU positions, perhaps even President once top technocrat Herman Van Rompuy steps down this year.
It's important to note that the EU is more of a template for a New World Government than even the UN, because the EU has achieved real override over an individual nation's sovereignty in Europe. Also note that the EU is expanding, and its role in the civil, social and political life of its 'member' states is increasing every day. Here is some additional commentary on the link between Copenhagen and world government by Creatrix 13:
Stay tuned for more Bilderberg coverage at 21WIRE.
READ MORE BILDERBERG NEWS AT: 21st Century Wire Bilderberg Files
–