21st Century Wire says…
She describes herself as "a lecturer on the subject of out-of-body travel", says she's an alien and has embarked on a new extreme diet of only 'light and air'. So what's real and what's purely facade here? It's New Age meets Sci-Fi, to the extreme.

Dubbed the "Human Barbie", Valeria Lukyanova, 23, is the Ukrainian internet sensation who might not be all she appears to be, and casually  admits using a fair amount of make-up, plastic surgery, Photoshop CS6 and desktop CGI graphics – all in order to cultivate her barbie doll-like appearance.

BEFORE AND AFTER: The genesis of the myth incarnate.
To achieve her -4 size waist, it's also pretty obvious that she's not eating a whole lot of solid food – not exactly a healthy role model for images conscious girls worldwide ready to attain the unattainable by any means necessary. Go online and you'll find hundreds of make-up seminars inspired by this alleged extraterrestrial sensation.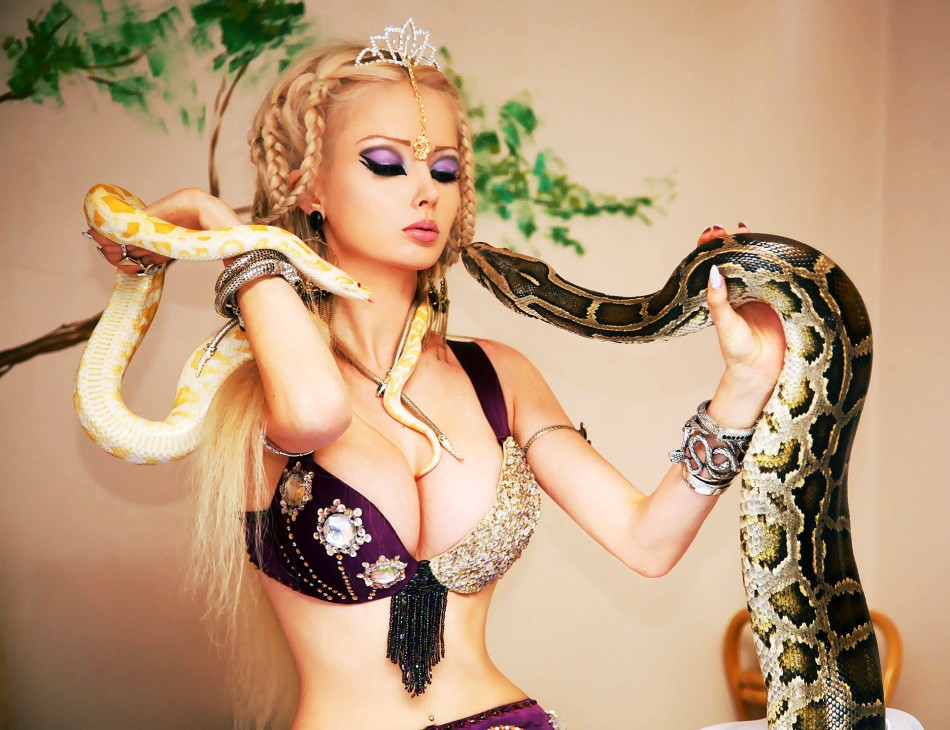 She has all the ingredients to spawn a new age cult in Siberia somewhere. Is Valeria really an alien reincarnate on Earth?
That's one for readers to decide…
Radical Rose
BIN
Valeria Lukyanova has been popular throughout the internet for sometime.
I remember stumbling across her picture on the internet last year and she was very popular because of her Barbie like appearance. She uses colored contact lenses and lots of makeup to achieve her Barbie like appearance. I think she is pretty but definitely in a different sort of way.
Now Valeria is sharing to the public that she is a Breatharian and that she doeson't consume food or water. A Breatharian says they train themselves to live off only light and air… and I thought water fasting was tough.

Valeria also believes she could be from another plant…Venus and that she is not human. She has also shared that she has visited a psychiatrist for the voices in her head.
Here is a (VICE Mag documentary from Sept) video of Valerian explaining her past lives, publicity, and her planet Venus…

.
I think that she is a very creative individual who has a passion for beauty and self exploration. I don't agree with her religious outlooks and thinking that she has lived another life on another planet but to look at the positive side of things these kind of individuals make the world a very interesting place to live. I think the media takes things too much to heart and are being negative nuggets.
Here is a lady that experimenting with Breathanarism:

.
READ MORE UFO NEWS AT: 21st Century Wire UFO Files