21st Century Wire says…
While the pro-EU Soros rent-a-mobs continue stage their pseudo upheavals in Kiev, a new faction of intelligent Ukrainian protesters has sprung up this week.
They see right through the covert western operation:
"The US is behind everything that is happening in Kiev's downtown right now."
From yesterday afternoon, this new group have begun to encircle the US Embassy in Kiev. Their demand to the US:
'Stop meddling in our affairs, and stop sponsoring unrest mobs in our country'.
Following John McCain's recent trip to Kiev practicing his new brand of international racketeering by threatening the Ukraine if they did not join the EU, it seems that the real Ukrainians have finally figured out that the pro-EU mobs have been staged by a conclave of western NGO's and 'democracy foundations' – the very same nest of hornets who brought on the fabled 'Arab Spring' to the Middle East three years ago.
The main goal for Washington and the City of London is to separate Kiev from Moscow, and thus weaken Russia's hand in Eurasia.
For EU central bankers, the prospect of raping and privatising the Urkraine economy-  is also a big incentive.
It looks like the old tricks are no longer working. At last, the 'colour revolution' jig may finally be up…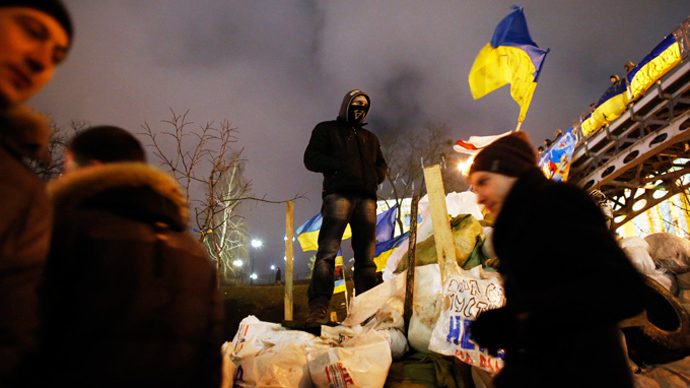 A huge crowd of demonstrators has surrounded the US embassy in the Ukrainian capital of Kiev, protesting against Washington's meddling in the country's internal affairs.
Follow RT's live updates.
The event was organized by Kievans for Clean City, a new pro-government activist group which has spoken out against the rioters and violence in downtown Kiev.
Several thousand demonstrators are taking part, urging the US to "stop sponsoring" mass unrests, local media reported.
"The US is behind everything that is happening in Kiev's downtown right now. The financing is coming from over there. This has to be stopped. That is what we came out here to say to the whole world: 'US – stop! US – there needs to be peace in Ukraine,'" said Ivan Protsenko, one of the movement's leaders.
Rioters on Grushevskogo Street continue to burn tires, with building No. 4 catching fire from the high flames, Unian news agency quoted the Ministry of Internal Affairs as saying.
Police have been holding their line throughout the evening, attempting to extinguish fires with water cannons. After four days of protests, the center of the Ukrainian capital continues to resemble a warzone, with smoke, barricades, and debris all around.
Wednesday's clashes between rioters and police intensified in the afternoon after riot police cleared Grushevskogo Street.
Footage from the Ukrainian capital showed hundreds of police officers using tear gas, rubber bullets, and stun grenades against the protesters. The dispersal is the largest to take place since the latest outbreak of violence began four days ago. Some clashes involved policemen snatching individual rioters from the crowd and brutally beating them.
Rioters threw firecrackers, Molotov cocktails, and stones at police.
Despite some episodes of police brutality, security forces largely refrained from attacking rioters. Former Ukrainian president Leonid Kravchuk said he is grateful for the patience that police officers and the Berkut unit have shown while confronting rioters on Grushevskogo Street.
"I am grateful to the guys and Berkut, who are standing there now. I do not condone nor approve of the fact that they cleared out the students on November 30, although the right thing to do would be to criticize the person who gave out the order," Kravchuk said in a Forbes opinion piece. "Now they are going through an incredible challenge: being beaten up, having stones and burning mixtures thrown at them, and they stand there and endure. Not a lot of countries have military who would tolerate such a treatment in a similar situation."
The riots have reportedly left two people dead and at least 300 injured, according to local media. Ukraine's Ministry of Internal Affairs said on Wednesday that more than 70 people have been detained during the unrest.
Ukraine's prime minister, Nikolay Azarov, said police were not given any additional instructions on the use of force against the protesters. Conversely, procedures now in place ensure minimal use of force against even the most violent rioters.
"Instructions given to law enforcement authorities were simple: avoid the use of force against peaceful demonstrators, and prevent violent seizure of government buildings and institutions," Azarov said in a BBC interview.
The clashes erupted after a massive rally was held in Independence Square on Sunday, where protesters spoke out against new laws adopted by the Ukrainian government last week.
READ MORE EUROPEAN NEWS AT: 21st Century Wire Europe
–