21st Century Wire says…
As power and water utility multinationals continue to financially rape their customers with inflated energy rates, household survival may depend on adopting more efficient technologies to deliver essentials.

International Space Station (Image: Twitter)

On such solution has been developed derived from space program engineering – a 'power-shower' that delivers a higher than average water pressure and a stable flow. According to its Swedish designer, Mehrdad Mahdjoubi, it performs so well because, 'unlike conventional showers, it works independently from other appliances'.
If this is possible, then what other innovative household solutions are potentially out there?
The economic benefits are there from the onset, so it's a good start… 
In space, astronauts go for years without a fresh supply of water. Floating in a capsule in outer space they wash and drink from the same continuously recycled source. So why, asked Swedish industrial designer Mehrdad Mahdjoubi, do we not do the same on Earth?
This was the concept behind the OrbSys Shower — a high-tech purification system that recycles water while you wash. In the eyes of Mahdjoubi, we should start doing it now, before it becomes a necessity.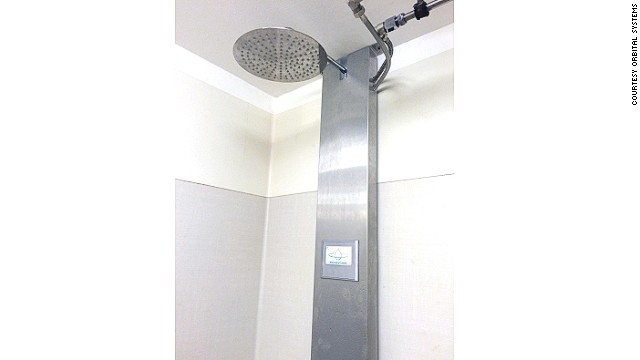 So how does it work? Similar to space showers, it works on a "closed loop system:" hot water falls from the tap to the drain and is instantly purified to drinking water standard and then pumped back out of the showerhead. As the process is quick, the water remains hot and only needs to be reheated very slightly.
As a result, it saves more than 90% in water usage and 80% in energy every time you shower, while also producing water that is cleaner than your average tap.
"With my shower, which is constantly recycling water, you'd only use about five liters of water for a 10 minute shower … In a regular shower you would use 150 liters of water — 30 times as much. It's a lot of savings," explains Mahdjoubi.
According to research carried out by his company, Orbital Systems, these savings translate to at least €1000 ($1351) off your energy bills each year.
READ MORE TECH NEWS AT: 21st Century Wire Sci-Tech