21st Century Wire says…
School safety issues are bringing the gun debate back to the forefront – and into the classroom…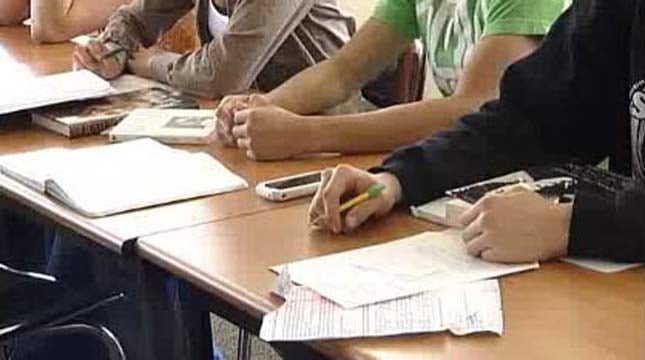 (Image Source: KPTV)
Cornelius Swart
KGW.com
ST HELENS, Ore. — The St. Helens School District School Board Wednesday night lifted a ban on teachers and staff carrying firearms on school grounds.
In March, the board had banned employees, contractors and volunteers from bringing weapons the property.
The old policy stated, "This prohibition includes those who may otherwise be permitted by law to carry such weapons."
In the same month, the St. Helens softball team raffled off an AR-15 semi-automatic rifle.
With the ban now lifted, teachers and staff with concealed-carry permits can carry guns anywhere at school, as allowed by state law.
Ray Biggs is a St. Helens school board member who championed the repeal. He said that the district has no position on whether teachers should bring guns to class, but he personally supports the idea.
"Absolutely," Biggs said. "The NRA says the only way you can stop a bad person with a gun is a good person with a gun."
Biggs said the issue had been on his agenda since 2011, when he was admonished for having a gun on school property. Biggs said the vote Wednesday was not part of a grudge.
"It was done out of concern for the safety of the schools," Briggs said.
John Walker has lived in St. Helens for seven years with his wife and son. He said the school board vote took parents and teachers by surprise. Walker, whose wife is a teacher, found out about the vote the next day through the teacher's union.
"Other than the agenda on their website, the school board did not advertise this at all," Walker said. "They didn't solicit community input at all. It had nothing to do with the school board's role in education. It just seems to be a statement about the Second Amendment." 
He said he feels his 7-year-old son is now less safe at school.
"The district has now given permission to have guns on campus," Walker said. "You can have a concealed-carry permit and be on the grounds. That's a big leap of faith."
Kevin Starrett, director of the Oregon Firearms Federation, said civillians are already allowed to carry guns on school ground if they have a concealed-carry permit.
"But an employer can prevent employee from coming to school with a gun," Starret said.
Starret said his organization offers free weapons training to teachers and supports the St. Helens move.
"It's long been time to arm school teachers," Starret said.
St. Helens Chief of Police Terry Moss said he was neutral on the issue so far.
"Some people in law enforcement worry if some teacher has a gun that they would cause confusion in an active shooter situation," Moss said. "They worry police wouldn't know who the shooter was."
"But on the other side, time is of the essence," Moss said. "So, some think, 'What if there was a trained person who could take action.' I think about that teacher in Reno who was shot last week. What if he had had a gun?'"
When contacted by KGW, staff at the school district only said they were preparing a statement for public release.
READ MORE ON 21st CENTURY GUN DEBATE : 21st Century Wire Gun Debate