21st Century Wire says…

Like fruit cakes after Christmas, Ed Snowden's NSA treasure trove is the gift that just keeps giving.
Once again, the United States have been caught using its multi-billion dollar, tax payer-funded digital beast – the NSA, in order to spy on foreign governments' classified military affairs, and more importantly – to collect commercial secrets that give special US persons advanced knowledge on commodities like oil and other markets.
In September, Brazil fired a diplomatic warning shot over Washington DC over their NSA spy charges, and now politicians in Europe are visibly pissed off over revelations regarding German Chancellor Angela Merkel's cellphone being permanently hacked by the NSA. The US risk railroading a new trans-Atlantic trade deal because of their out-of-control Digital Stasi.
Brazil and Germany are also leading a UN-sponsored effort to regulate Washington's NSA invasions. It's possible that the scandal may be designed by the global government higher-ups in order to hand control of the internet over to the UN, or a similar global government. That's exactly what it looks like right now. We'll see…
Over the summer, 21WIRE revealed how massive US data collection and spying centers have been set-up offshore in Australia – partly to avoid the legal quagmire should they fall foul of US law. Expect this legal gray area to be clarified by new and binding, international laws or treaties. Nice work Washington.
Spying on adversarial governments is one thing, but tapping the phones of heads of state by the NSA is akin to putting spyware on your partner's cell phone – a some point (like right now), all trust goes out the door…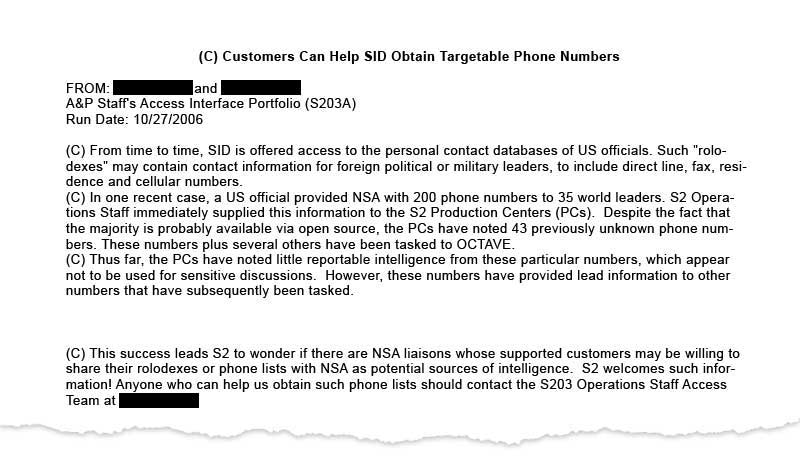 *The NSA memo suggests that such surveillance was not isolated as the agency routinely monitors world leaders. Photograph: Guardian
NSA monitored calls of 35 world leaders after US official handed over contacts
• Agency given more than 200 numbers by government official
• NSA encourages departments to share their 'Rolodexes'
• Surveillance produced 'little intelligence', memo acknowledges
James Ball
Guardian

The National Security Agency monitored the phone conversations of 35 world leaders after being given the numbers by an official in another US government department, according to a classified document provided by whistleblower Edward Snowden.
The confidential memo reveals that the NSA encourages senior officials in its "customer" departments, such as the White House, State and the Pentagon, to share their "Rolodexes" so the agency can add the phone numbers of leading foreign politicians to their surveillance systems.
The document notes that one unnamed US official handed over 200 numbers, including those of the 35 world leaders, none of whom is named. These were immediately "tasked" for monitoring by the NSA.
The revelation is set to add to mounting diplomatic tensions between the US and its allies, after the German chancellor Angela Merkel on Wednesday accused the US of tapping her mobile phone.
After Merkel's allegations became public, White House press secretary Jay Carney issued a statement that said the US "is not monitoring and will not monitor" the German chancellor's communications. But that failed to quell the row, as officials in Berlin quickly pointed out that the US did not deny monitoring the phone in the past.
Arriving in Brussels for an EU summit Merkel accused the US of a breach of trust. "We need to have trust in our allies and partners, and this must now be established once again. I repeat that spying among friends is not at all acceptable against anyone, and that goes for every citizen in Germany."
The NSA memo obtained by the Guardian suggests that such surveillance was not isolated, as the agency routinely monitors the phone numbers of world leaders – and even asks for the assistance of other US officials to do so.
The memo, dated October 2006 and which was issued to staff in the agency's Signals Intelligence Directorate (SID), was titled "Customers Can Help SID Obtain Targetable Phone Numbers".
It begins by setting out an example of how US officials who mixed with world leaders and politicians could help agency surveillance.
"In one recent case," the memo notes, "a US official provided NSA with 200 phone numbers to 35 world leaders … Despite the fact that the majority is probably available via open source, the PCs [intelligence production centers] have noted 43 previously unknown phone numbers. These numbers plus several others have been tasked."
The document continues by saying the new phone numbers had helped the agency discover still more new contact details to add to their monitoring: "These numbers have provided lead information to other numbers that have subsequently been tasked."
But the memo acknowledges that eavesdropping on the numbers had produced "little reportable intelligence". In the wake of the Merkel row, the US is facing growing international criticism that any intelligence benefit from spying on friendly governments is far outweighed by the potential diplomatic damage…
SEE MORE TECH NEWS AT: 21st Century Wire Sci-Tech