21st Century Wire says…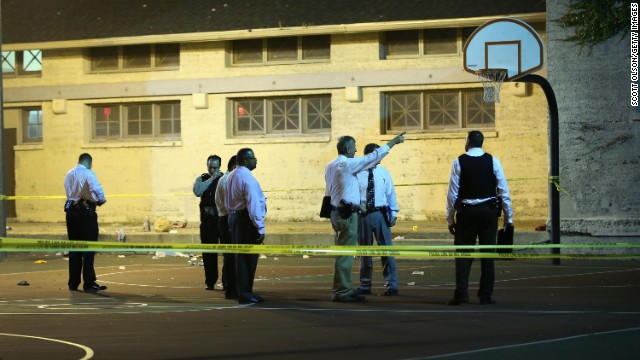 Last night, a hail of bullet injured 13 people in Chicago – including a three-year-old boy, who all were shot at a pick-up basketball game in Chicago's Back of the Yards neighborhood. The Chicago Tribune reports:
Witnesses told police a gray sedan pulled up to the park around 10:15 p.m. and two men started firing in the 1800 block of West 51st Street. "I think it was like an AK," said one neighbor. "Man, it was a lot of shots. Man, boom, boom, boom, boom, boom. A little boy got hit in the face."
This despite Chicago's all-out effort to control fire arms in a city whose homicide count eclipsed 500 last year. The Chicago Police Department has cited gangs as the chief result for the  flow of firearms from suburbs and from across the Indiana border into their city.
Despite efforts to make Barack Obama's home town and Democrat stronghold a national beacon for gun control, Mayor Rahm Emanuel (Photo below) is have a tough time making the change. Experts say that Mayor Emanuel's drive to update Chicago's assault weapons ban and toughen penalties for "firearms violations" near schools – will have little or no impact on gun violence currently plaguing the windy city.
Some critics believe the Democrat's strategy of tasking the government with enacting prohibition-type measures to curb gun violence is not only ineffective, but also empowers criminal gangs who only use illegally obtained firearms to begin with. Many also believe that the cause of the problem is an economic one – and not exclusively a fire arms issue.
In September, Chicago's City Council voted to end the decades old registration policy, allowing gun owners in Chicago to have fire arms without registering them with local authorities, the New York Times reports. This roll-back on policy was a direct result of the United States Court of Appeals for the 7th District December ruling that says Illinois's ban on public 'conceal and carry' was unconstitutional.
–