LATEST: 'Chemical Weapons' media propaganda in US, UK designed to hide truth in Syria
21st Century Wire says…
Today's report of the nerve gas attack in the suburbs of Damascus has made its way through the world media, prompting a sweeping condemnation of the Assad government by pundits and politicians in the US and Europe.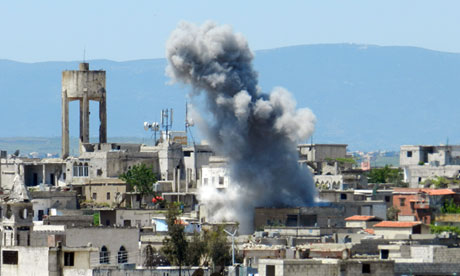 Opposition "activists" claim that rockets with nerve gas hit the suburbs of Ain Tarma, Zamalka and Jobar in the Ghouta region – although they would not specify exactly who fired those rockets. The Syrian government denies these accusations, and maintain there is no truth to the reports.
Unfortunately, further confirmation is still required in order to determine exactly what has happened, let alone, who is responsible if indeed it was a chemical weapons attack that took place.
The timing of this sensational report is also suspect, as the UN chemical inspection team had just arrived in Damascus and had checked into a hotel only a few miles away from last night's alleged nerve gas incident.
Although the headlines we see across media today appear to be definitive, when you read the fine print, it's anything but final, as evidenced by the Reuters coverage:
"Reuters was not able to verify the accounts independently and they were denied by Syrian state television, which said they were disseminated deliberately to distract a team of United Nations chemical weapons experts which arrived three days ago."
"Logically, it would make little sense for the Syrian government to employ chemical agents at such a time, particularly given the relatively close proximity of the targeted towns (to the U.N. team)," said Charles Lister, analysts at IHS Jane's Terrorism and Insurgency Center."
Who benefits from staging a chemical weapons event in Syria? Answer: the opposition. The West's has already announced it ambiguous "red line", stating that its policy will be to intervene militarily if either side is thought to be using chemical weapons in Syria – which makes it all to easy for the opposition to get what they want in the end – which is a Libya-style military coalition with NATO, and perhaps Israel, in order to take power in the country.
21st Century Wire's Patrick Henningsen reports on this latest attack on RT this morning:

.
As frustration mounts in Washington, London, Tel Aviv (yes, Israel are deeply involved in the conflict too) and Paris over their inability to directly arm the opposition insurgents in order to overthrow the Assad government in Syria, the west's final play may be with somehow convincing the UN to deliver a guilty verdict regarding WMD's in Syria, and thus, pave the way for a No Fly Zone and sustained bombing campaign against the country of Syria.
AMMAN: Syrian activists accused President Bashar al-Assad's forces of launching a nerve gas attack on rebel-held districts near Damascus on Wednesday that they said killed more than 200 people.
Activists said rockets with chemical agents hit the suburbs of Ain Tarma, Zamalka and Jobar in the Ghouta region.
Bayan Baker, a nurse at Douma Emergency Collection facility, said the death toll from the attack, collated from medical centres in the region, was 213.
"Many of the casualties are women and children. They arrived with their pupil dilated, cold limbs and foam in their mouths. The doctors say these are typical symptoms of nerve gas victims," she said.
One photo purportedly taken by activists in Douma showed the bodies of at least 16 children and three adults, one wearing combat fatigues, laid at the floor of a room in a medical facility where the bodies were collected.
The incident took place during the visit to Damascus of a U.N. chemical weapons team investigating the possible use of chemical agents in Syria.
The government denied the reports, with state television quoting a source as saying that there was "no truth whatsover" to the reports, which it said were aimed at distracting the visiting team of U.N. experts from their mission.
The United States and European countries say they believe Assad's government has used poison gas including the nerve agent Sarin in the past, which Washington called a "red line" that justified international military aid to the rebels.
Khaled Omar of the opposition local council in Ain Tarma said he saw at least 80 bodies at the Hajjah Hospital in Ain Tarma and at a makeshift clinic at Tatbiqiya School in the nearby district of Saqba.
"The attack took place at around 3:00 AM (0000 GMT). Most of those killed were in their homes," Omar said.
READ MORE SYRIA NEWS AT: 21st Century Wire Syria Files