PHOTO: A separate anti-Hezbollah rally downtown already in progress in Martyr Square.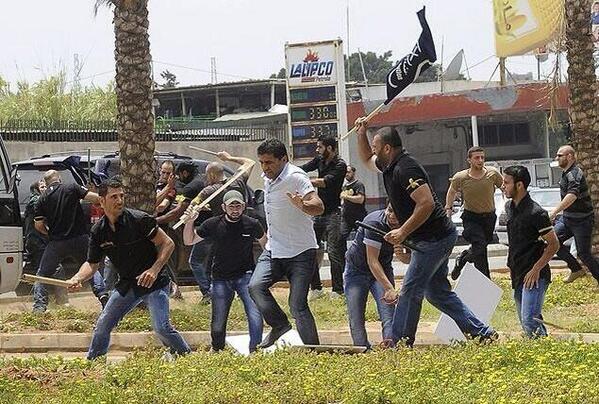 PHOTO: Violence breaks out on the streets of Beirut Sunday.
UPDATED: 10.6.13 – EARLIER REPORT TAKEN VIA TWITTER HAS BEEN CLARIFIED
21st Century Wire says…
A violent clash between "for and against Hezbollah presence in Syria" has erupted in front Iranian Embassy in Beirut when pro-Hezbollah demonstrators attacked bus full of anti-Hezbollah protesters heading for Iranian embassy demonstration.
Another anti-Hezbollah rally in Martyr's Square was also taking place this afternoon in Beirut. Skirmishes descended into violence a few hours ago, with some peripheral clashes still going on now at 3:30pm local time. Army was sent in to restore order in area.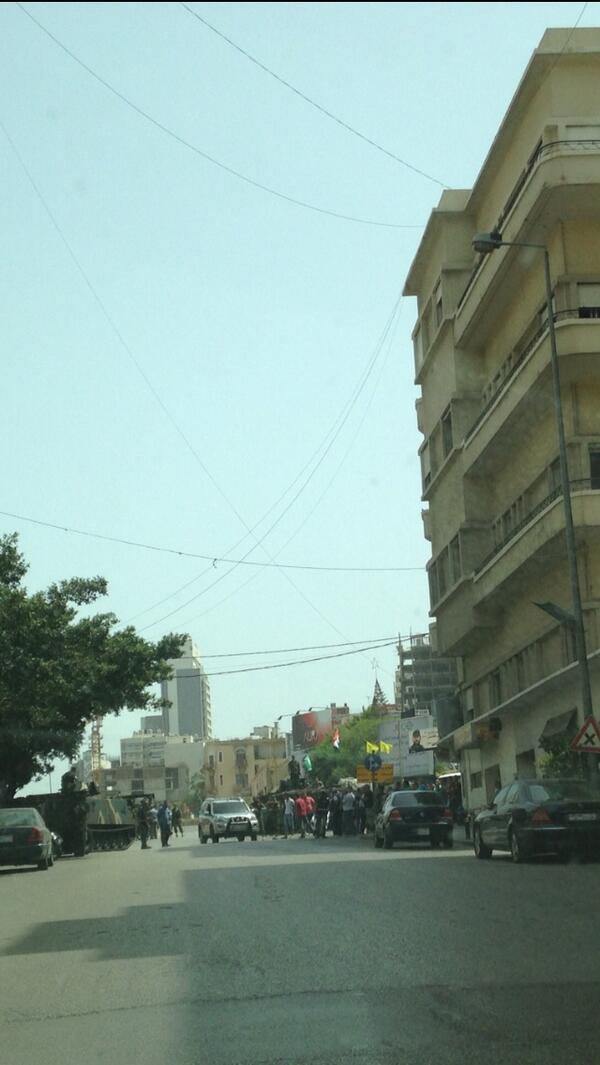 Those bussed-in appear to be mix of Lebanese flags and Islamist – with some Islamic and Turkish flags being flown – an indication of the wider sectarian injection into this simmering crisis in Lebanon.
This is part of the larger theme which has been unfolding in the last three weeks since it was reported that Hezbollah has been aiding the Syrian government in their effort to fight off foreign and other insurgents in the Syrian conflict – the theme is to isolate Hezbollah politically in Lebanon and later militarily throughout the region. This effort has gained diplomatic steam in the last two weeks in Washington, Brussels, Israel and the UN, as well as within Lebanon itself. 
There are real fears that there exists a plot to drag Lebanon into the Syrian conflict, and most likely that pressure will be applied from external as well as internal sources.
This just from the wires…
BEIRUT: One person was killed and several were injured Sunday outside the Iranian Embassy in the Lebanese capital as protesters prepared to launch a demonstration over Hezbollah's military intervention in neighboring Syria.
A Daily Star journalist on the scene saw men in black shirts with yellow ribbons around their arms shoving protesters away from the site as they exited buses some 200 meters from the embassy complex.
The protesters had barely time to raise their banners before they were beaten up, and several were injured with sticks, he said.
Several of the men in black shirts then opened fire in the air to disperse the demonstrators. They fired over two dozen shots.
The Lebanese Option Gathering had planned to demonstrate outside the embassy against Hezbollah's military role in Syria.
In a statement, the Lebanese Army said a citizen was killed as a result of a fight outside the embassy.
"Upon the arrival of a convoy belonging to a political side in Bir Hassan for a protest outside the Iranian Embassy over the ongoing events in Syria, a fight broke out between members of the convoy and some citizens during which one of the individuals opened fire using a pistol that led to the serious wounding of a citizen who later died," the military said.
The founder of the Lebanese Option Gathering, Ahmad al-Asaad, identified the fatality as Hashem Salman, who headed the party's student committee.
The incident at the Iranian Embassy coincided with a sit-in at the Central Beirut District which was also held to protest Hezbollah's involvement in the Syrian conflict.
Several hundred protesters gathered in Martyrs' Square despite a heavy security presence to protest against Hezbollah fighters battling with President Bashar Assad's forces against the rebels.
Demonstrators carried the Lebanese national flag and the flag of the National Liberal Party as well as the flag of the Syrian opposition. Individual protesters could also be seen waving the Islamist and Turkish flags.
Although none of the major parties mobilized their bases, many of the protestors said they had come with political groups, albeit as local or youth chapters.
"Hezbollah wants to drag us into a war that doesn't concern us," said Ali Ahmed, 19, a Future Movement supporter from al-Tarik al-Jadideh.
"I came to tell [Sayyid Hasan] Nasrallah…your battle is not in Syria, it's not in Qusair, it's not in Dariyah, your battle is in Palestine and South Lebanon, so don't bring a sectarian war to Syria," said Saad, a young Syrian from Aleppo who came with his family but declined to give his last name.
Rabieh Dandeshli, an official with Al-Jamaa al-Islamiya said he came to offer his personal support although the party was not officially participating in the demonstration.
"There is a silent majority in Lebanon who are against any Lebanese party interfering in Syria," he said, adding that Lebanese mobilization should be limited to assisting Syrian refugees in Lebanon.
Both sides in the Syrian crisis have accused the other of relying on foreign intervention, with Qatar and other Gulf and Western states supporting the rebels, and Iran and Russia supporting Assad.
Hezbollah recently confirmed its own involvement in Syria's two-year conflict, with Syrian government forces supported by Hezbollah fighters retaking the border town of Qusair on Wednesday after a three-week offensive against rebels there.
–