Syrian rebels claim responsibility for killing of General Hassan Shateri, a senior figure in the Revolutionary Guards
Saeed Kamali Dehghan
Guardian
A senior commander of Iran's elite Revolutionary Guards has been killed while travelling from Syria to Lebanon, according to Iranian authorities.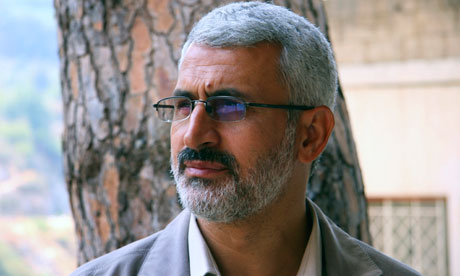 A man identified as General Hassan Shateri was reportedly assassinated by what Iranian officials described as "the agents and supporters of the Zionist regime" while travelling from Damascus to Beirut.
It was not immediately clear in which of the two countries Shateri was killed but a Syrian rebel commander said an Iranian official was killed in an attack carried out by Syrian rebels in Zabadani in southwestern Syria, close to the Lebanese border.
"General Hassan Shateri was martyred by the agents and supporters of the Zionist regime on his way to Beirut from Damascus," the semi-official Mehr news agency quoted the Revolutionary Guards' spokesman, Ramezan Sharif, as saying on Thursday.
Iran's state English-language television, Press TV, reported that Shateri was killed on Tuesday and described him as the man who "led the Iranian-financed reconstruction projects in the south of Lebanon". By pointing the finger at "Israeli agents", Sharif was probably referring to Syrian rebels whom Iranian officials portray as terrorist armed groups backed by Tel Aviv.
Iran is a staunch supporter of the Syrian regime of Bashar al-Assad and Lebanese militant group Hezbollah, providing both with military and financial support. Syria gives Iran physical access to Lebanon and Hezbollah, which is strategically important for Tehran's leaders because of the group's geographical position in respect to Israel. Iran does not recognise Israel as a country and usually refers to it as "the Zionist regime".
After the 2006 war between the Israeli military and Hezbollah, Iran's elite forces bolstered their presence in southern Lebanon, saying they were willing to revamp the region's war-stricken infrastructure. This became a contentious issue for Tel Aviv but boosted the popularity of Iran among Hezbollah supporters.
Mehr said Shateri was a veteran of the eight-year Iran-Iraq war who in recent years "had devoted his time to the reconstruction of damaged areas after the 33-day Israeli war on Lebanon".
Iran's embassy in Lebanon, meanwhile, identified the dead man as Hessam Khoshnevis, leading to confusion that there might be a second death. But the circumstances given about Khoshnevis's death and his job title were similar to those of Shateri.
The British-based "Syrian Observatory for Human Rights" told AFP that Shateri was killed when a rebel group ambushed his vehicle while he was returning to Lebanon from Syria.
On Thursday Iran held a funeral ceremony for Shateri in Tehran that was attended by the foreign minister, Ali Akbar Salehi, and the commander of the Revolutionary Guards, Mohammad Ali Jafari. Ghasem Suleimani, the man who heads the external arm of the Revolutionary Guards, known as the Quds force, members of which usually shun public ceremonies, also attended the funeral.
In May 2012, a senior Quds force commander conceded for the first time that Iranian forces were operating in Syria in support of the Assad regime.
"If the Islamic republic was not present in Syria, the massacre of people would have happened on a much larger scale," Ismail Gha'ani, the deputy head of the Quds force, said at the time.
In February 2012, Iran's supreme leader, Ayatollah Ali Khamenei, went public to say that the Icountry has provided assistance to Hezbollah and Palestinian group Hamas.
"We have intervened in anti-Israel matters, and it brought victory in the 33-day war by Hezbollah against Israel in 2006, and in the 22-day war [in Gaza Strip]" he said at the time.