The Ben Zygier case suggests Israel is not sticking to its 2006 promise not to hold prisoners in secret outside of international legal norms
Peter Beaumont
Guardian
The infamous case of Prisoner X – revealed this week to be Australian dual national and Mossad agent Ben Zygier, who killed himself in solitary confinement in an Israeli prison in 2010 – has once again focused attention on how the country treats those it regards as enemies of the state.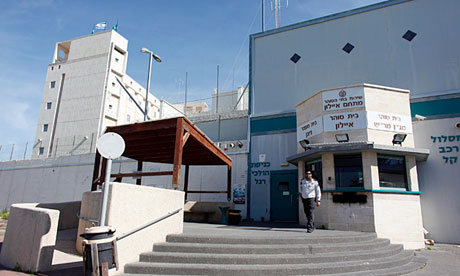 Following the revelation of the existence of a detention facility known as Camp 1391  in 2003, Israel said three years later that it no longer held prisoners in secret outside of international legal norms. The Zygier case suggests the Israeli government has not stuck to that promise.
Even the location of Camp 1391 was airbrushed from aerial images. An Israeli court ruled at the time that the facility – run by Israel's domestic intelligence agency Shin Bet,  used to house Palestinian prisoners with no access to their families and designated a military secret – held its inmates in substandard conditions.
When the UN Committee Against Torture reported on conditions in Israeli jails in 2009, it noted that while Israel had said that the "secret detention and interrogation facility" had not been used since 2006 it had rejected a request to inspect the prison.
The report added: "The State party should ensure that no one is detained in any secret detention facility under its control in the future, as a secret detention centre is per se a breach of the Convention [on torture]. The State party should investigate and disclose the existence of any other such facility and the authority under which it has been established."
Although it might be argued that cell 15 at Israel's Ayalon prison, where Zygier was held before his death, was not a secret detention facility like Camp 1391, the fact that he was held in conditions of complete isolation and without access to a lawyer, with his guards not even knowing who their prisoner was, effectively created a "secret prison" within a prison.
The Zygier case is not the first where Israel has evaded international legal norms in incarcerating perceived enemies of the state.
A precedent for the Zygier case was that of Marcus Klingberg, an Israeli chemical weapons researcher, who was discovered to be spying for the Soviet Union. In 1983, he was lured to an undisclosed location after being told he was going to Singapore to investigate a fire at a chemical plant, kidnapped, tortured and imprisoned after a secret trial under a false identity.
He was eventually released to live in France.
The last known case with similar features involved the kidnap in Ukraine by Mossad and subsequent detention without trial of Dirar Abu Sisi, a Hamas figure accused of being a senior bombmaker.
Abu Sisi vanished after boarding a train in February 2011, only to resurface in Israel three weeks later in detention.
In that case, too, an Israeli court issued a gag order on his detention.
Abu Sisi was ultimately accused of masterminding Hamas's rocket programme and training fighters in the Gaza Strip . He is charged with attempted murder, conspiracy to commit murder and weapons production.
In some respects the Zygier case raises even more serious questions.
As Bill van Esveld, a Human Rights Watch researcher who has been following the case, told the Guardian secret detention without trial and without access to family and lawyers is a serious breach of Israel's obligations under international law.
Israeli journalists, too, have raised questions over how a prisoner who was supposed to have been monitored 24 hours a day was able to kill himself and in what circumstances.
This issue was also raised by Israeli MP Nitzan Horowitz, who wrote to Israel's deputy attorney general in 2010 seeking information about Prisoner X and guarantees about his wellbeing when the existence of a Prisoner X was first disclosed. He was told the man's wellbeing and safety was being sagfeguarded.
As Horowitz wrote in his letter at the time: "Keeping a prisoner or detainee from contact with all others and from the outside world over a long period of time is fraught with many dangers.
"Besides the terrible fear of violating the rights of a human being who has no contact with the outside world, a report of the Prison Service and the Public Security Ministry determined that long-term imprisonment in isolation causes a great deal of physical and psychological damage, to the point of deeply psychotic reactions.
"Even when it is necessary to keep a prisoner separate, everything must be done to ensure that this will not lead to keeping him in utter isolation and depriving him of all contact with other human beings.
"These principles are not being applied in the case of 'Mr. X.' Besides the isolation, such a complete blackout concerning the arrest of a person and perhaps his trial too is unacceptable. Secret arrests and trials are unacceptable in a free democratic country; they pose a tangible threat to the rule of law and deeply harm the public's trust in the legal system."
What has made the Prisoner X case even more serious is that the office of Israel's prime minister attempted to coerce journalists into not reporting on the case for no better reason than to save the "embarrassment of a certain agency" – in other words Mossad.
Israel State Censor Partially Lifts Media Gag on 'Prisoner X'