UPDATE:  Thanks to all our readers for their supportive emails today.  You're the best!
Malware alerts struck the web last night and this morning, in a preview of what Internet users have to look forward to once the real cyber false flag hits the Net.  Real and fake malware will create chaos, as users get blocked from their favorite websites.
Regular visitors to BIN may have noticed that we had some of those cute red screens courtesy of your browsers (Safari, Chrome and Firefox) on our site last night and this morning alerting you that "you'd better not go there".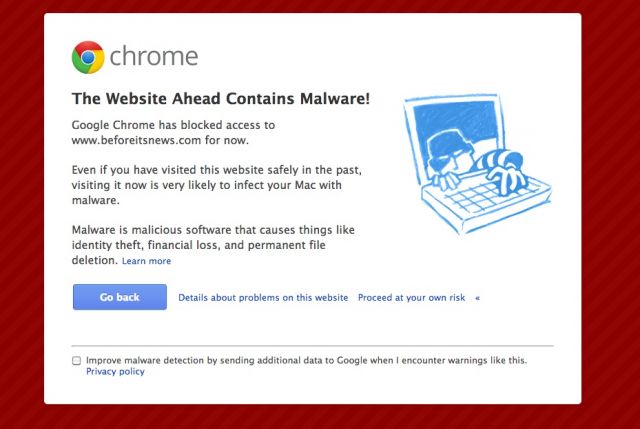 The Google Chrome malware warning from BIN late last night.  Firefox and Safair had similar dire warnings for these sites.
Outages were reported at many popular sites, including ZD Net, CNET, Glenn Reynold's popular Instapundit, etc.  Here's a report from ZD Net that covered their end of things.  Facebook is running behind, they are still showing warnings for some sites, including BIN.  The BIN site is completely clean at this time, according to Google.
Here's a screen grab from Instapundit: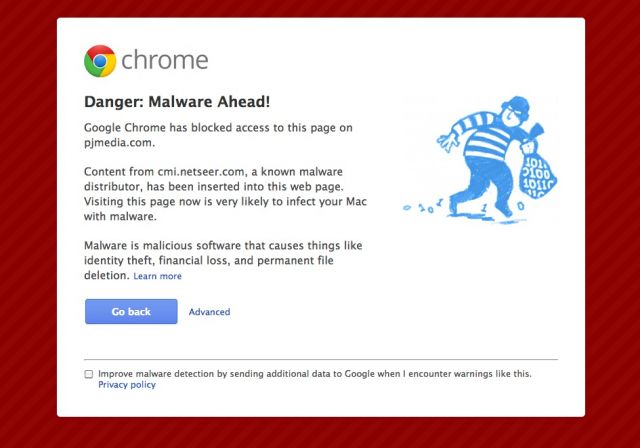 Has anyone else noticed what's happened to the internet?  Sites with edgy alternative content or conservative points of view get hacked more often, and in this case not hacked, but effectively taken down by scary looking warning messages.  This type of censorship has been going on for years with email.  If you want to keep a lid on the news, you just signup for a site's email, then send it to one of the 50 self appointed "spam police" sites and they'll blacklist a site.  It usually takes a day or two for things to return to normal and get off the blacklist and by then the damage is done.  
The same thing is now happening to web sites…