Huffington Post
Robert Barr
LONDON — Police say two people were killed when a helicopter crashed Wednesday during rush hour in central London after apparently hitting a construction crane on top of a building.
Two people were taken to a nearby hospital with "minor injuries," London Ambulance Service said.
The helicopter crashed just south of the River Thames near the Underground and mainline train station at Vauxhall, and the British spy agency MI6.
Video on Sky News showed wreckage burning in a street, and a large plume of black smoke rose in the area. The video from the crash scene showed a line of flaming fuel and debris.
Witness reports that the helicopter hit a crane atop a 50-story residential building, the St. George Wharf Tower, were not immediately confirmed.
The Ministry of Defense said it was not a military helicopter, and a British security official who spoke on condition of anonymity because he wasn't authorized to speak to the press said the incident was not terror-related.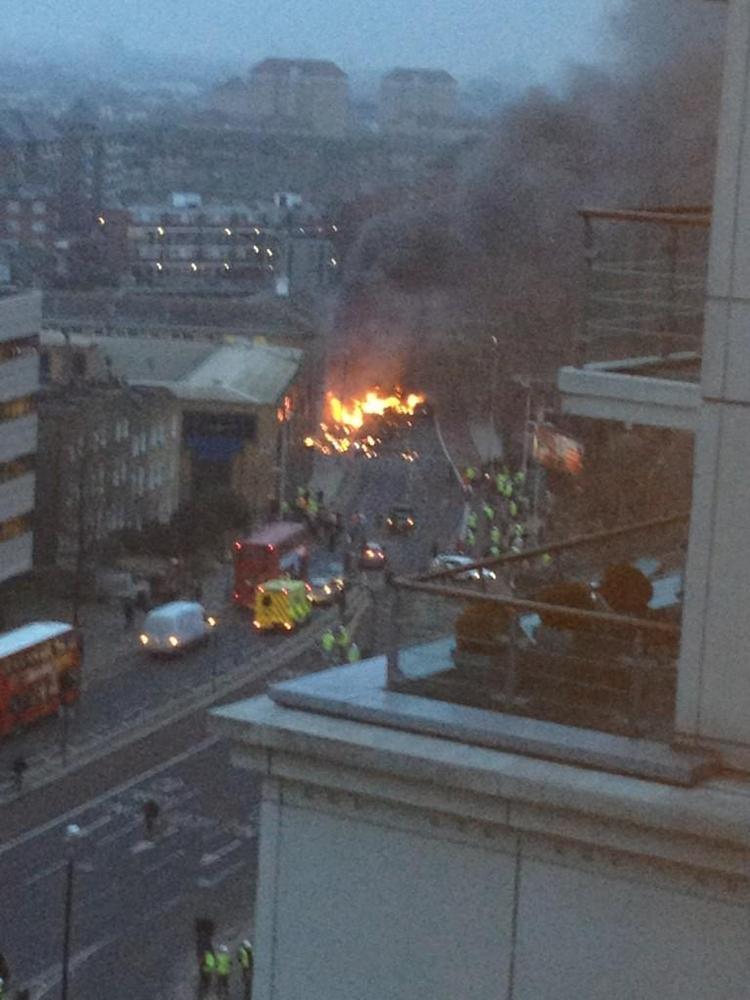 London Fire Brigade said it was called at 8 a.m. to a report of a crash on Wandsworth Road on the south bank of the Thames.
"There was a flash and the helicopter plunged to the ground. It exploded and you can imagine the smoke coming out of it," Paul Ferguson, an office worker near the scene, told BBC News.
"The top of the crane was actually obscured by fog so I didn't see the impact," Michael Gavin told the BBC. "But I heard a bang and saw the body of the helicopter falling to the ground along with pieces of the crane and then a large plume of smoke afterwards."
Erin Rogers, who was waiting at a bus stop near Vauxhall Station, said she "heard a bang and saw bits of crane debris falling to the floor."
"Then the helicopter was in flames. The rest of the people at the bus station were looking on going, `What was that?'"
"
Police said the helicopter appeared to have hit a crane."
Early reports indicated the crane was at St. George's Wharf, a high rise apartment complex with apartments that offer sweeping river and city views.
The area, roughly 10 blocks from the major Waterloo train and Underground station, is extremely congested during the morning rush hour. Many commuters arrive at the main line stations from London's southern suburbs and transfer to buses or trains there.