21st Century Wire
says…
It's official. At least from the mainstream side – that the freedom and democracy-loving rebels in Syria are dominated by hardline Islamic extremists and al Qaeda affiliated terrorist gangs. This is not an exaggeration, in fact, based on many other previous reports dating as far back as last year, the actual number could be higher.
In addition to this latest confirmation by
IHS Jans Defense
that the "moderate rebel" narrative favoured by Washington, London and Paris is a fabricated myth, we can also point out right here that the majority of armed "rebel" fighters in Syria are not from Syria at all. By definition then, the war in Syria does not qualify as a civil war.
This painful and
inconvenient truth
is still being dodged by the anchormen like Obama, Kerry, McCain (photo: left), Cameron, Hague, Hollande and one of the chief architects of the proxy insurgency itself – former US Secretary of State Hillary Clinton (who bailed out of her post right before the current Syrian political crisis was set to begin).
John McCain will be especially angry about
this latest report which is in stark contrast to the report he and Kerry both cited
by the now discredited, fake PhD "expert"
Elizabeth O'Bagy
, a neoconservative who was tasked with creating the impression that most of the armed insurgents in Syria were "moderate rebels". 
RT reports…
Almost half of the rebel forces fighting against the Syrian government are hardline Islamists or jihadists with Al-Qaeda links, according to a new study due to be published this week.
Split into around 1,000 fragmented cells, the Syrian opposition consists of at least 10,000 fighters who are jihadists with strong links to Al-Qaeda, while another 35,000 are hardline Islamists, according to analysis by defense consultancy IHS Jane's.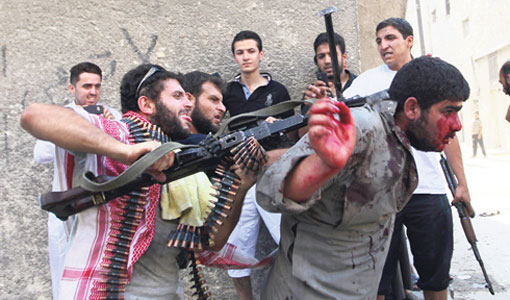 The difference between jihadist and hardliners, the Telegraph reports is that the latter concentrates only on the Syria, while jihadist groups have a global outreach. A further 30,000 opposition fighters belong to more moderate groups that have an Islamic character. The study, based interviews with militants and on intelligence estimates, concludes that around 100,000 rebel fighters are involved with the opposition forces. 

"The insurgency is now dominated by groups which have at least an Islamist viewpoint on the conflict," Charles Lister, author of the analysis told the Telegraph. "The idea that it is mostly secular groups leading the opposition is just not borne out." 

Al-Nusra Front and the Islamic State in Iraq and the Levant (ISIL) are two dominant groups that have Al-Qaeda links and are gaining momentum on the ground. 

"Because of the Islamist make up of such a large proportion of the opposition, the fear is that if the West doesn't play its cards right, it will end up pushing these people away from the people we are backing," Lister said. "If the West looks as though it is not interested in removing Assad, moderate Islamists are also likely to be pushed further towards extremists."

The issue of Western support to the opposition has long raised questions over the fears arms might fall into terrorist hands. 

As if trying to help the West separate hardcore militants from moderate opposition, Al-Qaeda leader Ayman al-Zawahri addressed his brothers on Sunday, calling on them to avoid allying with other rebel fighters backed by Gulf Arab states and the West. 

"I warn my brothers and people in the Syria of unity and jihad against coming close to any of these groups," Zawahri said. 

Meanwhile, in the past two weeks the US has reportedly begun delivering arms to militants battling the Syrian government. 

The CIA has been entrusted to monitor the delivery of arms to insure that it does not end up in the hands of Al-Qaeda associates. 

The agency controls and tracks the delivery of reportedly light weapons and other munitions via countries bordering Syria, such as Turkey and Jordan. 

The US State Department has its own separate program of delivering vehicles and other non-lethal gear, such as communication equipment, advanced combat medical kits and high-calorie food packets to the Syrian opposition forces using the same supply channels.

-